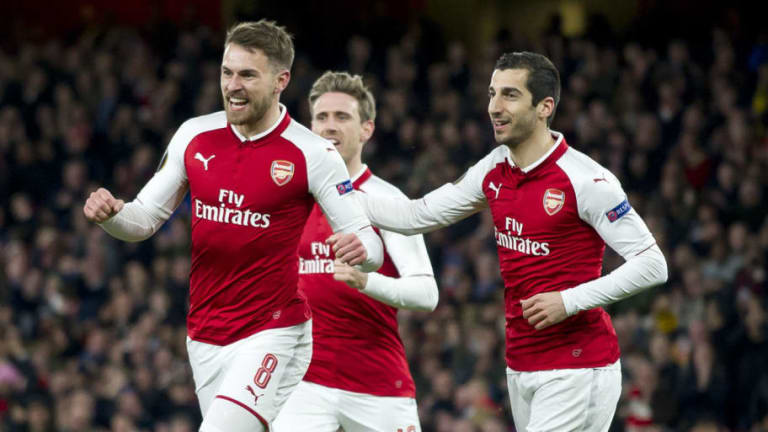 Henrikh Mkhitaryan Says Aaron Ramsey is an Arsenal 'Symbol' as He Urges Midfielder to Stay
Arsenal midfielder Henrikh Mkhitaryan has branded Aaron Ramsey a "symbol" for the club, with the Welsh star currently engaged in talks over a new contract with the Gunners.
Ramsey has been at Arsenal since he left his boyhood club Cardiff City in 2008. But now into the final 12 months of his contract, there are fears he could leave.
Mkhitaryan, who joined the Londoners from Manchester United back in January, has implied that he wants to keep playing alongside the 27-year-old, who he claims makes things easy in midfield.
"He has been at this club for 10 years already and it seems he has become a symbol for this club," the Armenian playmaker said via Sky Sports.
"I will be very happy for him if he is going to sign a new contract because he is [part of the] history of Arsenal already and I hope he can become a legend.
"His work rate is high and everyone appreciates what he does on the pitch and off the pitch because he is a true professional.
"It is very easy to be next to him on the pitch because he tries to be everywhere to help the team, to score goals, with assists, to tackle and recover balls.
"That's why I am going to be very happy if he stays at this club."
Mkhitaryan isn't the only key figure at the club who wants Ramsey to stay put. New boss Unai Emery is also keen on keeping the player at the Emirates, according to a previous report from Sky.