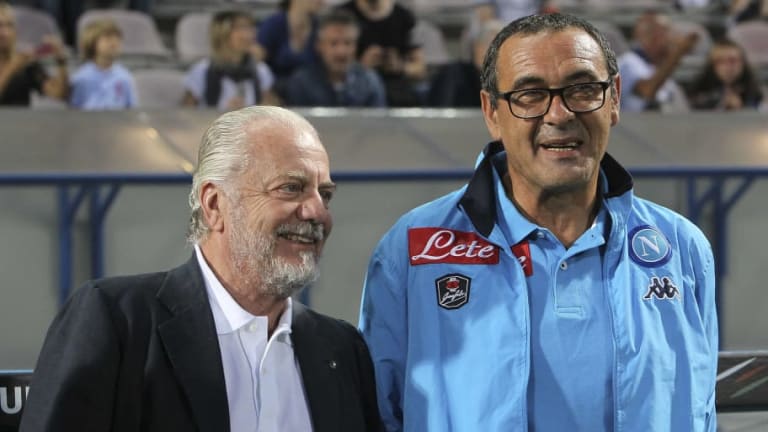 Napoli President Calls Maurizio Sarri 'Rude' for Manner of Departure From I Partenopei
Napoli president Aurelio de Laurentiis has continued his war of words with new Chelsea manager Maurizio Sarri, whom he labelled 'rude' for the way in which he left the Neapolitan side this summer.
Sarri had made it known at the end of the 2017/18 campaign that he wanted to move to Chelsea and he was removed from his managerial position at Napoli.
However, despite Carlo Ancelotti being appointed the new manager in his place, Sarri was not released from his contract at the Stadio San Paolo for nearly two months as De Laurentiis drove a hard bargain.
The 69-year-old has defended his conduct and insists that Sarri was in the wrong throughout.
"Since I'm a decent person, I asked what his intentions were right until the end," said De Laurentiis, as quoted by Football Italia. "He didn't get back to me, which I found rather rude, so I immediately turned to Ancelotti."
De Laurentiis has already been critical of Sarri this week, claiming that he wanted to 'dismantle' Napoli's team by taking their best players with him to Stamford Bridge.
Italian midfielder Jorginho did follow Sarri to London, but De Laurentiis says he had to 'lay down the law' to Chelsea director Marina Granovskaia to prevent the Blues from stealing any more of his squad.
Sarri spent three years at Napoli, who never finished lower than third in Serie A under his stewardship. Last season's points tally of 91 was the highest that I Partenopei have ever recorded, but they still finished 2nd behind Juventus.
Sarri's first competitive game in charge of Chelsea will be the Community Shield against Manchester City on 5th
August.