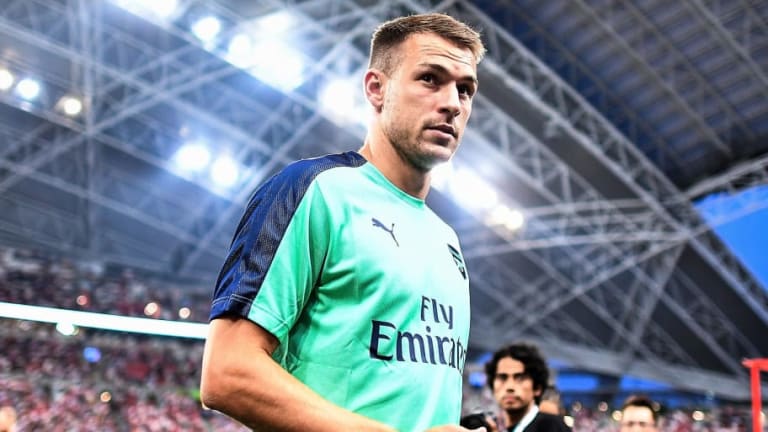 Arsenal Fans Recoil as Rivals Chelsea Are Linked With £30m Move for Midfield Star Aaron Ramsey
Roman Abramovich looks like he's ready to splash his cash again, with rumours that he has been plotting Chelsea's next moves from the south of France alongside club chief executive Marina Granovskaia.
Alongside links for stars such as Gonzalo Higuain, Christian Pulisic and Mattia Caldara, no name has caused more concern among rival fans than that of a £30m move for Arsenal and Wales midfielder Aaron Ramsey. 
As a definitely-not-jealous-of-Abramovich writer sitting at a desk in the pretty bleak and gloomy outskirts of Leicestershire, join me as I sulkily take a look at how Arsenal fans have reacted to the news on Twitter over the past day or so.
Ramsey, currently Arsenal's longest serving player, only has a year left on his current deal at the Emirates Stadium, and fans seem divided as to whether to let him leave or not - although nobody is particularly desperate to see the Welshman go in a hurry.
So David, Alesha, Amanda and Simon have all said no. Now it's over to you, Paul...
Harsh. No golden buzzer for this latest transfer rumour. In fact, Arsenal fans are booing it off the stage - with £30m being labelled an 'embarassing figure' and one fan demanding 'no less than £50m' for their star midfielder.
Some fans are not so keen on the idea of keeping Aaron around Arsenal. Mr Flint is a big fan of loyalty in football, but that disappeared many moons ago.
You've got to feel for Arsenal fans. Oxlade-Chamberlain to Liverpool, Alexis Sanchez to Manchester United, Olivier Giroud to Chelsea...
Swap! Some fans are keen on the idea of doing a swap deal with Chelsea, if Ramsey is keen on moving to Stamford Bridge. Well, Danny Drinkwater is available...?
Seriously though, Chelsea do need to sort out their central midfield. Danny Drinkwater, Tiemoue Bakayoko and Ross Barkley all seem unlikely to make the cut this season, and someone is needed in the middle of the park to compliment Jorginho and N'Golo Kanté.
Okay, so they have Fabregas, but will he establish himself as a regular under Sarri?
It's no surprise then, really, that Chelsea have been linked with a deadline day move for Ramsey as Maurizio Sarri looks to put his stamp on the Chelsea squad.