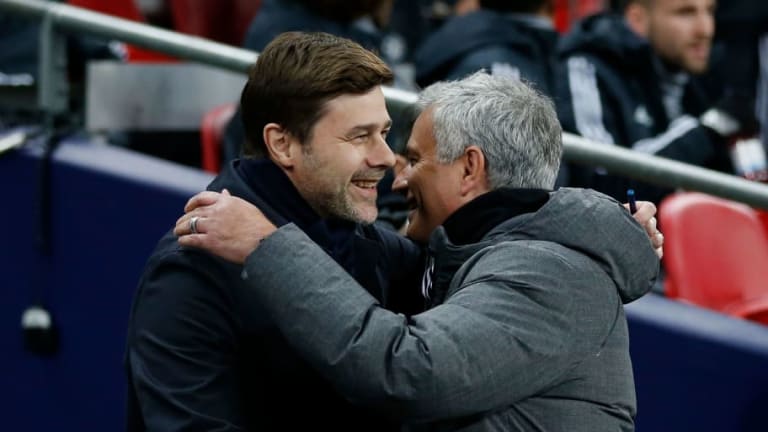 ​Mauricio Pochettino Hails 'Inspirational' Friend Jose Mourinho Ahead of Monday Night Clash
Mauricio Pochettino has labelled Jose Mourinho an 'inspiration' ahead of his Tottenham side tackling the Portuguese's Manchester United on Monday night. 
The two, although colliding this time in the Premier League, have a history with one another from their time in Spain, with the Argentine and Old Trafford bosses taking on each other while managers of Espanyol and Real Madrid respectively. 
Despite defeat in the capital years ago, the now-Spurs coach did not go home empty handed, with Mourinho offering him a bottle of red wine from the renowned Chateau Cos d'Estournel and two signed Los Blancos shirts for his sons. It was instant friendship. 
And the United boss may appreciate seeing a friendly face around the 'Theatre of Dreams' on Monday, with the weight of the world seemingly bearing down on the 55-year-old. 
However, despite the tales of woe which have filled the press in recent weeks, Pochettino's opinion on Mourinho has not changed, with the 46-year-old admitting to the Daily Mail how much of an inspiration the former Madrid boss has been. 
"For every single manager who is younger than him, he was an inspiration," he said. "For everyone. Of course. I took a lot of things from him. So many things. He is an unbelievable manager.
"I am younger than him, of course. The circumstances that happen with me, that happen with other managers, they will happen, it is up and down.
"He is an inspirational manager for a manager like me. I have a very good relationship with "Mou" from when I was a manager of Espanyol and I have full respect for him and the club."
It is a friendship which may surprise some; with the two omitting very different personalities both from themselves and in their selected styles of play at both Tottenham and United. 
Pochettino has sympathy for Mourinho, however, explaining that all coaches feel 'exposed' merely due to the amount of pressure which is forced upon them. 
"When you lose, you feel the responsibility," the Argentine added. "I am the manager. I assume responsibility. Always my thoughts are, "You can do better". Never is it enough.
"Even when you win, you can do better. That is the mentality. To win, it is every day, it is here on the training ground in every single situation."