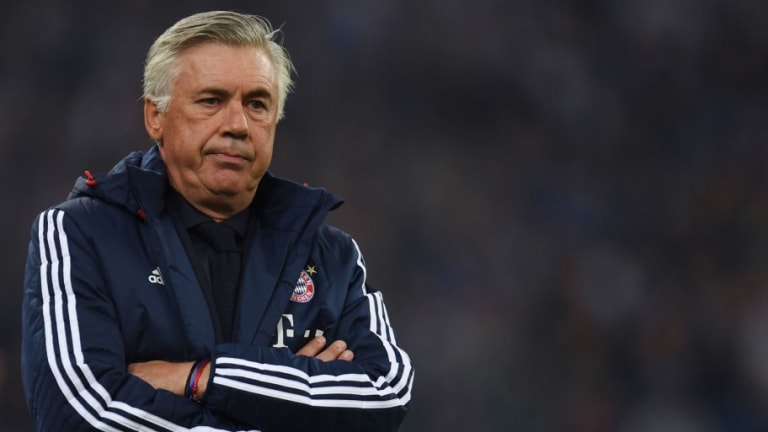 Carlo Ancelotti Slams Former Club Bayern Munich for 'Philosophy Problem' Last Season
S.S.C. Napoli manager Carlo Ancelotti has blamed the decision makers at Bayern Munich for having a 'philosophy problem' after the Italian was sacked just six games into the 2017/18 Bundesliga season.
A defeat to Paris Saint-Germain in the Champions League proved to be the final nail in the coffin for Ancelotti, after rumours over his exit first started to prop up following a surprise defeat against Hoffenheim on matchday three.
Ancelotti was eventually replaced by legendary manager Jupp Heynckes in Bavaria, but the former Chelsea coach has blamed Bayern Munich for not giving him the chance to stamp his own philosophy onto the first team.
"The experience at Bayern was a bit unusual," Ancelotti admitted, speaking to DAZN (via Football Italia). "Things weren't going badly, we'd won almost all of the games in September.
"I think there was more of a philosophy problem: they didn't want to change things. I did."
Ancelotti was given the difficult task of replacing Maurizio Sarri in Naples this summer, where he is looking to match the club's achievement of offering Juventus a genuine title challenge throughout the campaign.
"You always have to take into account what has been done, as well as the level of the players, then, of course, every coach has his own ideas," he added.
"The most important thing is to consider the characteristics of the players: that's what you model the system on, not vice-versa.
"The first thing I wanted to work on here at Napoli was exactly that: not to take away all that was good about this team."
Napoli are already sitting level on points with Juventus after just two Serie A games, one of which included a stunning comeback against Milan, while Italian minnows SPAL have also had a perfect start to the new season.