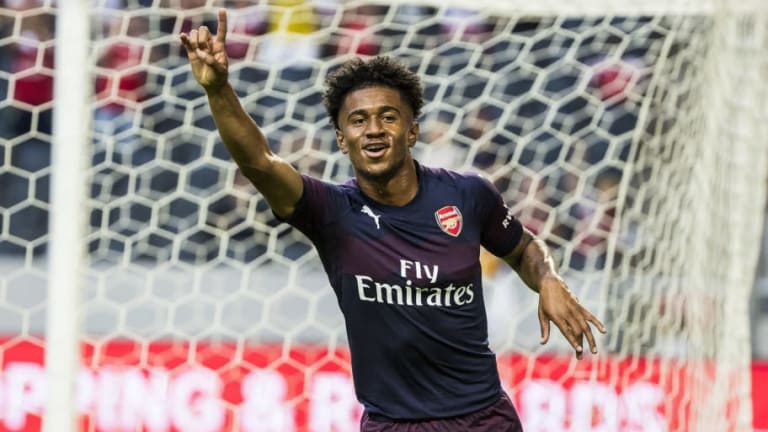 Why Reiss Nelson's New Deal and Loan Move Indicate Upturn in Arsenal's Handling of Young Talent
Arsenal's handling of their youth stars has come in for widespread criticism in recent years, not least from their own fans, who have often been left bemused by the club's questionable use of their academy players and an apparent inability to keep hold of their most promising talent in recent times.
One case which dominates the current agenda in terms of the north London side's youth set-up is the future of Reiss Nelson. The exciting attacking starlet has given the Gunners much to ponder over the last year on numerous counts.
Nelson's raw potential has seen his stock rise rapidly over the past 12 months, with his talent the cause for both excitement and concern in Arsenal's ranks. While his talent is unquestioned, the correct use of his abilities and the Gunners' hopes of retaining his services have been less clear.
In many ways, Nelson's situation largely epitomises the paradoxes which have seen Arsenal fail to capitalise on the young talent at their disposal in recent years. Nelson's contract is set to expire next summer, and the struggle to embed him into the first team with positional clarity has offered little hope of the forward's future being resolved positively.
Jack Wilshere's integration into the Arsenal first team, and much of his senior career under Arsene Wenger, was generally permeated with similar uncertainty over his actual role and position in the squad.
Wilshere had a number of golden moments in an Arsenal shirt, but his struggle to nail down a consistent place and role in Wenger's team was almost as much a cause for the end of his spell at the Emirates as his injuries.
Others have followed in Wilshere's footsteps in emerging from the Gunners' academy bristling with talent and huge potential but most ultimately failed to make a significant, long-term mark on the Arsenal first team set-up.
Chris Willock rose through the Arsenal youth system to establish himself as one of the Gunners' brightest young talents and seemingly destined to be a future star for the club. However, Willock's flirtation with making the step up to senior level never came to fruition and the forward disappointed many when he moved on to Benfica in search improved opportunities.
Ainsely Maitland-Niles is the most recent case of a bright young talent forcing his way into the first team picture having successfully negotiated the Arsenal youth ranks. However, the threat of positional uncertainty remains an issue for the midfielder.
With central midfield clearly Maitland-Niles' preferred position, his persistent deployment at left back will do little to hone his skills and develop him as an established force in midfield. Though versatility is always a positive asset in any player, particularly in developing a broader range of attributes, the chopping and changing of positions always threatens to undermine their definition and role in a team.
This has become a potential issue in the development of Reiss Nelson and his integration in the Arsenal first team to date. Still not officially a member of the Gunners' senior squad, the 18-year-old was handed a succession of starts in the Europa League under Arsene Wenger last term.
Whilst that experience was a huge boost to the starlet's confidence and prospects for future stardom in the senior ranks, the familiar old concern of positional clarity persisted through Nelson's selection and performances.
With Wenger continuing with the wing back system at the time, Nelson typically found himself deployed not as an attacking midfielder, as is the youngster's strongest position, or even as a conventional winger, as can also suit Nelson's attributes, but as a right wing back.
Such deviation from a player's strongest position ultimately brought Alex Oxlade-Chamberlain's Arsenal career to a premature end, having also fallen victim to undesired wing back duties.
With Nelson's contract only having a season to run and speculation over his future having persisted over the last year, fears have grown that a similar lack of clarity could see him take a Willock-style route out of the Arsenal academy before even making it as an established senior star as Chamberlain did.
Promising young goalkeeper Joao Virginia proved that the trend of Arsenal failing to keep hold of their best young players is still very much alive when he swapped north London for Everton in the summer. Many have feared that Nelson will follow suit in the months ahead.
However, a positive update was provided on Nelson's situation as Goal reported that the youngster is set to sign a new deal at the Emirates before moving out on loan to Bundesliga side Hoffenheim for the season.
Not only would the new deal be great news for Arsenal in finally securing the long-term services of one of their brightest young gems, but the proposed loan move to Hoffenheim also indicates a smart new approach to youth development from the club.
The new deal promises Nelson the security of a big future in the long-term with Arsenal, whilst a season in the Bundesliga under a young manager in Julian Nagelsmann at Hoffenheim offers greater assurances of short-term playing time and opportunities at senior level.
Playing in the Bundesliga will see Nelson well schooled at a highly competitive and demanding level, whilst working under Naglesmann will enable the attacker's skills and potential to be developed with suitable astuteness and productivity.
With Unai Emery currently short on natural width, and Nelson seemingly destined to channel his searing pace and dribbling skills into becoming a conventional right winger, Nelson could well arrive back at the Emirates as just the player Emery needs to add an established wide option to his ranks next season.
If the news proves true, this handling of Nelson's situation indicates a considerable upturn in the nous and intelligence in Arsenal's use of their brightest youth talent and suggests that the Gunners are on the brink of a new renaissance of young stars.