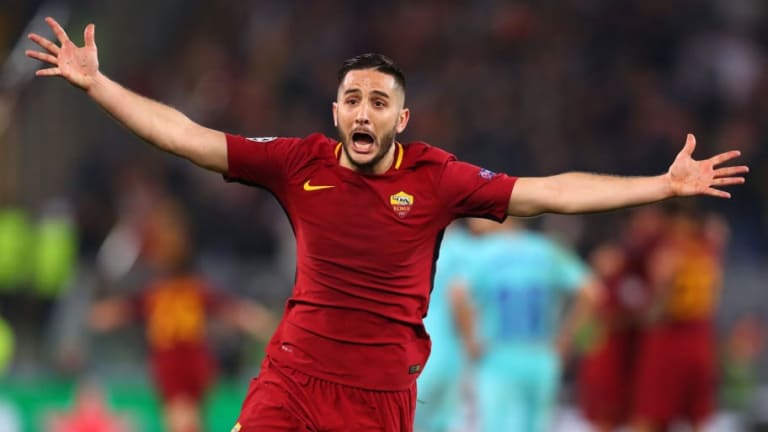 Assessing Best & Worst Case Scenarios for the 4 Italian Clubs Ahead of Champions League Group Draw
Juventus, Napoli, Roma and Inter are the four Serie A sides vying for the Champions League trophy this season, and will be eagerly awaiting the draw for the Group Stage draw, which will be made in Monaco on Thursday evening.
Juventus will be in Pot 1, while last year's surprise package Roma join Napoli in Pot 2. Inter could find themselves in a 'group of death', as the lowest ranked of the bunch in Pot 4.
Here's the best and worst case for all the Italian sides, ahead of the big draw...
Juventus
Best: Juventus, Benfica, Ajax, Club Brugge
Juventus will be significantly strengthened going forward this season, with new signing Cristiano Ronaldo ready to bring his imperious goalscoring form to I Bianconeri.
Benfica, Ajax and Club Brugge could all be put to the sword with relative ease, as Juventus look to storm to the top of their group.
Worst: Juventus,Borussia Dortmund,Liverpool,Galatasaray
While Borussia Dortmund aren't quite the side they were a couple of seasons ago, they would represent a very tricky away trip, as would daunting visits to Anfield and Türk Telekom Stadium.
Napoli
Best: Lokomotiv Moscow, Napoli,PSV Eindhoven, Young Boys
While Young Boys just about scraped over the line after beating Dinamo Zagreb in the qualification playoff, they look set to be among the whipping boys in this year's competition. Lokamotiv Moscow and PSV Eindhoven look the easiest matches to complete the group.
Worst: Manchester City, Napoli, Lyon, Galatasaray
Manchester City beat Napoli on two occasions in the competition last season, and Carlo Ancelotti's side could do without a repeat performance this year. Lyon and Galatasary could also pose a real threat to I Ciucciarelli.
Roma
Best: Lokomotiv Moscow, Roma, PSV Eindhoven, Club Brugge
Roma could find themselves with a very fortuitous draw indeed, with the likes of Lokomotiv Moscow, PSV Eindhoven and Club Brugge all unlikely to cause too many problems.
Worst: Real Madrid, Roma, Liverpool, Galatasaray
Having won the last three Champions League competitions on the bounce, it's fair to say that nobody wants to draw Real Madrid, and Roma will be looking to avoid them like the plague. Again, facing Liverpool and Galatasaray twice would not be much of a treat.
Inter
Best: Lokomotiv Moscow, Benfica, PSV Eindhoven, Inter
Inter haven't participated in the Champions League, and will be looking to return to the competition with a bang. A trio of Lokomotiv Moscow. Benfica and PSV Eindhoven would give them a huge chance of topping the group.
Worst: Barcelona, Manchester City, Monaco, Inter
With Lionel Messi still turning in outrageous performances on a weekly basis, Inter would do well to avoid facing Barcelona. Pep Guardiola's rampant Manchester City could also do some damage, while Monaco could be a force to be reckoned with despite their slow start to the new Ligue 1 season.