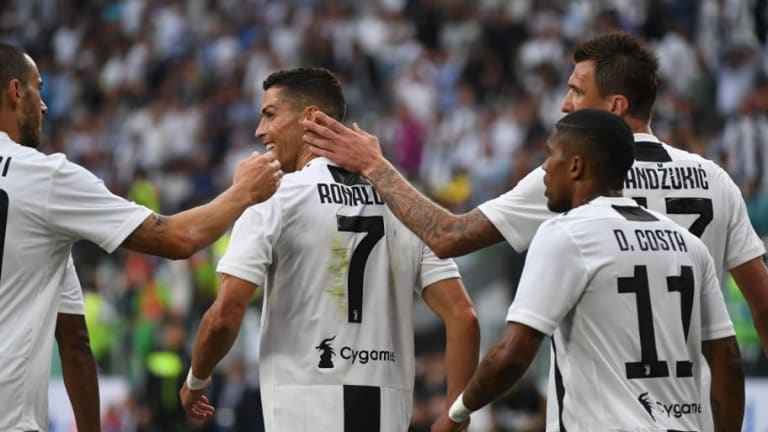 Parma vs Juventus Preview: Classic Encounter, Key Battles, Team News & More
Parma play Juventus on Saturday in a game which represents a remarkable turnaround in Parma's recent fortunes. 
Parma's financial troubles in 2015 saw the club sink to the depths of Serie D after a court-ruled instant demotion. The club were forced to start from scratch but three years saw three straight promotions for the hardy Parma. 
A return to Serie A brings its own challenges for Parma, one of which will be facing a Juventus side with Cristiano Ronaldo raring to score his first goal for his new club. 
Classic Encounter
Juventus 4-0 Parma (Serie A, 1995)
Parma were a powerful force in Italian football during the 1990s, especially in European competitions. Coming to the end of the 1994/95 Serie A season they were battling both Juventus and Lazio for the league title. When Parma traveled to Juventus' old stadium, the Stadio delle Alpi, Juve were seven points clear of Parma with three games left to play. Win and Juve would be league champions for the first time in nine years.  
Gianfranco Zola and Faustino Asprilla played up front for Parma against a Juventus team which featured Didier Deschamps, Roberto Baggio, and Gianluca Vialli. 
Juventus controlled the game early on and after a poor corner by Zola, a Juve counter-attack led to the opening goal. Baggio played it forward to Fabrizio Ravanelli who headed the ball forward before bringing it under his control and scoring from just outside the box. 
Parma worked hard to get back in the game but they were up against a Juventus team desperate to end its Scudetto dry spell. A determined Deschamps won the ball back in Parma's half, and then ended the attack by running onto a Baggio back-heel pass and scoring Juve's second of the game. 
Vialli scored goal number three for Juve in the second half before Ravanelli grabbed his second and Juventus' fourth and final goal of the game. Juventus won the game 4-0 and were subsequently crowned champions of Serie A. 
Key Battle
Luigi Sepe vs Cristiano Ronaldo
Sooner or later Cristiano Ronaldo will score for Juventus, and let's face it, it will be sooner rather than later. On his day, there is arguably no defence in the world that can stop Ronaldo from scoring. 
So Parma's last line of defence, goalkeeper Luigi Sepe, may need to jump, dive, and stretch his way to stopping Ronaldo from scoring on Saturday. 
Team News
Max Allegri's Juventus side face no new injury concerns ahead of the game against Parma. Their star man Ronaldo is set to make his third consecutive start in Serie A. 
It will be interesting to see if Paulo Dybala returns to the starting eleven after being left out against Lazio, with Allegri preferring to play Mario Mandzukic. But Mandzukic's goal against Lazio could mean Dybala is again kept on the bench. 
Parma are now facing an injury crisis. Jonathan Biabiany, Alessandro Bastoni, Jacopo Dezi, Gianni Munari, Matteo Scozzarella, Mattia Sprocati, and Amato Ciciretti are all set to miss the match. Furthermore, Alberto Grassi, who was injured in their previous game, is fighting to be back fit for Saturday. 
The good news for Parma is that Ivorian winger Gervinho, who joined them on a free transfer in the summer, could start the game. 
Predicted Lineups
Parma: Sepe; Iacoponi, Alves, Gagliolo, Gobbi; Barilla, Stulac, Grassi; da Cruz, Inglese, Gervinho. 
Juventus: Szczesny; Cancelo, Chiellini, Bonucci, Sandro; Khedira, Pjanic, Matuidi; Ronaldo, Mandzukic, Costa. 
Prediction
Parma have yet to win a game this season, and Juventus have started the season scoring five goals in two games. 
Juventus are coming off the back of a convincing win against top four rivals Lazio and Ronaldo will be raring to score his first ever goal for his new club. Parma will probably need a miracle to make it out the match with any points and a Juventus win just seems inevitable. 
Predicted Scoreline: Parma 0-3 Juventus