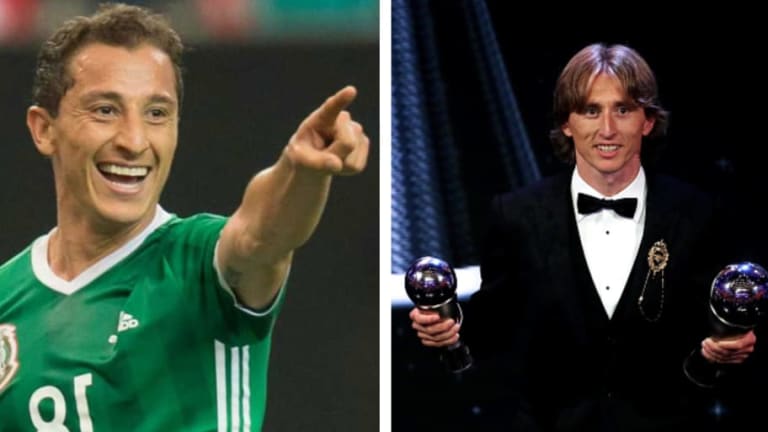 ¡LE ECHÓ LA MANO! | Andrés Guardado ayudó a Modric a obtener el Premio The Best
El jugador Luka Modric fue coronado como el mejor jugador del mundo en la temporada 2017-18. Al elemento del Real Madrid lo reconocieron con el premio nombrado por la FIFA como The Best. Aunque nada hubiera sido posible sin la 'ayuda' del mexicano Andrés Guardado.
¡No te olvides de seguirnos también en nuestra cuenta de Instagram, @90min_es!

Durante la gala que se desarrolló en Londres, se dieron a conocer algunos de los votos realizados por futbolistas para escoger a los candidatos que se llevarían el título. El canterano de los Rojinegros del Atlas eligió al croata, en segundo lugar a Messi y por último aGriezmann.
A otro de los que también le preguntaron fue al director técnico Juan Carlos Osorio. El estratega colombiano escogió como favoritos a Eden Hazard, Luka Modric y al joven sensación de Francia, Kylian Mbappe. 
La victoria de Luka Modric sorprendió a la gran mayoría, puesto que casi siempre entre Cristiano Ronaldo y Lionel Messi son los que se llevan los galardones individuales. Los argumentos para darle el triunfo al volante es que consiguió su tercera Champions League consecutiva, además de llegar por primera vez a la gran final de la Copa del Mundo de Rusia 2018.
"Para mí lo más importante es tener el reconocimiento de los aficionados. Es realmente especial. Me siento muy orgulloso de ganar este premio porque hay muchos grandes futbolistas en el mundo. Es un sueño hecho realidad.", comentó en la noche de premiación.