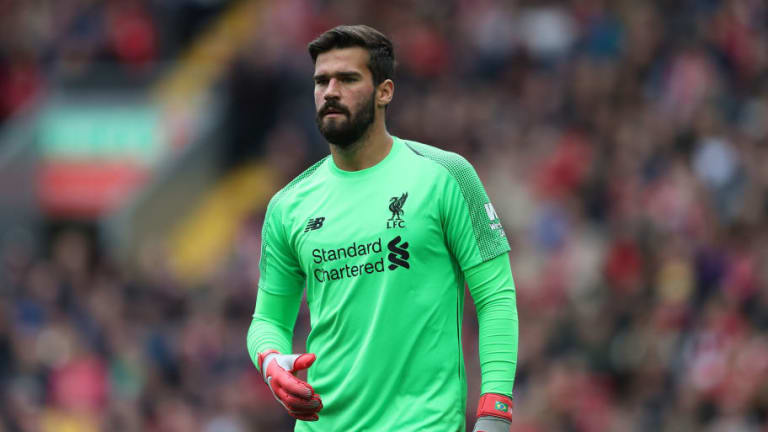 Alisson Reveals How Philippe Coutinho Helped Convince Him to Move to Liverpool
Brazilian goalkeeper Alisson Becker has revealed how compatriot and former Liverpool midfielder Philippe Coutinho helped persuade him to join the Reds in the summer.
The 25-year-old stopper moved to Anfield from Roma for a reported £67m fee - a then world-record deal for a keeper - following his nation's World Cup quarter-final elimination to Belgium.
Alisson kept three clean sheets for the Seleção at the tournament and was also linked with the likes of Real Madrid and Chelsea, but according to the Liverpool Echo, his conversations about Liverpool's team environment with Coutinho beforehand helped nudge him towards a move to Merseyside.
He said: "During the World Cup we were very focused on the tournament so we didn't really speak about it but negotiations were ongoing at the time.
He added: "I actually spoke to Coutinho before the World Cup as I knew there was interest from Liverpool. We talked about the way the club is set up, the structure and the staff."
Coutinho, once a fan favourite at Anfield, departed for Barcelona in January 2017, following a turbulent few months which saw him accused of forcing a transfer to the Catalan outfit. However, despite the fall-out, Alisson indicated that Coutinho still had great respect for his former employers and teammates.
He revealed: "We also talked about the belief and the sort of family atmosphere at the club. It's not just a football club, we are one big family.
"He spoke highly of Jurgen and he spoke about the players. He said there is no vanity in the squad but it's a very ambitious squad with a strong desire to win. I saw that on the pitch." 
Alisson suggested that he saw evidence of Coutinho's testimony while playing at Anfield for Roma in the Champions League semi-finals last season and supported his assertions when he penned his signature.
He added: "What Coutinho told me added to what I had already witnessed playing here at Anfield and then when I came and signed here it all came together and made sense."