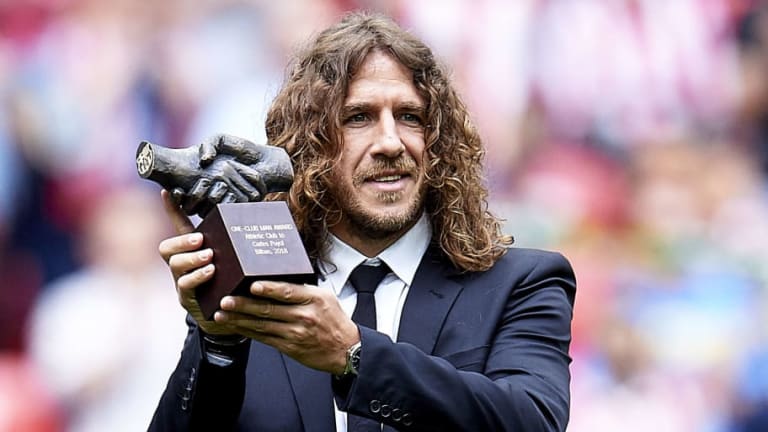 Carles Puyol Claims Barcelona Would Be 'Killed' for Only Winning Champions League Like Real Madrid
Former Barcelona defender Carles Puyol has claimed that winning La Liga is more important than success in the Champions League, as he suggested his old club have a different mentality to rivals Real Madrid.
Barcelona strolled to the league title last season, finishing 14 points ahead of second-place Atletico Madrid. Rivals Real Madrid, who finished third in the league, saved their season by winning a third consecutive Champions League title, beating Liverpool 3-1 in Kiev.
The 40-year-old, who retired in 2014, was asked about the success of the two teams by Marca, and is quoted as saying: "Barcelona have always fought for everything. 
"If Barcelona had a season like Real Madrid last year, they would kill us.
"They focused on the Champions League, they played heads or tails but at Barcelona you cannot do that, we have another mentality. Barcelona are expected to win every week and if they lose one then you [the media] criticise.
"They have to fight for all titles, but if you have to choose between the Champions League and Copa del Rey then you choose the Champions League.
"Above all though is La Liga, which is very important."
The Spaniard also went on to discuss Lionel Messi's omission from the shortlist for the 2018 Best FIFA Men's Player, which was eventually awarded to Real Madrid midfielder Luka Modric. 
Puyol said: "It's weird Leo is not there. He is the best in the world without any doubt and we have to respect that.
"Modric is a great player who had a very good season but for me the best is Messi. Leo can't always win, we would have to make a trophy for him and another for the rest."
Puyol spent his entire career with Barcelona and is widely regarded as one of the top defenders of all time. He made an astounding 593 appearances for the club and enjoyed a huge amount of success during his impressive tenure with the Catalan giants.