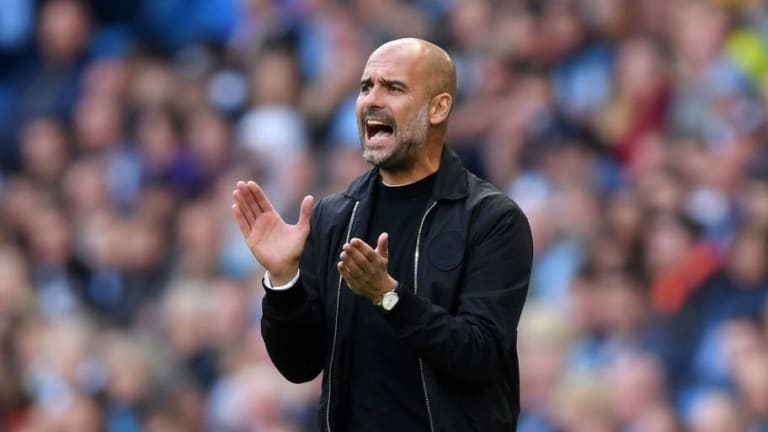 Pep Guardiola Pleased After Man City's Win Over Brighton & Provides Injury Update on Aguero
Pep Guardiola was delighted as Manchester City leapfrogged Liverpool in the Premier League, having beaten Brighton with a convincing 2-0 scoreline.
Speaking to Manchester City'sofficial website, Guardiola gushed about his squad: "I'm a lucky guy to have this group of fantastic beings. You could see the way we celebrated the second goal - we are alive."
The former Barcelona and Bayern Munich manager was glad this his players headed his warning about Brighton's quality, saying: "I am very pleased. I told the players to be careful because Brighton are a serious team.
"Every time we lost the ball, we recovered and we attacked with ten players at the edge of their box. That is a dream for us."
Manchester City have been without their star player from last year, Kevin De Bruyne, for the most-part of this season. However, Guardiola believes his team have not struggled without the Belgian.
City's manager said: "Most of the time we are playing as well (without De Bruyne). In some situations, we are even better. Kyle Walker is learning a lot how to play inside."
Even without De Bruyne, Manchester City have started the Premier League season unbeaten, but Guardiola still believes there is room for improvement for the Citizens, especially against defensive teams: "We have to learn how to attack ten men. We have the kind of players to do that."
Despite the positive result, there was an injury concern for Manchester City and Guardiola as Sergio Agüero was replaced in the 66th minute. 
On the matter, Guardiola revealed: "He was struggling with some problems in his foot. He could not make 100% effort because he had not recovered from what happened against Newcastle." 
Manchester City take on Hoffenheim on Tuesday, aiming to recover from their opening day loss against Lyon. 
Speaking about Agüero, the Spanish manager said: "Hopefully he will be okay for Tuesday. We are controlling and fighting (the injury) but he needs time."