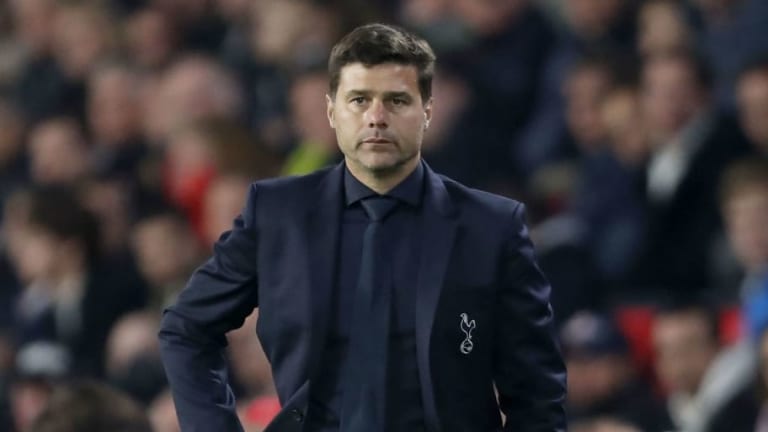 Tottenham Fear Mauricio Pochettino Exit This Summer as Real Madrid & Man Utd Lay in Wait
Tottenham's first team players are fearful that manager Mauricio Pochettino could leave the club at the end of the season, following a series of interviews outlining his frustrations in north London in recent weeks.
Spurs are shrouded in chaos at the moment despite making their best ever start to a Premier League season, with a series of delays on the opening of their new stadium meaning a prolonged stint of playing at Wembley. 
The club have, according to reportsthis week, taken out a new £237m loan to complete the build of their new ground, which is now tentatively scheduled to open in early 2019.
Pochettino also failed to sign any new players during the summer transfer window because of a restriction in transfer budget, stemming from the stadium build. And he has made little secret of his frustration with his situation in recent weeks - with things getting even harder in the last few days following Real Madrid's sacking of Julen Lopetegui.
Real have long been admirers of the Argentinian, and missed out on Pochettino in the summer after he signed a new deal at Tottenham, but could return with an offer for him in the next few months. According to the Sun, Real are ready to offer the 46-year-old up to £17m a year to turn his back on the north London club - doubling his earnings.
In addition to that, Manchester United have been labelled as "favourites" to land Pochettino by the Telegraph if they decide to part ways with the under-fire Jose Mourinho at end of the season, and the timings in this sense could marry up well - as the same report claims that Pochettino wouldn't consider leaving Spurs in mid-season anyway.
The players are said to be fully aware of the trouble brewing, as two of Europe's premier clubs consider making a play for a man who has earned his chance at the top.