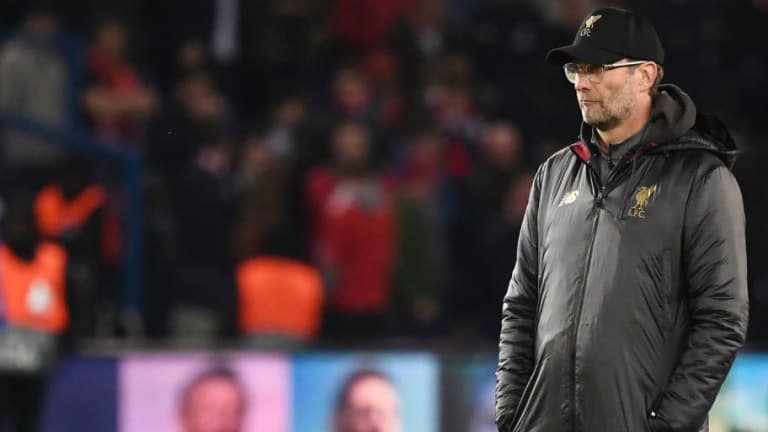 Jurgen Klopp Believes PSG's Behaviour Made Liverpool Look Like 'Butchers' During CL Defeat
Liverpool manager Jurgen Klopp was left frustrated by Paris Saint-Germain's behaviour during their 2-1 defeat in the Champions League, believing they made his side look like 'butchers'. 
Goals from Juan Bernat and Neymar subjected the Reds to their third group stage loss of the season, with James Milner's penalty little more than consolation, as Klopp's side now need to beat Napoli 1-0 or by two clear goals in their final group game to progress to the last 16. 
While the result didn't go Liverpool's way, the German was unhappy with the unsporting behaviour and actions of PSG's players throughout the game, with Klopp amazed that his side were shown six yellow cards by referee Szymon Marciniak. 
Speaking to the club's official website, he said: "We chased the game with a lot of passion, but Paris were very passionate as well. I've already spoken about it, and I know it will be the main headline – 'Klopp said…' and stuff like that – but the number of interruptions in the game just was not cool.
"I said it a few times, two times in a row we won the fair-play table in England and tonight we looked like butchers when you look at the yellow cards we had. It was clever of PSG.
"In two, three or four situations we had the chance to do much better with one little decision... 
That's the reason we lost; they scored two and we scored one and in these moments, our decision-making was not good enough."
The result in Paris mean Liverpool are now third in Group C ahead of their final group game, although Klopp has backed his side to get the result they need at Anfield against Napoli.
Asked if he was confident of reaching the last 16, he replied: "Yes, of course. I know that. We need Anfield again, we need to create an atmosphere which is pretty special. If we do that and win it then we deserve it, if we don't then we don't deserve it, that's how it is."