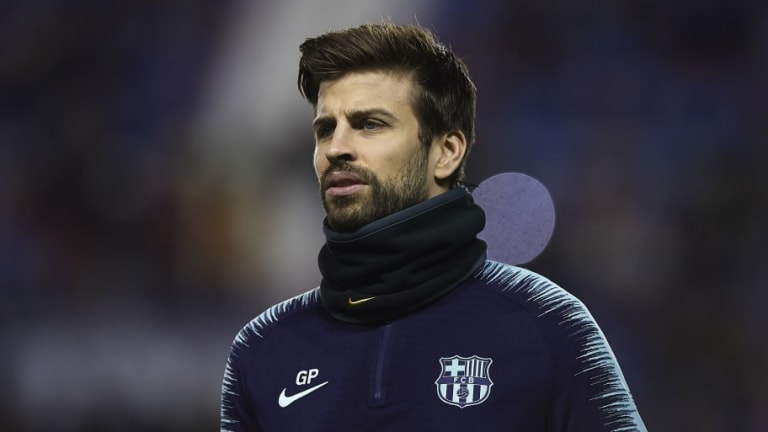 Gerard Pique Planning to Retire in 2020 to Focus on Becoming Barcelona President
Barcelona defender Gerard Pique may retire from football in 2020 to focus on becoming the Blaugrana club's president in 2021.
Pique's current contract runs until 2022, but he will be 33 years old by the end of the 2019/20 season and knows that he is in the final stretch of his career.
Rather than allowing his contract to run down or seeing out the remainder of his career in a lower division, Pique wants to hang up his boots early to focus on his other ambitions, according to Mundo Deportivo.
Current president Josep Maria Bartomeu's terms ends in 2021 and he would welcome Pique as his successor. It is thought that Pique would be the clear favourite if he ran for president, with few alternatives who have the same influence and charisma.
Pique reportedly plans to bring his former teammates Xavi and Andres Iniesta back to the Nou Camp in coaching roles. Xavi now plays for Al Sadd in Qatar, while Iniesta left Barcelona at the end of last season to join Vissel Kobe in Japan.
Xavi has already taken his coaching badges with the Spanish Football Federation. Iniesta has not started his courses, but he has admitted that a move into coaching would interest him after he retires.
If he becomes the new club president, Pique will oversee the progress of Espai Barca, a project which encompasses the development of the new Nou Camp and the new Palau Blaugrana.
Another of Pique's tasks may be finding a 'cheerful and festive' new name for the Nou Camp. 'Waka Waka Camp Nou' is one idea that has been suggested, after the song by Pique's partner Shakira.