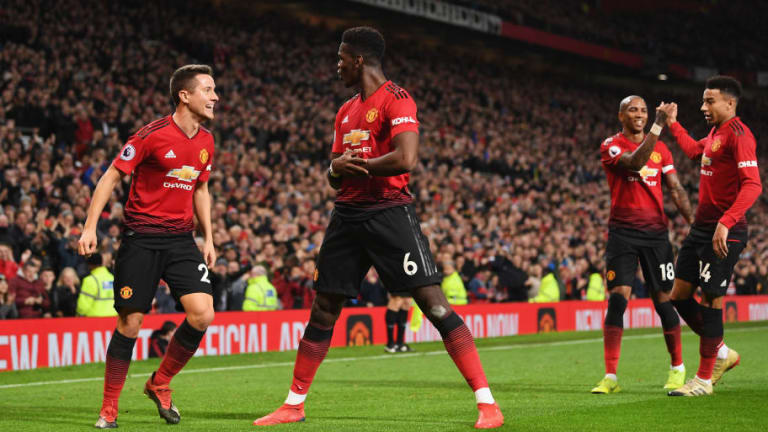 With the January transfer window rapidly aproaching, a time of great flux in fantasy football is almost here. But, with festive fixtures still coming at us from all angles at all hours, here are some of the moves you will want to make just before that second (or first - and if so, well restrained) wildcard becomes available. 
While Manchester City vs Liverpool is clearly the centrepiece of this season's New Year offerings - and hopefully won't blunt the scores of players involved - there are also enticing matchups at Newcastle, where a revitalised Manchester United will visit, as well as at Everton, where Leicester's arrival sees two of the most exciting and inconsistent Christmas sides clash. 
Who will prevail? But, more importantly, Who's Hot and Who's Not, eh? 
Goalkeepers
Who's Hot

Tom Heaton: He's back. And *spoiler* he may have spoiled someone else's time in the Who's Hot sun. 0.2% of people currently have Heaton in their lineup, but nine points from his first game back from injury will surely increase that figure dramatically.  At £4.8m, you better get on it quick.
Jordan Pickford: Perhaps a strange shout, considering the previous allusion to Everton's inconsistencies, as well as several of Pickford's high profile errors this term, but the Englishman is still a top keeper, capable of making top saves. But, it is the Toffees schedule in the New Year that makes this pick enticing. This week's clash with Leicester is followed by clashes with struggling Bournemouth, Southampton and Huddersfield.

Who's Not
Joe Hart: After an admirable stint between the sticks, it seems like Joe Hart's reign at Burnley has come to an end, at least for the moment. 5,899 people cut ties with fantasy's 10th best keeper last week, and that will surely rise exponentially this week. So long, Joe.

Defenders
Who's Hot

Willy Boly: Don't worry, this isn't just a reaction to the Frenchman's goal against Tottenham, though his all-round performance did help. But no, this is in lieu of Wolves' upcoming fixtures. First up, it's a couldn't-buy-a-goal Crystal Palace side, and, after a trip to the Etihad, it's plain-sailing till mid-February. So, have some of this £4.6m man.

David Luiz: The Brazilian showed again why he can be such an asset in fantasy through his supreme passing armoury. Any playmaker would've been proud of that clipped assist for N'Golo Kante's winning goal. Plus, home clashes with Southampton and Newcastle represent some decent fare in the coming games. And he's a set-piece threat. It's the dream.

Who's Not

Kieran Trippier: While his assist against Everton may have shown enough fans (51,243 to be precise) that Trippier was worth returning to following an injury-hit spell, his performance against Wolves was far from compelling. Still at a sizeable £6.1m, we're going to need to see more from Kieran before we jump on that pricey train. 
Midfielders
Who's Hot

Victor Camarasa: Even Neil Warnock acknowledged that Camarasa's last gasp winner would put more eyes on the Spanish loanee. While he was referring to the wandering eyes of other clubs, fantasy owners should take note. Cardiff are on a bit of a run here, and Camarasa is their only creative outlet. Seriously. So, if you're in need of that consistent cheap midfielder, at £4.6m, he's your guy.

Roberto Pereyra: The Pereyra freight train is back, and better than ever. That finish against Chelsea showed everyone why he should be a staple in any team - he can score from nothing. Well, 132,941 certainly thought so, but weren't really rewarded in the stalemate with Newcastle. But don't give up hope yet. He can score from anywhere, remember. 
Who's Not

Leroy Sane: After a spell back in the fantasy good-books, Sane is firmly back on the naughty step. Five points from his last three games tell that particular story, the last being a measly six-minute cameo. While some may consider that to be an omen for his impending status in the starting XI for the Liverpool clash, I wouldn't chance it. 
Forwards
Who's Hot
Roberto Firmino: For all those who kept faith with Firmino through the dark days, this one's for you. With just four scores all season before Saturday, and nothing to show for his previous three appearances, it was getting testing. But the Brazilian came through with 17 points to amply reward all those patient people. As for the 127,687 who cumulatively let him go during that dry spell: shame. Real shame. 
Raul Jimenez: This spot was reserved for Marcus Rashford, but his 75% chance of playing make him one for next week. But, Jimenez is a worthy deputy. The fifth highest scoring striker in the game was back in the goals at Wembley, leading to an all-time post-game flex. 62,173 people had got rid of the Mexican in the last two gameweeks. I advise you to be one of many to make the opposite decision this week, or risk the consequences.

Romelu Lukaku: Any fans hoping for a Lukaku resurgence in tune with his teammates may be disappointed. Though he'll likely earn a start at St. James' Park with Rashford's injury issues, don't leap at the chance to get him back in your team, or see it as anything long-term. Rashford looks to have solidified his place up front for a while when fit, and Lukaku still looks stilted. That wasn't reverted by the goal against Bournemouth. Plus, he's £10.7m, remember?