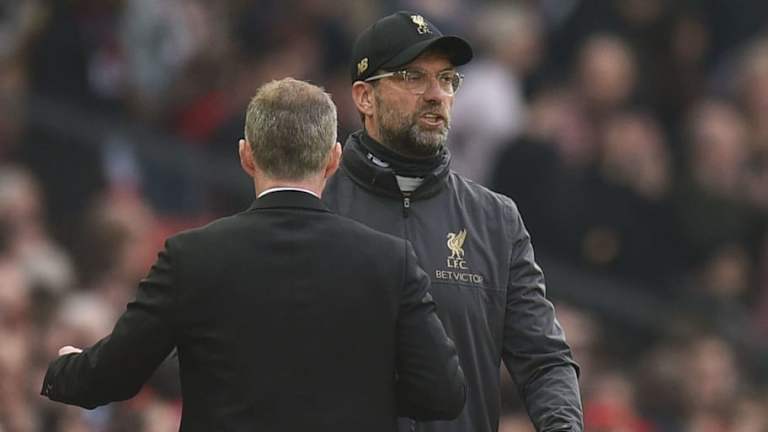 Eagle-Eyed Fans Decipher What Jurgen Klopp Said to Ole Gunnar Solskjaer After Old Trafford Stalemate
Supporters think they've uncovered what Jurgen Klopp said to his Manchester United counterpart Ole Gunnar Solskjaer following Liverpool's 0-0 draw at Old Trafford, with the German reflecting on the stalemate in the bluntest of manners.
An injury-ravaged first 45 minutes hampered any chances of a memorable encounter between the bitter Premier League rivals as, what is so often the case in these over-hyped clashes, the game failed to live up to its billing. As a matter of fact, there were more forced substitutions than shots on target in the 90 minutes of action.
In one of the more discussed moments after full time, as Klopp went over to shake the United manager's hand he appeared to mutter something that left viewers to channel their inner lip-reader and draw some conclusions as to what the German had said.
As ever in the world of social media, fans claimed to have worked out the extent of Klopp and Solskjaer's exchange with remarkable speed, with their findings below:
The former Borussia Dortmund manager has never been one to mince his words, and it is his straight-to-the-point approach that has endeared him amongst the Liverpool faithful, while also, less publicly, among rival supporters too.

The Reds will have their chance to maintain their lead at the top of the Premier League summit when they take on Watford at home on Wednesday night.