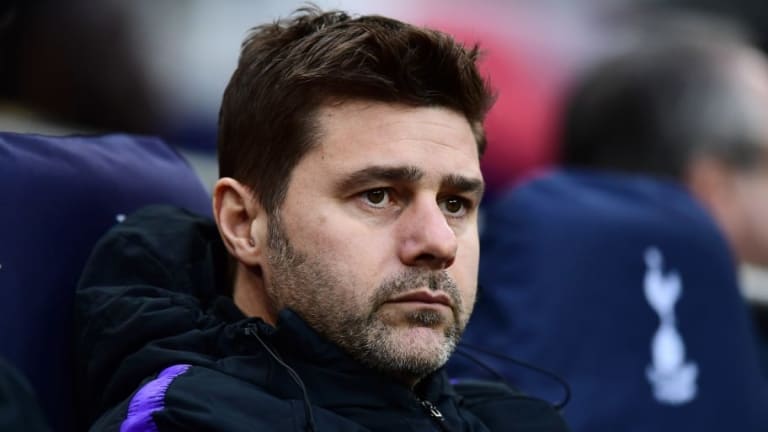 Mauricio Pochettino Claims Tottenham 'Do Not Deserve' Success & Blasts Squad's Mentality
Tottenham Hotspur manager Mauricio Pochettino has claimed that his squad are mentally weak, adding that they do not deserve success until they can address their issues.
Under the Argentine, Tottenham have established themselves as one of England's finest teams, but they are yet to win a trophy despite coming close on several occasions. They are currently in the running for the Premier League title, but slumped to a 2-1 defeat at the hands of Burnley on Saturday and now sit six points behind leaders Liverpool.
When asked whether the loss means Tottenham are out of the title race, Pochettino admitted that his squad's mentality could prevent them from achieving success. 
He is quoted by the Daily Mail as saying: "If we want to be real contenders, Burnley is a must-win game. It's unacceptable to lose.
"What we showed on Saturday was that we are a good team, that we have good quality, but that is not enough to win a title like the Premier League. That's the reality. The players think the same. If you're not capable of beating Burnley when you are going for the title, then it's impossible to think that you are going to win the title.
"The reality today is it's going to be tough to win the Premier League, but because of us - not because Liverpool are much better or another team are much better. 
"I am so frustrated because we didn't show more attitude than Burnley, we didn't show more energy than Burnley, we didn't show more ambition than them when we are fighting for the Premier League. That is what worried me.
"It's easy to go to Chelsea and be motivated to play, and play against Arsenal or Borussia Dortmund. That's easy, you don't need a manager to tell you that, because that's normal. But you play for the Premier League in the big games like Burnley.
"The pitch is dry, the changing room is not so big like at Wembley - but you need to respect and the way you respect is to go there and show more ambition, more attitude, more capacity to fight and we did not.
"If we don't have the will to show that, then we don't deserve more. It's to be honest with ourselves, not to find an excuse. That is what is holding us back. My worry is to change that is not only five years' work, maybe it is 10 years' work.
"Of course, I have told my players this. They know very well - I told them before, during and after the game. I am not upset with them. I am only so surprised that we cannot build that feeling that the game was going to be the most important game."