My 2014 Sportsman nominee: Former Marine Rob Jones
This essay is one of more than 20 nominations for SI's 2014 Sportsman of the Year. You can see all of this year's nominees here.
There are a few things you should know about my Sportsman of the Year. He accepted some free meals while he competed. He let strangers and corporate sponsors give him gifts. He admits he did not achieve his goal.
He also rode his bicycle from Maine to California through the worst winter in memory, despite having both legs amputated, just to raise money for charity.
So, you know, perhaps you can overlook that other stuff.
Rob Jones set out to raise $1 million for charities that support injured veterans. Jones is an injured veteran himself -- he lost his leg after an IED exploded in Afghanistan -- but none of the money was for him. The impulse that caused him to join the Marines still runs through him. He lives to help others. He raised more than $120,000, which is not a million, but it's a hell of a lot more than he would have raised if he had sat on his couch feeling sorry for himself.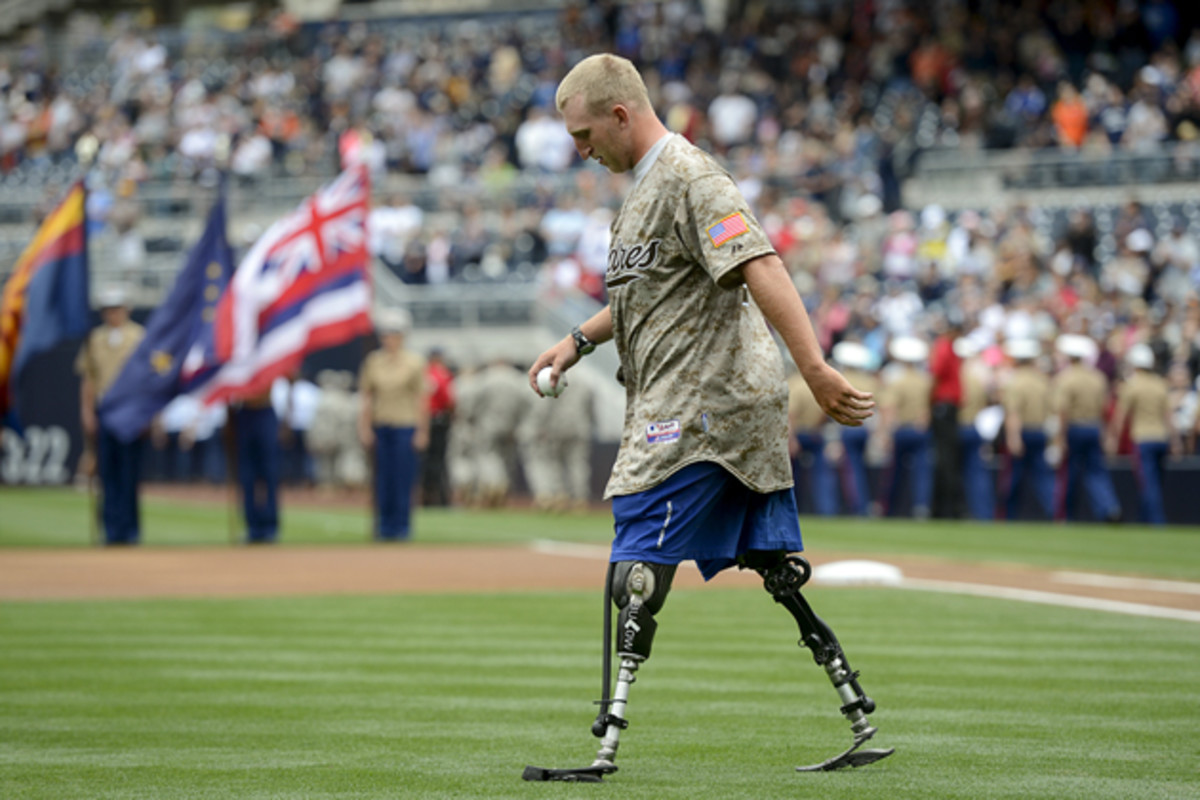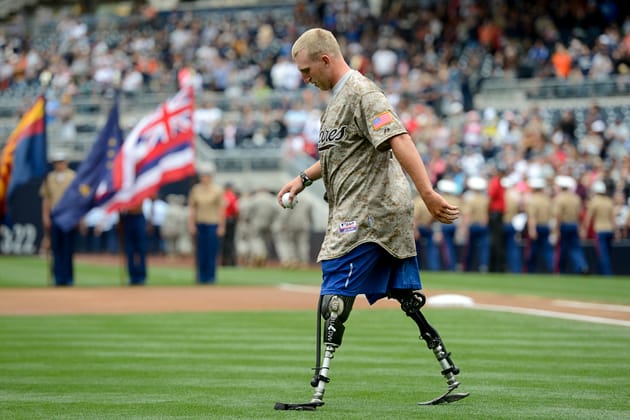 "I picked a million dollars just because it was a big round number," he says. "I didn't get close to a million but I'm really happy."
There are many ways to cross the United States on a bike, and none qualifies as easy, but Jones chose a particularly hard one: From Maine to San Francisco and then down to San Diego, most of it through the coldest winter in memory. It was so cold last winter that icicles wore mittens. Jones may be the only American who looks back and says, "It wasn't as cold as I was expecting."
Sure, his bike hit black ice in the Ozark Mountains during one polar vortex, losing traction and sending him flying, but he points out that kind of thing "only happened a couple of times." He cycled 5,181 miles, twice what it would take to go from, say, Savannah to Los Angeles.
Like a true sportsman, Jones was meticulous about doing this right. At the end of a day's ride, Jones would mark the spot where he stopped cycling, then go back there the next day. You know, he probably could have skipped a few hundred yards here or there. People would have given him a pass. But he was like an amateur golfer whose ball was sitting against a tree root. Maybe nobody else would know if he cheated. But he would.
My 2014 Sportsman nominee: Little League coach Dave Belisle
A publicist would call ahead to get him free hotel rooms and generate media attention, all to help the cause. Three hotel chains -- IHG, Choice Hotels and Doubletree -- gave him free hotel points to use on his journey. Strangers would cheer him on and buy him meals. Sometimes he would have a police or motorcycle escort, and in Nevada, a dog ran next to him for a mile. But the work, he did himself.
"It was about as hard as I thought it would be," he says. "It's a little hillier than I thought, I was expecting the midwest states to be a little flatter. I predicted it would take me six months and it did."
Jones is often asked what he learned. The answer: Not much.
"It reaffirmed things that I already knew," he says. "I knew I could set a goal for myself and achieve it by working towards it every day. It reaffirmed that for me. It reaffirmed how supportive Americans are of each other, how patriotic and how generous."
Jones didn't ride to learn something about himself. He rode because he had already learned so much. Another cyclist, now disgraced, once said it's not about the bike. Apparently, it's not about the legs, either. It's about pushing yourself to do what you believe you can, because you can, and because it can bring joy to somebody else. And isn't that the essence of sports?