Federer escapes disaster, but will need vintage run to match history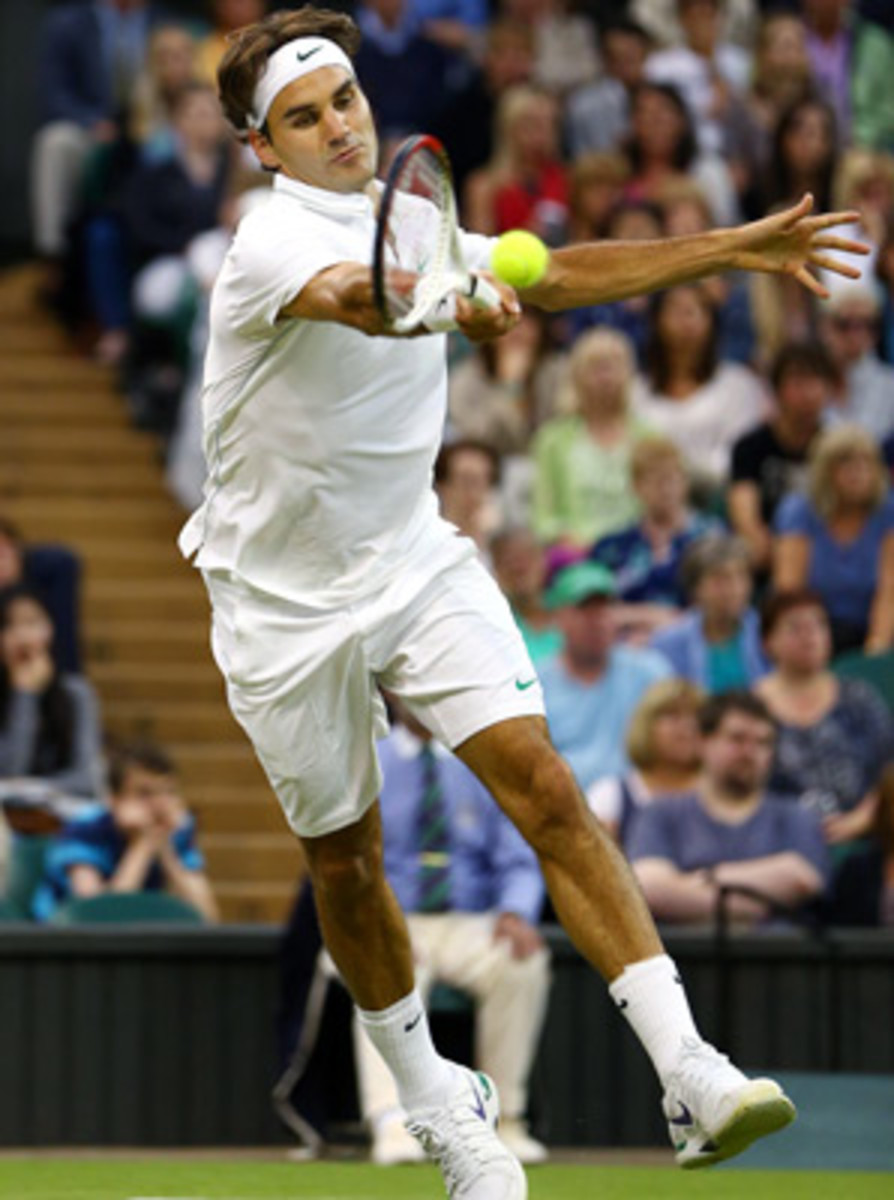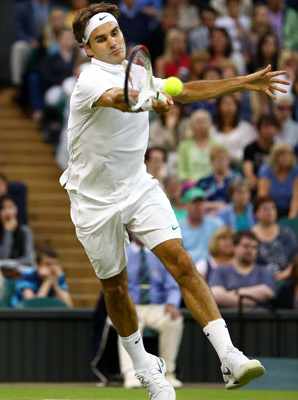 WIMBLEDON, England -- The aftershocks of Rafael Nadal's upset loss were still being felt around Wimbledon on Friday afternoon, when Roger Federer opened his third-round match with a heavenly one-handed backhand winner that skidded past the French veteran Julien Benneteau.
Nadal's defeat to someone named Lukas Rosol under the same Centre Court roof almost precisely 19 hours earlier had assured Federer the No. 2 ranking he had ceded last month, and provided an unmistakable boost for a deposed champion who had entered Wimbledon as an afterthought -- at least as much an afterthought as someone who's won the tournament a half-dozen times can possibly be.
No one then could have expected the 30-year-old Swiss would find himself two points from elimination after dropping the first two sets, not after Federer had lost just nine games total in his first two matches to equal his best-ever start at the All England Club. Yet there he was, the 16-time Grand Slam champion, precipitously close to his first exit from a major tournament before the quarterfinal stage in more than eight years.
By the end Federer had showed a fighter's grit in rallying for a 4-6, 6-7(3), 6-2, 7-6(6), 6-1 triumph over a game Julien Benneteau, whose concentration and fitness conspired against him down the stretch. It marked the eighth time Federer won from two sets down in his career, a comeback he attributed to his deep well of experience. "Probably having been there so often, down two sets to love, knowing how to handle the situation, not to panic," he explained, "knowing that once I broke the beginning of the third set that this match is completely open, and I'm only going to get stronger for here."
A cathartic and deserved victory, to be sure, though it's clear Federer will need to raise his level if he expects to capture a seventh Wimbledon title to match the tournament record held jointly by Pete Sampras and William Renshaw.
Benneteau had defeated Federer the last time they'd met, rallying from a set down in the second round of the 2009 Paris Masters. It was easily the biggest victory of his career and he wept openly afterward, but that match had taken place before a partisan crowd on Benneteau's native soil. Federer may be Swiss, but Centre Court is his spiritual home, and most in attendance Friday regarded the Frenchman as a mere speed bump on the former champion's route to a fourth-round date with unseeded Xavier Malisse -- whose earlier victory over Fernando Verdasco cleared yet another seed from a quarter that's looking more and more favorable for Federer by the day.
Yet Benneteau controlled the rallies early on, while Federer was uncharacteristically sloppy, connecting on just 44 percent of his first serves in the opening set. After closing out a second-set tiebreak to stake an improbable two-sets-to-none lead, the 30-year-old Frenchman had struck 37 winners against 17 unforced errors, compared to 16 winners and 18 misfires for Federer.
"I tried to stay calm," Federer recalled. "And I was."
A turning point came in the first game of the third, when a wrong-footed Benneteau fell on his surgically repaired wrist. Clearly shaken, he quickly went down two breaks as Federer capitalized on a series of momentary lapses. "If your level is a bit lower, right here, right now he takes the opportunity," Benneteau lamented. "At the beginning of the third set I was a little bit not as good as I was during the first two sets, and in five minutes it's 4-0."
By the time Federer closed out the fourth-set breaker to push the match to a fifth and deciding set, Henman Hill was packed as spectators bunkered in for a thrilling finish. It never came, however, due to the severe cramping that compromised Benneteau's serve and gave Federer all the opportunity he needed to ruthlessly close the show in 26 minutes.
"Mentally he's a rock, you know. He's two sets down and he doesn't show anything," Benneteau said. "He has a capacity to improve his game during the match. He was more aggressive right after I serve the first shot of the rally, he tried to hit the all stronger and to be more aggressive, and you feel it when you are on the other side."
No one doubts Federer is capable of summoning the sublime tennis that made him the sport's consummate stylist in addition to its all-time Grand Slam champion -- no sane observer can -- but whether he can do it on the pressure points in the biggest matches is the singular doubt hanging over his quest to become the first men's player to win a major past his 30th birthday since Andre Agassi at the 2003 Australian Open.
He passed the test Friday as day turned to night at the All England Club, the hallowed venue where his legend was forged and later immortalized, yet whether Federer can sharpen his consistency and elevate his game for the sterner challenges at the business end of this year's tournament remains to be seen.