Bryans cut Spain's lead to 2-1 with doubles win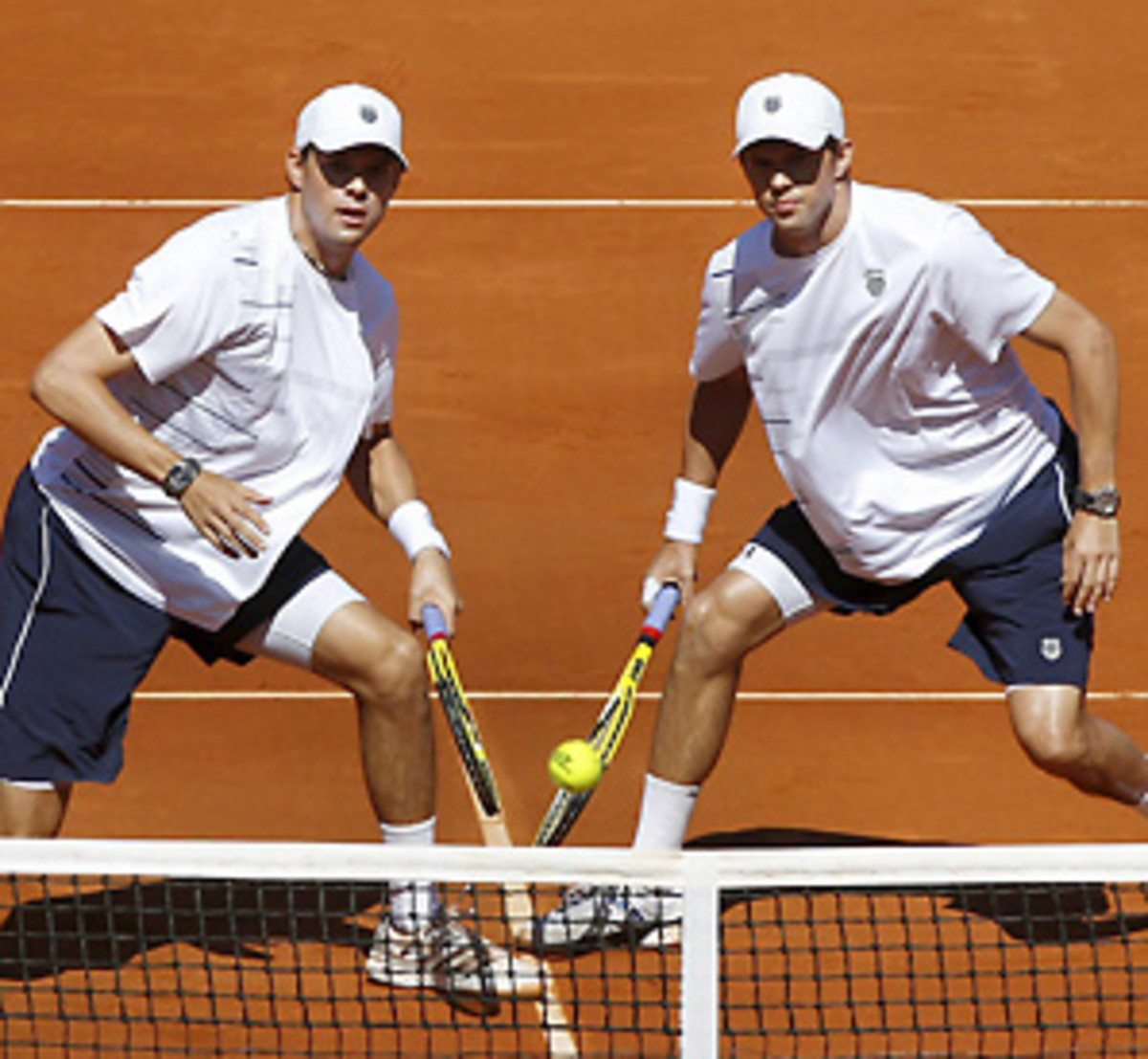 GIJON, Spain (AP) The Bryan brothers delivered as expected on Saturday. That just leaves John Isner to perform the unexpected against defending champion Spain for the U.S. to possibly reach the Davis Cup final.
Mike and Bob Bryan won their doubles match against Marcel Granollers and Marc Lopez 6-3, 3-6, 7-5, 7-5 to cut Spain's semifinal lead to 2-1.
On Sunday, the 6-foot-9 Isner will face David Ferrer, who is 15-0 on clay in Davis Cup competition. Isner lost a draining five-set match on Friday to Nicolas Almagro.
"John knows how to separate yesterday from tomorrow," U.S. captain Jim Courier said. "There will be no need for a fire-up speech. He'll be ready."
Should Isner win, teammate Sam Querrey will play Almagro - who is 8-1 on the surface - for a spot in the final in November. The winner faces either Argentina or the Czech Republic.
"Until it's over, I think Yogi Berra said it best," Courier said.
Spain is aiming for a fourth trip to the final in five years, having won all previous 37 World Group series when they have swept the opening singles. The U.S. odds improve when down 1-2, having done it five times with the last in 2000.
"These guys did a great job, and I'm sure Spain's ready to put us away," Courier said. "But we've two guys ready to fire tomorrow. So we'll take our chances and see what happens."
Granollers was hampered by a left calf injury picked up in the second set. He stayed in the match but Spain lost momentum and mobility as the Bryans performed before nearly 15,000 spectators.
"We came here to get a win, we kept the team alive," Bob Bryan said. "It wasn't pretty all the time, but a win's a win and we're happy with that."
Mike Bryan stumbled chasing down a drop shot to miss out on the first match point, but Lopez double-faulted on the next opportunity.
"It's a shame because we felt really good today," said Lopez before alluding to his own calf problem that forced him to retire from the U.S. Open doubles semifinal. "It happened to me in the U.S. one week ago, it's tough."
During the marathon third game in the second set, Granollers limped off the court for treatment on his calf. Despite captain Alex Corretja calling on him to retire rather than risk injury, Granollers finished out the match.
"It wasn't easy to play a guy that was potentially injured," Mike Bryan said after the 3-hour, 38-minute match. "I thought we played safe for a set and a half."
Czechs take 2-1 lead on Argentina
BUENOS AIRES, Argentina (AP) Argentina lost the Davis Cup doubles on Saturday - falling behind 2-1 against the Czech Republic in the semifinals - and also lost Juan Martin Del Potro for Sunday's deciding singles.
Without Del Potro, Argentina will be decided underdogs to reach its second straight Davis Cup final. It also makes the Czechs strong favorites to reach their second final in four seasons. They lost to Spain in the 2009 final.
Del Potro defeated Radek Stepanek on Friday in singles playing with an inflamed left wrist on his non-racket hand. He said afterward he was in pain and playing with only half of his arsenal of shots.
Del Potro's doctor warned him that his wrist was at risk if he played in the Davis Cup. Wrist problems ruled out the 2009 U.S. Open champion for most of the 2010 season.
On Saturday the risk turned to fact.
Argentina captain Martin Jaite said Del Potro was being replaced by doubles player Carlos Berlocq, who will face Tomas Berdych in Sunday's first reverse singles.
"Juan Martin finished yesterday with more problems than previously thought," team doctor Miguel Khoury said. "We don't think he's in condition to play on Sunday."
Khoury said del Porto's wrist was being immobilized for 10 days.
"We think this is the best decision for his problem and the team."
Jaite learned late Friday that del Potro would not play, but said he didn't tell the team until after Saturday's doubles.
"It was not what the team expected, but we're OK and we have two more matches," Jaite said. "Obviously it's a blow to the team, but we'll continue to fight for it."
Berdych and Stepanek defeated Eduardo Schwank and Berlocq 6-3, 6-4, 6-3, and put their team on the brink of returning to the final for the first time since 2009.
Berdych will be favored to secure victory against Berlocq, who was making his cup debut. Stepanek and Juan Monaco were scheduled to meet in the last match on the outdoor clay court.
Berdych dismissed any worries about playing three days in a row.
"My physical aspect is fine," he said. "I won two tough matches, but I'm here to be ready for three days. Winning two matches gives me a lot of confidence."
Argentina is trying to reach its fifth final. It has lost a record four finals, including last year against Spain. The Czechs won as Czechoslovakia in 1980. They lost in the 2009 finals to Spain.