Serena Williams, Svetlana Kuznetsova win at French Open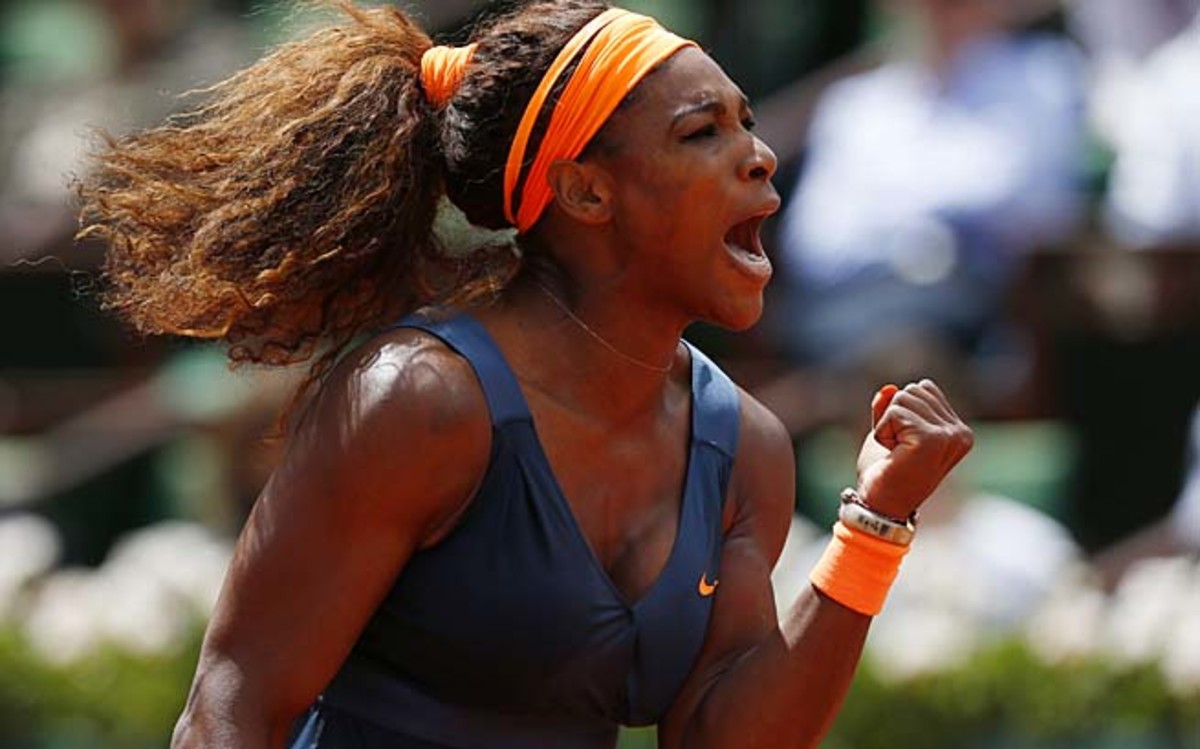 Shortly after the start of her fourth-round match at the French Open, Serena Williams double-faulted to give her opponent a chance to break.
The next point lasted 11 strokes, and Williams closed it with a backhand winner down the line that she punctuated with a raised fist and the first of Sunday afternoon's many shouts of "Come on!"
Williams, it turned out, was already well on her way to the quarterfinals with her 28th consecutive victory, this one by a score of 6-1, 6-3 against 15th-seeded Roberta Vinci of Italy. It's her most wins in a row as a professional, and the most in a single season by any woman since her sister Venus put together a 35-match run in 2000.
"I honestly don't even consider it, like, a streak," Serena Williams said. "Every day, everybody is like, `You're on this streak.' But for me it's about winning the matches. It's like I don't care to be on a streak. I don't care not to be on a streak.
"At the end of the day," she added, "I just want to hold up the winner's trophy."
If she keeps playing this well, that very well could happen at the end of the coming week.
First things first, though.
The 15-time Grand Slam champion's next task is a quarterfinal against two-time major champion Svetlana Kuznetsova, who is ranked 39th and unseeded at Roland Garros. Kuznetsova beat No. 8-seeded Angelique Kerber 6-4, 4-6, 6-3 Sunday.
Kuznetsova won the 2004 U.S. Open and the 2009 French Open, where she defeated Williams in the quarterfinals along the way.
"That will probably get her pumped up," Williams said.
Kuznetsova screamed with joy after smacking a forehand winner on match point against Kerber to improve to 12-2 in three-setters this season. At 41-9 for her French Open career, her tournament winning percentage of .820 is the best among active players.
But she acknowledged Williams is No. 1 anywhere at the moment.
"I mean, she's the best in the world so far. She's been playing unbelievable tennis," Kuznetsova said. "But I believe that I have game and my good days, as well. Let's cross fingers I will have a good day."
Williams won the 2002 French Open, but she hasn't been to the semifinals in Paris since 2003.
A year ago, she lost in the first round to a woman ranked outside the top 100, and she made a point of not taking anything for granted this time around.
Williams has lost a total of 10 games through four matches. She has saved all four break points she has faced. And she has cashed in 18 of 37 break chances.
"If you miss a first serve, she puts a lot of pressure on your second serve," Vinci said. "She's like a big piece of furniture, right there in front of you."
Vinci has paired with another Italian, Sara Errani, to win three of the past four Grand Slam championships in doubles. Errani has had more success in singles, including being the runner-up to Maria Sharapova at last year's French Open.
The fifth-seeded Errani made it back to the quarterfinals, this time by getting past No. 20 Carla Suarez Navarro 5-7, 6-4, 6-3, but only after feeling pain she described as "like a knife" in her midsection and having trouble breathing.
Errani was treated by a trainer during a medical timeout at 5-all, 40-all in the first set, then lost that game and the next. But she turned the match around in the second set and now faces 2012 Wimbledon runner-up Agnieszka Radwanska, who eliminated 2008 French Open champion Ana Ivanovic 6-2, 6-4.
Looking ahead to facing Errani, Radwanska said: "I just, for sure, have to prepare for lots of running."
Vinci tried a little bit of everything against Williams.
Serve and volley. Coming to the net behind returns. Changing speeds on her groundstrokes.
"I told myself, `I need to risk, I need to push forward, I need to really try something new,"' Vinci said. "But it was a one-sided match."
Williams has been playing a lot of those lately.