Wimbledon Day 6 recap: Cornet stuns Serena; Rain, darkness delay matches
LONDON -- Day 6 at Wimbledon started under a cloud of rain and ended in a chaos, as Serena Williams suffered the upset of the tournament and a flurry of matches raced to finish in daylight. But hey, David Beckham was here. 
What happened?
Alize Cornet stuns Serena Williams... again: When the French No. 1 finally closed out the 1-6, 6-3, 6-4 victory over Williams (her second this year), she saluted the crowd and then kissed the grass, sealing her relationship with a surface she used to despise.
"I think it's very symbolic because it means now I love you grass and I didn't before," the affable Cornet said with a laugh. "It's the best victory for me in a Slam. Finally I got this win that I was looking for since two years. I did a lot of third rounds. I was really looking for this second week, now I have it. It deserved a kiss, I think."
For Williams it's back to the drawing board. The five-time Wimbledon champion had not lost before the fourth round at the All England Club since 2005, and has now lost in the first week of back-to-back majors for the first time since 1999. This was her second straight loss to the No. 25-ranked Cornet, who said she didn't even play her best on Saturday.
Serena Williams loses early in a Grand Slam for the third time this season
"If you are focused on her career, on what she did, the champion she is, wow, then you feel like you're nothing on the court," Cornet said. "So it's better just to focus on what I have to do. I played against her a lot of times before and it was always tight matches. I think maybe she doesn't like so much the way I'm playing. I'm pretty creative on the court, doing some different things. Maybe she doesn't like it."
Cornet will play Eugenie Bouchard in the fourth round on Monday.
A tearful end of the day for Madison Keys: The 19-year-old American lost the first set in a tiebreaker to Yaroslava Shvedova, but was up a break in the second set when her heavily taped right leg began to bother her. She had a chance to serve out the set at 6-5 -- never mind the fact that this match should have been suspended at 5-5 out of fairness to both competitors -- but called a medical timeout to assess her leg, which was clearly bothering her. When play resumed she got broken.
The match was then called for light at 9:35 p.m., just three minutes before yesterday's stoppage at 9:38 p.m., which was the latest outdoor finish at Wimbledon. Keys was in tears after the match and had to be helped off the court and back to the locker room by the tournament trainer. She'll resume her match against Shvedova on Monday trailing 7-6, 6-all.
Centre Court turned into a woodshed: Nadal dropped the first set in his third-straight match, this time to Mikhail Kukushkin, but turned on the jets to earn a 6-7, 6-1, 6-1, 6-1 win. Roger Federer has yet to drop a set at Wimbledon, easily winning 6-2, 6-3, 6-2 over Santiago Giraldo. And to top it off, Maria Sharapova came back from 1-3 down to win the last 11 games to beat Alison Riske 6-3, 6-0.
Serena's struggles at the Grand Slams continue with loss at Wimbledon
Two 2013 semifinalists will take a tumble: No. 15 seed Jerzy Janowicz will see his ranking drop outside the top 50 after losing in the third round to No. 23 seed Tommy Robredo, 6-2, 6-4, 6-7 (5), 4-6, 6-3. And No. 24 Kirsten Flipkens will fall outside the top 40 after losing 3-6, 6-3, 6-2 to No. 9 Angelique Kerber. Kerber will play Sharapova on Monday, and Robredo will play Federer.
The kids continue to be alright: Keys has yet to finish her match, but 20-year-old Eugenie Bouchard has reached the fourth round of her third-straight Grand Slam after beating Andrea Petkovic 6-3, 6-4, and Zarina Diyas, 20, of Kazakhstan moves on after beating Vera Zvonareva 7-6(1), 3-6, 6-3. In the men's tournament, 19-year-old Nick Kyrgios beat Jiri Vesely 3-6, 6-3, 7-5, 6-2 to make his first fourth round at a Slam.
Bouchard is the first beneficiary of Serena's exit -- she'll play Cornet in the fourth round. Kyrgios will give it a go against Nadal, and Diyas plays Simona Halep, who beat Belinda Bencic in straight sets.
Wimbledon is playing catch-up after matches were canceled due to rain: Stan Wawrinka and John Isner will play their third-round matches on Monday, and three matches were suspended for light. Kei Nishikori trails lucky loser Simone Bollelli 6-3, 3-6, 6-4, 6-7, 3-3, Madison Keys is down 7-6, 6-6 and will start with a tiebreaker against Yaroslava Shvedova on Monday and Ana Ivanovic is down 6-4, 1-1 to 2013 Wimbledon finalist Sabine Lisicki.​
Wimbledon needs a light meter: The last two days have featured nutty scenes of players complaining to the officials because of the lack of light. Surely this can be avoided.
Photo of the day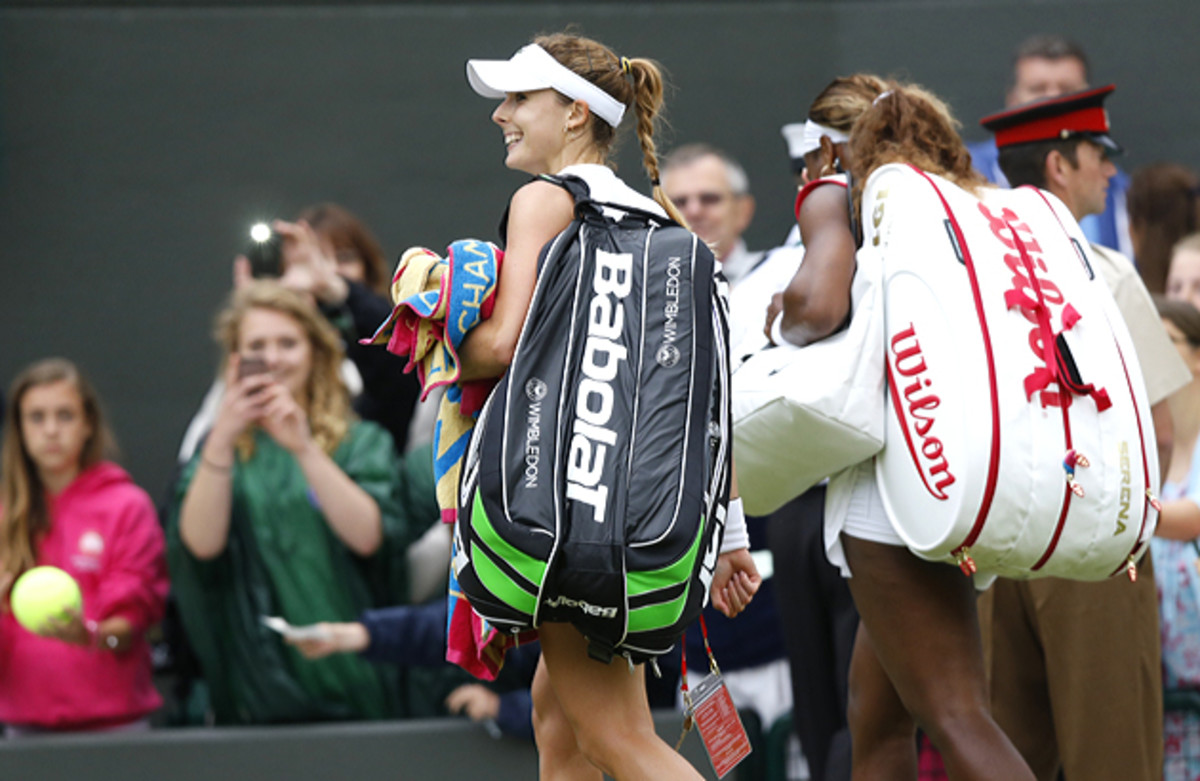 Photo of the day: Kiss edition
Photo of the day: Tears edition
GIF of the day
Rafael Nadal just really wanted to hit that forehand. (Credit to @nidssserz)
Quote of the day
"The changes I need to make I think are mostly within. Just try to see why I'm making some errors. But it's difficult. Like I said, if I'm not playing a great, great match, these girls when they play me, they play as if they're on the ATP Tour, and then they play other girls completely different. It's never easy being in my shoes. But you got to be ready."
-- Serena Williams
Tweets of the day