U.S. Open: Fifty parting thoughts
Here are Jon Wertheim's 50 parting thoughts from the U.S. Open.
NEW YORK -- Fifty parting thoughts from the U.S. Open ...
• With Monday's 6-3, 6-3, 6-3 victory over Kei Nishikori, Marin Cilic became the first Croat to win a Grand Slam title since his coach, Goran Ivanisevic, won Wimbledon in 2001. After outlasting Gilles Simon in five sets in the fourth round, the 25-year-old Cilic reeled off straight-set victories over Tomas Berdych, five-time champion Roger Federer and Nishikori. Cilic -- who missed last year's tournament while serving a four-month suspension after testing positive for a banned stimulant -- is the first 14th-seeded Slam champion in the Open era. He manhandled his nerves in his maiden major final and deserved the title that will lift him to a career-high-tying No. 9 in the ATP Tour rankings.​
• Serena Williams ran roughshod over Caroline Wozniacki in the women's final on Sunday. For all of the superlatives and impressive stats being thrown around about the 32-year-old Williams after her third consecutive U.S. Open title, here are two that stick out:
-- She won the U.S. Open for the first time in 1999. We talk about the unprecedented level of physical tennis, the global travel demands and the competition. Here's a player whose major titles span 15 years?
-- Williams is 18-4 in Slam finals. And two of those losses came to her big sister Venus.
​
• Nishikori's reserves were tapped by the time Monday's final rolled around. The long matches coupled with the stress of a Big Occasion were too much. But this was a breakthrough tournament in a breakthrough year. His takedowns of Milos Raonic, Stan Wawrinka and Novak Djokovic -- a rising star and two of the three 2014 major winners to that point, respectively -- made for true certification. Look for the 24-year-old from Japan at the season-ending World Tour Finals in November. Look for him at the top of the game for a long time.
• Wozniacki was one match short of authoring a tremendous story. But what a tournament. She won six rounds with her usual defense and court coverage, augmented with some pop on her groundstrokes and serve. It's a shame this power surge wasn't in evidence on Sunday. But since Wimbledon only Serena has been better than Wozniacki, who capped a 19-4 stretch with her first appearance in a Slam final since 2009. One day you envision Wozniacki's kids saying, "Mom, tell us about the summer of 2014 again." She responds, "What part? The broken engagement? The marathon training? The run to the U.S. Open final?" It's been a nutty season for Wozniacki, and she's handled it all with uncommon grace.
Twitter reaction to Serena Williams' record-tying sixth U.S. Open win
​
• Djokovic, the top seed, reached still another major semifinal. Then he was mystifyingly flat against Nishikori in a four-set loss. Djokovic may well finish the year at No. 1, but what a strange season it's been, filled with soaring play (and personal highs) and some real disappointments. Life, they call it.
• Federer is famously rational about defeats. "Losses hurt for about 10 minutes and then he moves on," said Paul Annacone, Federer's former longtime coach. "Time doesn't tick the same way for him." Federer, however, will one day view this event as a potential Slam title that, stingingly, got away -- much like the 2009 U.S. Open, where he lost a five-set final to Juan Martin del Potro. Federer thrived in the first week, staved off two match points against Gael Monfils in the quarterfinals and when he took the court for the semifinals against an opponent he beat last month and had never lost to in five meetings, he knew that Djokovic was out. But Federer couldn't solve the riddle of Cilic's power and lost routinely.
Rare Photos of Roger Federer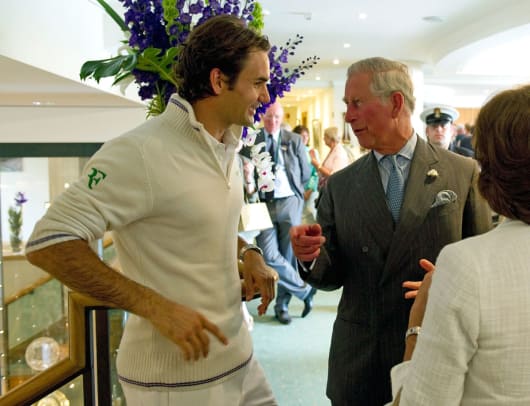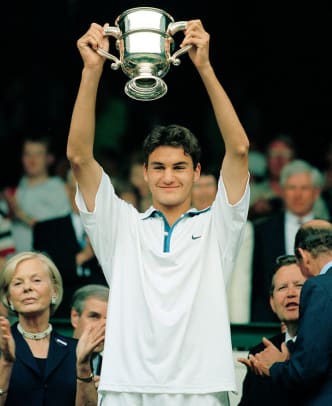 ​
• PengShuai's outstanding run was marred by a severe case of cramps and/or heat illness in her semifinal loss to Wozniacki. This situation has long hamstrung administrators. If a player is treated for cramping, does it not punish the other player for superior fitness? If the cramping goes untreated, not only does it make for callous optics but it could also put the player in real danger. And where is the line between heat illness and cramping? It's easy to second-guess but, as long as player safety comes first, you're then talking about judgment calls. All around, it was excruciating to watch. The score, 6-7 (1), 3-4, made the scene all the more awkward; if Peng had waited to be examined until the next changeover, the match could have been over.
• Bob and Mike Bryan arrived at the U.S. Open last year on the verge of becoming the first doubles team since 1951 to win all four Slams in a single year. They failed in that quest, though, and it took the brothers months to get over their semifinal loss. This year they came here seeking their first major of the season and they got it: With their victory over Marcel Granollers and Marc Lopez (Rafael Nadal's longtime sparring partner), the brothers won their 100th title as a team. Here's the ATP Tour's tribute to the Bryans:
​
• EkaterinaMakarova made the semifinals before running into an in-form Serena. Still, it was her best Slam showing and a $730,000 payday. The next day she teamed with Elena Vesnina to defeat FlaviaPennetta and Martina Hingis in the doubles final. (Incidentally, Hingis, 33, was a sight to behold. Her serve still floats like a dandelion head, but her hands and tennis cortex remain unrivaled.)
• SaniaMirza, a former top-30 singles player, has made an awfully nice career out of playing mixed doubles. Mirza, 27, and new partner Bruno Soares split $150,000 for winning in New York, her third major mixed title.
• Omar Jasika, a 17-year-old lefty from Australia, became the first player in 28 years to win the boys' singles and doubles titles. The Czech Republic's Marie Bouzkova, 16, won the girls' title. Colette Lewis has much more on the junior winners here.
Gael Monfils' latest U.S. Open setback just another reason to watch him
​
• A great line I heard about Monfils' operating philosophy: If it ain't baroque, don't fix it. But how stirring was it to see La Monf marry his show-stopping instincts with some sound decision-making? You just hope the 28-year-old Frenchman remembers this event for the first 14 sets he played, not the last three.
• Good to see Andy Murray beat a top-10 opponent (No. 10 Jo-WilfriedTsonga) for the first time since Wimbledon last year. He also played well for the first two hours of his three-hour, 32-minute match against Djokovic in the quarterfinals, but he has to be concerned about his fade. And about Djokovic saying, in so many words, I knew that if this turned into a question of fitness, I was going to win.
• Murray is battling for a spot in the World Tour Finals, which, of course, take place in London. (The Scot is 10th in the standings, with the top eight qualifying.) He didn't play last year and the event did just fine, but suffice it to say his presence is requested. Speaking of which, look for the tour to renew the deal and stay in London through 2018.
• Reaching the quarterfinals was an achievement for 2012 and '13 finalist Victoria Azarenka, given her dismal, injury-plagued year. But the ex-No. 1 is now down to No. 24.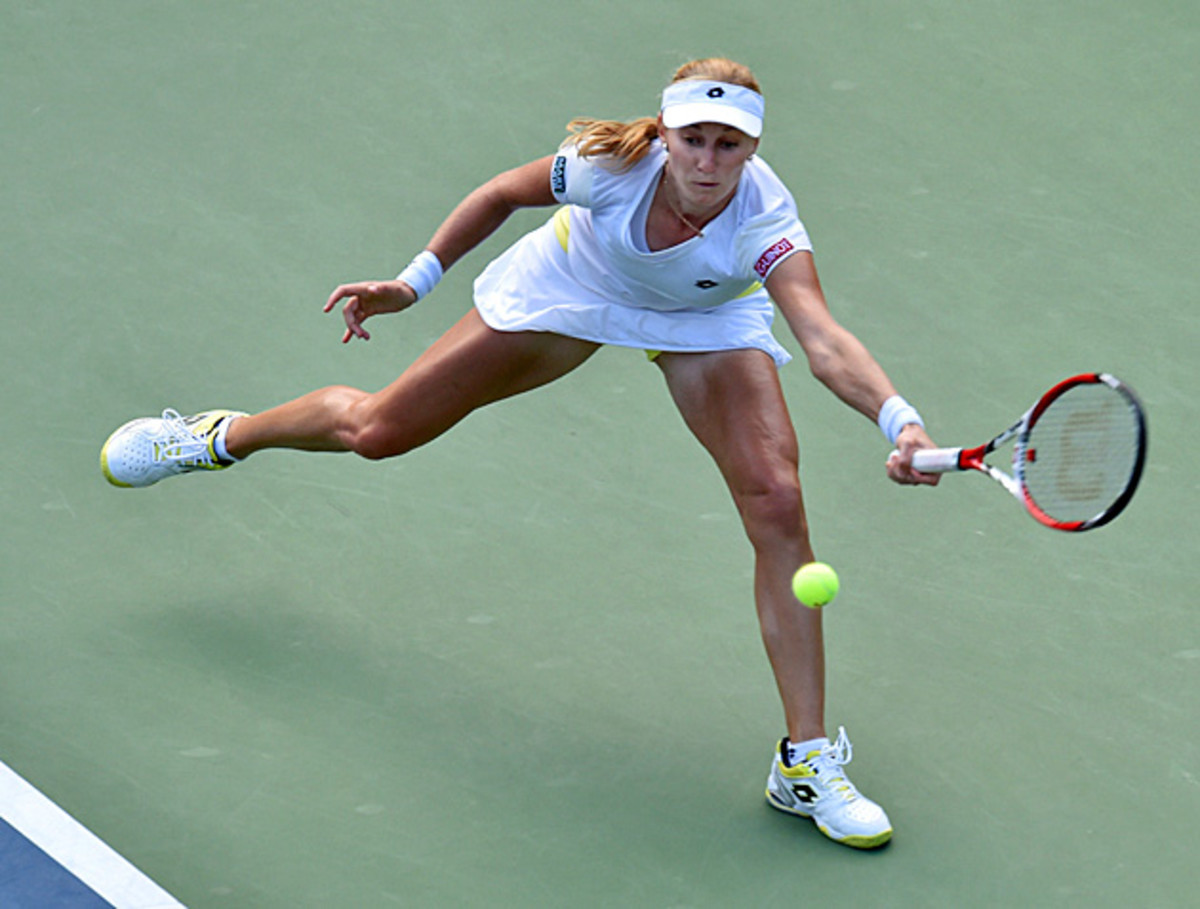 ​
• It's simply a losing risk/reward proposition for the best singles players to compete in doubles as well. But the next tier, ranked about 15-50, can benefit immensely. Sara Errani is a top doubles player, and note how the confidence she betrayed at net helped her win a third-set tiebreaker against Venus Williams in the third round. Same for Makarova, who went deep in both draws. Another example: Granollers, who has won 10 doubles titles and been ranked as high as No. 4, used his attacking style to give Federer an early scare in the third round.
• Certain courts have Hawk-Eye and others don't have the replay system. Here's a challenge posed to me by a player: Name another sport that treats some players differently from others during the same competition. "Imagine if the top NFL teams could review penalties but the bottom half couldn't," the player said. He stumped me. The attitude in tennis is that "something is better than nothing," and it's better to have some Hawk-Eye than no Hawk-Eye. But the player's point is well taken. And because you asked, it costs about $40,000 to install Hawk-Eye for each court per event.
• Eric Butorac has succeeded Federer as president of the ATP Player Council. Butorac, 33, a doubles specialist and one of the good guys, told TheNew York Times that attacking equal prize money was not on the agenda. Which is good politics and good pragmatism. Grow the pot for everyone. But it's also good planning. Look at the roster of ATP players once Federer and Nadal are gone and compare that to the women's prospects, and it's not hard to envision a shift in fan preference coming.
Fashion hits and misses at the U.S. Open
​
• Floyd Mayweatheris the world's highest-paid athlete, but his wealth doesn't come from endorsement income. Why? Because of his legal troubles, he's not exactly the figure you want representing your products. But what happens when a company isn't worthy of an athlete's imprimatur? Consider John Isner, who has made a nice side living endorsing products in exchange for equity. He recently sold his Vita Coco shares for a healthy gain. And in exchange for $75,000 worth of shares, he endorses the nutritional supplement Anatabloc. Problem is, the company figured prominently in former Virginia Gov. Robert McDonnell's corruption trial. The product was recently taken off the market indefinitely. 
This isn't to condemn Isner. But it's an interesting set of circumstances and it will be intriguing to see if he decides that the affiliation is damaging his brand -- not vice versa.
• Maybe they were simply putting on a brave face, but ATP officials were expressing confidence that Nadal would be back from a wrist injury for the Asian swing and the World Tour Finals. I've also been told by sources not to be surprised if he shuts it down for the rest of the season.
• More of a concern: the physical and mental state of Li Na, who cited a knee injury in withdrawing from the U.S. Open and the summer hard-court tuneups. Mary Carillo reported on CBS that the 32-year-old Australian Open champion will retire during the fall swing. Li's agent, Max Eisenbud, denied the report. The rumors have been flying for weeks that Li is not in a good head space, in part because of a post-Wimbledon split with coach Carlos Rodriguez. 
• There weren't many retirement announcements at the U.S. Open this year. Not from KimikoDate-Krumm, who turns 44 in three weeks. Not from West Village falafel maven Lisa Raymond, who at 41 will play the fall season and then decide her future. Michael Llodra, however, played his final Grand Slam singles match as he prepares to retire after the season. After winning his opener, the 34-year-old Frenchman retired less than an hour into his second-round match against Philipp Kohlschreiber because of an elbow injury. Which is either a tough way to go out or the ideal way, with the body corroborating the decision.
Offbeat photos from the 2014 U.S. Open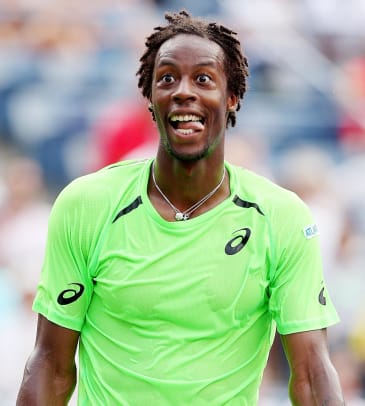 ​
• I struggle to think of an organization that absorbs more slings and arrows -- from more angles -- than the USTA. Some of the criticism is justified (see below) and some is not. But, man, it's like tennis' answer to the postal service or cable company. And it gets worse every year, moving in lockstep, perhaps, with the state of American prospects. But in the spirit of contrarianism, I'll tick off a few sources of praise from the USTA-run U.S. Open:
-- The practice-court galleries are great and give so many fans with grounds passes a chance to see their favorite stars.
-- The cell phone charging stations are a nice touch.
-- The concessions no longer seem risibly overpriced -- perhaps that's a byproduct of my spending too much time in airports and Europe this summer -- and the food ranges from passable to exceptional. New favorite dish: the burrata, a caloric onslaught but worth every penny.
-- The nationalism has been toned down. Maybe this owes to the depopulation of Americans in the draw.
-- The three-day American College Invitational held during the second week was a terrific touch. Next year it needs more publicity. But organizers are on to something.
-- The retractable roof over Arthur Ashe Stadium is coming as part of a site makeover.
• The unseemly conflicts of interest in tennis, and at the USTA in particular, were on vivid display. Before the tournament, TheNew York Times dropped this story that should embarrass many. (Crazy idea: If you receive grants from the USTA, you are disqualified from making decisions about funding. Oh, wait, someone kind of thought of that already.) Yahoo Sports got in on the act during the tournament after Patrick McEnroe's resignation as the USTA's head of player development.
The USTA's oft-stated goal is to grow the sport. Want to know the enemy of growth and innovation and for-the-greater-good decision-making? Nepotism, cronyism, incestuous relationships, double dipping and blatant conflicts.
You envision consultants from McKinsey & Company spending one day at USTA headquarters, examining the structure and finances and shaking their heads in amusement. "Wait, you're a 501(c)6 nonprofit group paying a seven-figure salary to a guy in a critically important role who is unwilling to commit to working full time? Your board members receive grants from the organization whose very policies and budgets they're helping to shape? Your president has a two-year term? The warranty on my phone lasts longer than that. You're a lame duck the day you take office. Do you even realize how this comes across to the outside world? Seems to me, guys, you have a choice: Stop running this thing like the Mickey Mouse clubhouse, or stop acting surprised when you're losing market share, have one male player in the top 45 and are less appealing to your broadcast partner than Little League baseball games."
• The parlor game of who will succeed McEnroe is already going strong. Annacone's name has been in heavy rotation. Interestingly, James Blake is likely to be involved in some capacity. I've also heard the job may be split and one of the positions will go to a female. This would seem to be a wise move, given the current gender imbalance among USTA coaches.
Watch as New Yorkers try to match tennis players to their grunts
• The robust attendance at the U.S. Open is well deserved. The grounds pass is still one of the best deals in sports. (A full day's worth of action. Move around as you see fit. Watch players practice. Free chia seeds.) But the U.S. Open is starting to resemble the French Open. There are way too many grounds passes sold -- massive debt service will have that effect -- and way too few fans in the big stadium.
• If I had to pick a favorite story of the tournament, I might be inclined to go with Victor Estrella Burgos, the 34-year-old Dominican who made the third round in his U.S. Open debut. Michael Powell -- who has been killing it for TheNew York Times as a new sports columnist -- wrote a lovely piece here.
• Tennis does its own version of I Love the '80s. And it needs to stop. Consider this: More than half of the world's population wasn't born when John McEnroe first uttered, "You cannot be serious!" (Has no player issued a memorable quote since?) There are waaaay too many references and nods to players, matches and quirks that are now three decades old. The tennis present is rich and the future is bright, but too often it's compromised by diversions to the past.
• The onslaught of consonants notwithstanding, remember the name Peter Gojowczyk, a 25-year-old German who pushed Raonic in the second round. Other players who caught my eye? The Ic's have it: BornaCoric, 17, who qualified and upset Lukas Rosol in the first round; Belinda Bencic, 17, who made the quarterfinals; and AleksandraKrunic, 21, who dazzled crowds with her speed and shot making during a fourth-round run. And tennis is a (Dominic) Thiem sport as well, with the 21-year-old Austrian advancing to the fourth round.
• Lots of hand-wringing about Sloane Stephens, who continued a year of regress by committing 63 unforced errors in a second-round loss to No. 96 Johanna Larsson. Stephens, who was up a set and 3-0 in the second, needs to fight through rough patches on the court. It often seems like her frustration can supersede her desire to win.
​
• The WTA's stars of Wimbledon quietly bowed out. Champion Petra Kvitova continued her trend of failing to build on momentum, losing to Krunic in the third round. Finalist EugenieBouchard -- cover girl of The New York Times Magazine before the tournament -- wilted in the heat against Makarova in the fourth round. And semifinalist SimonaHalep lost in the third round to 32-year-old MirjanaLucic-Baroni, one of the event's more appealing stories.
• In case you missed any of the date-driven visualizations on SI.com throughout the tournament, click here.
• An "inside baseball" story that I figured was worth sharing: Before the tournament, I reckoned that it was time that Sports Illustrated caught up with Federer. It had been a while, and this was a particularly interesting juncture in his career. There's a bit of history here. Federer was once passed over for the Sportsman of the Year award in favor of Dwyane Wade. (Now that the statute of limitations has lapsed on that 2006 decision, some of us wish we could appeal to the editorial equivalent of Hawk-Eye review.) And for a player of his achievements, Federer has been on the cover startlingly few times. Twice, to be exact. Plus, Federer is at a point in his career when, if viewed cynically and transactionally, there's not a whole lot that the media can do for him.  
No matter. The response from the Federer camp was short and sweet: "Roger is in. When's a good time and place?" There were no demands, no quid pro quo, no lobbying for a cover (something the most marginal cage fighter will request), no conditions placed on the interview. And "When's a good time and place?" What? Federer is the star. He is supposed to set the time and place and if the interrogator can't make it, well, too bad.
The rest of the conversation went something like this, starting with my suggestion of location:
"How about Toronto?"
"OK. Let's shoot for that first Saturday."
"Great. Oh, expletive. I realize I have to be in Los Angeles that day. I guess we could do it by phone and not in person."
"We'll get back to you."
Twenty minutes later.
"Roger says what about Friday evening?"
I stop here to say that finding a mutually convenient time is common courtesy for a social engagement. But it doesn't work that way in sports journalism. Those just aren't the rules of engagement. Here's a recent dispatch from my buddy and former colleague Jeff Pearlman. And DelinoDeShields, mind you, is no Roger Federer.
Anyway, I show up at the appointed time on that Friday. Federer shows up at the appointed time. He is alone, shorn of entourage, minders and go-betweens. He speaks conversationally and freely and engagingly. We finish. He leaves to take his daughters swimming in the hotel pool.
To the outsider, perhaps I've described nothing extraordinary. If you know athletes and the media, you know that is almost laughably accommodating. Especially for a star of Federer's wattage.
When athletes act like jerks, they get called out. When they comport themselves like professionals, well, those stories ought to be told as well. And when you hear about Federer elevating the culture and being so professional, well, here's a small, concrete example.
• I feel a little guilty for trafficking in gossip, but here goes: A prominent ATP player asked Rory McIlroy if he wanted to attend the U.S. Open during a visit to New York. McIlroy was then told that he was not welcome, as it would create a distraction, what with his ex-fiancée still in the draw.​
• If only StubHub sold tickets for this showdown: The ATP players want an 18 percent increase at Masters Series events; the tournaments are maxing out at six percent. Will Larry Ellison play ball?
Chris Evert's maturation as a tennis broadcaster
​
• A bevy of upsets is bad news for television ratings, but it's good news for Kathy Karadza. Who? She is the U.S. Open seamstress. From her perch in the women's locker room, she sews the one-day-endorsement patches onto the apparel of the unsponsored players who have a date on the show courts.
• Competing instincts on CiCiBellis. You can't help but be a bit excited by a 15-year-old who hangs with full-timers (a three-set victory over Australian Open finalist Dominika Cibulkova and a three-set loss to a top-50 player in Zarina Diyas) and shows such poise. When she did no better in the girls' draw than she did in the main draw, though, it reinforced the folly of smothering the kids with hype.
• Glen Greenwald investigative award to the intrepid reporter who asked Bellis: "You're actually trending on Twitter now. If you had a hashtag to sum up this afternoon, what would it be?"
• The good news about the qualifying tournament: Word is spreading and this is turning into a bona fide event in its own right. A Sports Illustrated colleague, whom I didn't know followed tennis, likened this to watching the balloons getting inflated the night before the Thanksgiving Day parade.
• The bad news about the qualifying tournament (at least from a domestic perspective): Of the 29 Americans in the men's and women's draws, not a single one advanced through three rounds and made the main draw. In keeping with a theme for the tournament, the USTA really needs to do some desperate soul-searching. The contrast between this festival of commerce -- a company selling friggin' chia seeds paid a seven-figure sponsorship fee! -- and historic failures of the U.S. players was never more striking.
• Echoing the point others have made: Can we put the "kid" back in ballkid? We all love Seinfeld, but the notion that an adult has deprived a youngster of an opportunity rankles.
​
• Jared Donaldson, 17, a Federer practice partner, is a U.S. prospect to watch. Donaldson, who lost to Monfils in the first round, has a big game, a monstrous serve and what seems to be a measured disposition.
• I had a chance to spend some time with Donaldson. He mentioned the experience of going to Dubai to hit with Federer for three weeks last December. "Who else was there?" I asked. The lineup included 18-year-old American Collin Altamirano, AlexandrDolgopolov and BlazKavcic. Tsonga was supposedly on the docket. Clearly Federer is like a boxer in training camp who has an entire rotation of sparring partners.
• I put this out there to highlight the perils of betting on tennis, not to impugn either player. In fact, to be safe, I won't even mention names. Player A was heavily favored to beat Player B in their men's first-round match, a logical development because Player A's ranking was much higher than Player B's. Shortly before the match, though, odds completely flip-flopped in Player B's favor, so much so that betting houses grew suspicious and either took the match off the board or put dramatic limits on the bets they accepted. Sure enough, Player B won handily. I caught up with Player A and asked him if he knew about this. No, he said, adding that the Tennis Integrity Unit had not contacted him. But he noted that he had been hurt. "Anyone who watched me practice would have been able to tell," he said. He also showed me a hideous blister the size of a quarter on the palm of his racket hand. The point is this: You bet on tennis at your own peril. Odds are good that someone else has superior information.
Best moments of the 2014 U.S. Open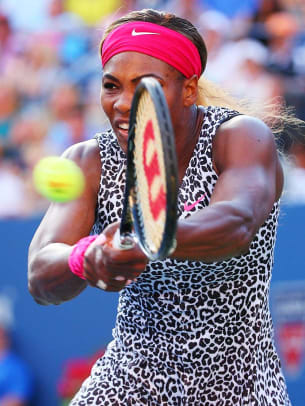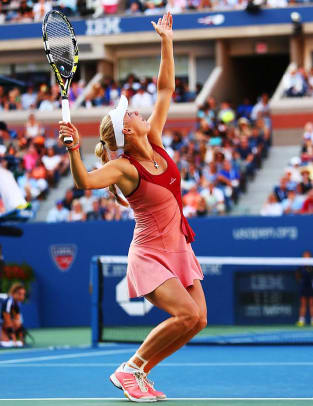 ​
• Venus Williams' decision to play doubles was heavily dissected. There's a certain irony here: Early in her career she was criticized for playing too seldom. Now she's criticized for playing too much? I net out here: Yes, it was unconventional scheduling, with Venus winning a late, three-set doubles match with Serena before losing an early, three-set singles match to Errani the next day. But good for Venus for valuing doubles. Good for her for valuing the opportunity to play with her sister. Good for her for returning to a full workload after years of autoimmune fatigue.
• Jennifer Capriati, 38, who last played in 2004, tweeted about her plans for a comeback. Regardless of what happens, it's good news that Capriati is physically active and in this frame of mind. One hopes she knows that she would be welcomed back with warmth and enthusiasm. For all of the athletes who are deluded about their popularity, I've always sensed that Capriati doesn't grasp the vast army of fans rooting for her.
• I had the good fortune of spending an afternoon last week at the Westside Tennis Club. Four miles -- and an immeasurable cultural distance -- away from the Billie Jean King National Tennis Center​, the previous home of the U.S. Open is untouched by time. The grass courts and the Tudor clubhouse remain. But who would ever have thought that the 15,000-seat stadium would be used for this?
• Here's wishing Victoria Duval a speedy recovery from Hodgkin's lymphoma. She is missed.
• Congratulations to Martina Navratilova on her engagement to longtime girlfriend Julia Lemigova.
• Finally, please indulge this bit of self-promotion. (These are the extreme measures you take when Amazon is feuding with your publisher and threatening to choke off your air supply.) In a few weeks, Tobias Moskowitz and I will be releasing a children's book designed to use sports to introduce some math skills and financial literacy.
Thanks, everyone, for the questions, comments and tweets. We'll do it again in Melbourne in January.