Wawrinka beats Tsonga but Monfils downs Federer to level Davis Cup final
Switzerland and France will go into the weekend tied at 1-1 in the Davis Cup Final after Stan Wawrinka and Gael Monfils won their respective matches to keep things level. No. 4 Wawrinka started the competition off with a dominant 6-1, 3-6, 6-3, 6-2 win over No. 12 Jo-Wilfried Tsonga. But in front of a record crowd at the Stade Pierre Mauroy in Lille, France, No. 19 Monfils gave the home side something to cheer about when he dismantled No. 2 Roger Federer 6-1, 6-4, 6-3. Federer took the court despite a back injury that forced him out of the ATP World Tour Finals last Sunday, and Monfils promptly handed him the worst Davis Cup loss of his career.
Five thoughts after Day 1:
Stan Wawrinka came up huge and he'll have to do it again: Wawrinka was nearly flawless in scoring a fairly one-sided win over Tsonga to give the Swiss their first point. "They were a little bit maybe too focused on Roger," Wawrinka said. "I did my job. I showed them I'm not No. 4 for nothing." He took control of the match from the first ball, blasting 61 winners (on clay!) to 29 unforced errors over the course of the match. One question going into the tie was whether France's decision to host the tie on clay might backfire. It may be Federer's worst surface, but it may actually be Wawrinka's best. Four of his seven titles have come on the surface. In contrast, all 11 of Tsonga's titles have come on indoor and outdoor hard courts. The ball sits up in his strike zone and the clay slows everything down, giving Wawrinka time to set and really lean into his shots. 
The pressure's on as injured Federer, Swiss take on French at Davis Cup
But with Federer looking far from his best, the question is whether Wawrinka can carry the Swiss to the title himself. He may have to have a hand in all three points for Switzerland to win, possibly playing doubles on Saturday and then, if it gets there, the decisive fifth rubber on Sunday. After his two and a half hour match with Tsonga, Wawrinka said he felt physically ready to go for doubles on Saturday if Captain Severin Luthi calls on him.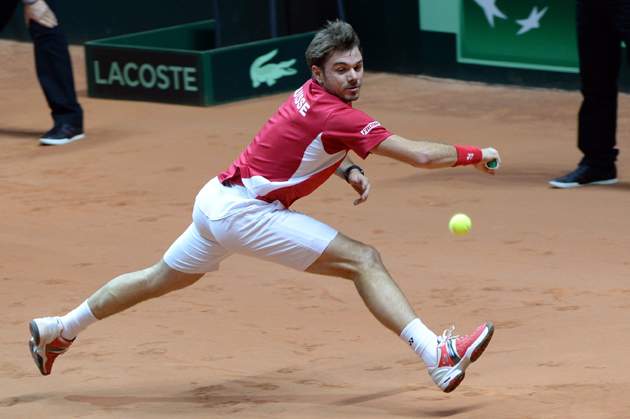 ​An inspired and focused Monfils is a sight to behold: His talent? Unquestionable. His competitive instincts? Unreliable. But if you could find a way to motivate Monfils, keep him focused, relaxed, and injury free, and let him play in front of 27,000 adoring fans, you may be able to coax out of him one of the best performances of his entire career. 
Monfils admitted he was nervous and felt the pressure after Tsonga lost the opening rubber. "In such a big atmosphere, in such a big stadium, I had to deliver," he said."
Credit to French captain Arnaud Clement for figuring out how to keep Monfils together. This was, of course, the guy who led Federer two-sets to love and had two match points at the U.S. Open just two months ago and, somehow, lost. But he learned from that match. On Friday he didn't let his adrenaline get the better of him. He dictated play, attacked Federer and when he needed it, the blazing speed and creative shot-making was there for him. Federer wasn't 100 percent, but he may not have beaten Monfils even if he was. The win was Monfils' third over Federer -- the first in a best-of-five match and the first on clay. 
#TBT: France's last victory at the 2001 Davis Cup
​Does Roger Federer see the court at all this weekend? Federer wasn't bad against Monfils. But the Frenchman was able to break his serve at will and he wasn't able to return as well as he needed to. The back injury that has been all the talk in the lead-up didn't seem to affect him if he could get set up on the baseline and attack the net, but any lunging movement into the corners rarely paid off, and his serve was never a weapon. According to FiveThirtyEight's Carl Bialik, this is the first time Federer failed to break his opponent's serve in a best-of-five match on clay.
"You accept the fact that you're playing the way you feel," Federer said. "It wasn't all negative. I started to feel better as the match went on. That's very encouraging, I must say."
If Switzerland wins the doubles they need just one singles win on Sunday to secure the title. If they lose, they'll need both singles wins. With Federer's back clearly not at 100 percent, we'll have to wait and see how Luthi chooses to use him this weekend. If he is confident that Federer is still fit enough to secure a singles win on Sunday, then expect to see him rest on Saturday. If not, does Luthi go all in and play Federer with Wawrinka in doubles -- the pair won gold at the 2008 Beijing Olympics --  to try and secure that second point, knowing that it could mean Federer is too taxed for singles on Sunday? And then there's the slim possibility that Federer's fitness doesn't let him take the court at all. 
Here's what Federer said after the match, courtesy of The New York Times' Christopher Clarey:
[tweet=https://twitter.com/christophclarey/status/535862854159986688]
[tweet=https://twitter.com/christophclarey/status/535866252481536000]
The Australians were faced with a similar dilemma in 2001 when they hosted France in the final. Pat Rafter was nursing a shoulder injury and knew after Day 1 he had only one match left in him. So they swapped out their doubles specialists and put in Rafter and Hewitt, hoping to secure the point to go into Sunday with a 2-1 lead and, ostensibly, the title on then-No. 1 Hewitt's racket. The gamble failed.
Watch: Federer's wife called Wawrinka a "cry baby" in London
​Sleepless nights ahead for Captains Luthi and Clement: Both captains have some big decisions to make over the next 48 hours. As of now, Switzerland has Marco Chiudinelli and Michael Lammer nominated for Saturday's doubles. Luthi could also go with Wawrinka/Chiudinelli or Wawrinka/Federer. On the French side, Clement has a host of calls to make for his team as well. Tsonga was far from impressive on Friday and he's set to play Federer on Sunday. Does Clement sub him out in favor of Richard Gasquet, Julian Benneteau or -- if the rules allow -- Gilles Simon? For doubles, does he go with Benneteau/Gasquet as nominated? The French team is incredibly flexible, which is a huge asset in Davis Cup, but it can also make things complicated.
[tweet=https://twitter.com/christophclarey/status/535869684533714945]
Did Federer resort to mind games? You be the judge. With Monfils serving to close out the first set, Federer appeared to yell at Monfils, chastising him for stopping his service motion. The incident clearly woke up the crowd and the French bench got up on their feet and encouraged the fans to boo Federer. But Monfils didn't blink at the commotion -- he closed out the match anyway.
[youtube=http://youtu.be/6TermOutuxk]
One of Monfils' best shots of the day:
[youtube=http://youtu.be/YYM_RSwhuNc​]
As for the crowd, Tsonga didn't mince words when expressing his disappointment in the level of support he felt against Wawrinka. From the television feed it definitely sounded, at times, like the tie was being played in Switzerland. "When the teams were introduced, they applauded Stan more than us, Roger more than us," Tsonga said. "We heard the Swiss spectators more than we heard the French ones." How will the French fans respond this weekend?
If this comes down to Wawrinka vs. Monfils, cancel all your Sunday plans: With the way these two played on Friday, a decisive rubber would be the perfect way to end the season.