My first Wimbledon: SI editor chronicles first All England Club visit
A first-person essay about visiting Wimbledon and the All England Club for The Championships for the first time.
LONDON – I first fell in love with Wimbledon 30 years ago. At the time I was a bright eyed, garrulous 11-year-old, obsessed with sports, the R&B group New Edition and playing dress up with my Barbies. I've always had a passion for sports, but it was mostly football, baseball and college basketball. Tennis only appeared on the TV in our house a few times a year, usually to ogle at John McEnroe going ballistic on some poor chair umpire or line judge (Serena's got nothing on a classic McEnroe tantrum).  At that point, the only tennis tournament I had ever been to was the Carter Barron Amphitheater in Washington, D.C. during the dead of a stifling east coast summer, and that won no favors with me. There was nothing fun about watching two people swat at a little green ball while sweating like pigs and being eaten alive by mosquitoes.
Wimbledon Daily Data Visualizations
Tennis, for all it's worth, was just different. Too formal; too staid; too stiff. Even with the wily on-court antics of McEnroe, Jimmy Connors and Yannick Noah for entertainment, I still always likened tennis to ballroom dancing—a posh recreational exercise with rarely any hype or rhythm; Something for the nerdy elite to get excited about on the dance floor while all of the cool kids were doing the Moonwalk or the Cabbage Patch.
Yet for nearly two weeks 30 years ago, I sat on the couch with my dad and watched The Championships at Wimbledon in awe. I couldn't take my eyes off it: the history, the tradition, the grandeur of it all. I was amazed by all of the sophistication: the refined grass courts, the all-white attire, the British dignitaries sitting in the stands, the strawberries and cream—show me a kid who wouldn't like a little dessert while cheering on their sports favorites—and the tall, blue eyed blonde who served and volleyed as if he was tap dancing.
In 1985 Boris Becker was a brash, unseeded, 17-year-old German phenom who took the sports world by storm with a four set win over Kevin Curren (a 27-year-old South African who beat both McEnroe and Jimmy Connors to reach the final) to become the youngest male to ever win a Grand Slam singles championship. Although just a teenager, Becker approached the grass courts at the All England Club as if the tournament was owed to him; as if his soul was born in London, not West Germany. He didn't yell (at least not yet), he didn't make lewd gestures and he wasn't a spectacle. He just played tennis. No fear, no mercy, no apologies for making grown men grovel. Even at 11 I knew the difference between gimmicks and playing up for the cameras, so the authenticity of both Becker and Wimbledon made me swoon. It was then that I fell in love with the sport and the venue. It was then that I knew I had to get to that place in the SW19 of London to experience the more refined side of sports and to hopefully one day meet Boris der Bomber.
Scenes from Wimbledon 2015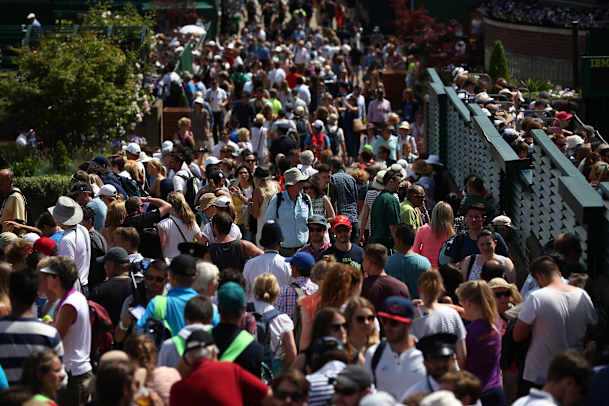 I first made plans to visit Wimbledon in college, but quickly became sidetracked by a hectic class schedule and a paltry back account. Once a professional, I finally made formal plans for a trip in 2004 for my 30th birthday. It would be my first trip to London. My girlfriends and I made the trek across the Atlantic for Part II of the Newman 30/30 Bash Experience (Part I was in New York City of course). I was able to brownnose my way to center court tickets (courtesy of a few industry hookups) for two days during our stay. However, it rained on both days and we didn't even make it out to the venue. Call it bad mojo, bad omen, or the Queen making me pay my dues, but we ended up settling on watching England lose to Portugal in the quarterfinals of the UEFA European Championships in a stuffy sports bar near Hyde Park. (Rioting across London quickly commenced after the loss. So much for tradition and etiquette).
For the next 10 years I always made plans in my head to go back to London but never made it. Sure, I did Finland, Sweden, Denmark, Norway, Russia, France, Spain, Switzerland, Estonia and the Netherlands, but never London and never Wimbledon.
After being named SI's tennis editor in February I decided there was no longer an excuse not to make the trip. I packed everything that was white in my closet and made the exhausting, post eight-hour workday dash to my namesake's stomping grounds. So far, it has been well worth the wait. Even though I've only been here for 72 hours and am still fairly jetlagged, I can't stop reaching for the pause button; can't stop hoping I could freeze-frame every moment. From the time I arrived at Gate 13 on Somerset Road three days ago to retrieve my press credential I've felt like I was in the midst of a "City of Oz meets the grass courts" moment.  Wimbledon is indeed a fairytale, full of the type of beauty and goodness and serenity that one wouldn't think could exist within a sport frequented by so many.  There is no tailgating, drunken beer brashness or ticket scalping nonsense. Even standing in line for match day tickets has a sophisticated name: queuing.
​The actual venue sits just outside of Wimbledon Village, a nestled cove full of chic shops, cafes and bars set amongst handsome historic buildings. Everything in the Village appears to be highbrow on the surface, but it is neither smug nor overly swank. The walk from the Village to the tennis venue is about 15 minutes and takes you through some of the most opulent residences in London: Belvedere Drive, Marryat Place, Thornton Hill. There is even a residence called, "Wimbledon House," a sprawling estate hidden behind a tall silver fence. There's a Dairy Road and an Endeavors Way. I actually got lost on the walk back from the venue on my first day. I stopped to ask a guy on the street for directions and not only did he offer to retrieve his map and help me, but he also invited me inside his £2 million house on Church Road, (the biggest house on the block) to have tea with him and his wife. That just ain't happening in New York City.
Wimbledon is not just a tennis venue, it is an actual city. The residents are affectionately called "WimbleDurban."  (A flirtatious local stopped me on the street and asked if I was a WimbleDurban. I tenderly replied, "No, I'm a New-YAWKER!) There's a Wimbledon Museum, a Wimbledon High School, a Wimbledon Windmill Museum and the Wimbledon Tea Room—and here I thought I was just going to a tennis tournament, not an area code.
Once you arrive at the Wimbledon tennis site, you first notice that there are purple and white flowers everywhere, more than 50,000 sprawled between the myriad of signs that read, "The Championships, Wimbledon." Sure you are bombarded with tournament marketing and commercialism at other tennis venues, but this feels different. It is given to you with a very polite, please and thank you.
Scenes from Wimbledon 2015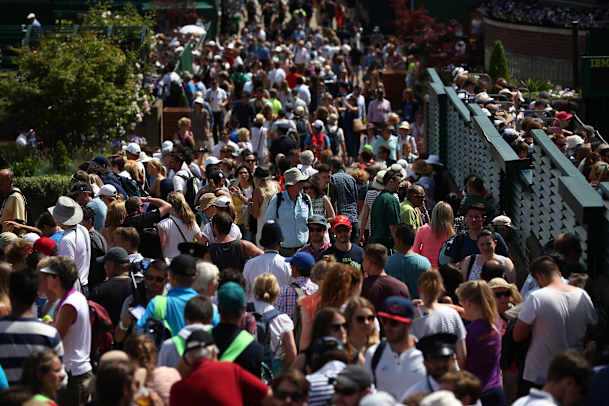 Then there is the exquisitely dressed Wimbledon staff, which is elaborately peppered all across the grounds. Most are donned in formal blue, white and green attire: Skirts for the ladies, pants for the gentleman, hats and ties on everyone. Aside from the one guard who viciously nearly bowled me over to make way for former Serena Williams hitting coach, Sascha Bajin, and two-time Grand Slam champion Victoria Azarenka as they were on there way to a match on Court 16, most staffers have been overly polite and friendly.
I've seen superb tennis thus far—Rafa's loss to an unknown Rasta-German Serena and Djokovic's dominating wins and Murray's commands for exaltations from the home crowd. I've seen champagne toasts on Henman Hill. I had Pimms, the traditional English summer drink and several servings of strawberries and cream. And I even got a glimpse of the Great Becker from afar.
Oh and about Boris de Bomber, a.k.a Becker: I finally did meet him up close and personal, but not at Wimbledon. I ran into him in 2001 at Madison Square Garden after a Knicks playoff game against the Raptors. I nervously approached him and introduced myself as a Sports Illustrated reporter and a longtime fan. He could not have been more humble and gracious. We stood in the tunnel outside of the locker rooms for twenty minutes talking tennis, Wimbledon, international relations, dating and that famous '85 championship. Even after 30 years, he still spoke of it with a twinkle in his eye. Looking back, I wish I had expressed to him just how much he made me a tennis believer.
Now, here at Wimbledon, I am ready for all of the tradition and the pageantry. Tomorrow I will wear all white and be merry. Cheers.