Murray beats Raonic in five sets, will face Djokovic in Australian Open final
No. 2-seed Andy Murray will face Novak Djokovic in the Australian Open final after beating Milos Raonic in five sets in the semifinals. 
No. 2-seed Andy Murray advanced to his fifth Australian Open final on Friday with a 4–6, 7–5, 6–7(4), 6–4, 6–2 win over No. 13-seed Milos Raonic.
Raonic opened up the match by breaking Murray's serve and the Canadian held control for most of the first set, winning 6–4 in 36 minutes. He hit 14 winners and 14 unforced errors to Murray's four winners and six unforced errors in the opening set.
[tweet=https://twitter.com/thetennisisland/status/693012855260647424]
But Murray stormed back in the second set, going from winning 28% of return points in the first set to 38% in the second, while Raonic dropped from 35% to 20% in the second. Following a Raonic backhand volley into the net, Murray earned his first break of the match to take the second set 7–5 and level the match at one set apiece. 
"It was frustrating when you don't have a say on the points at first," Murray said in his post-match, on-court interview. "But I started to get a slightly better read on his serves and made some better returns."
Novak Djokovic beats Roger Federer to advance to Australian Open final
In the third set, Raonic failed to get his second break of the match and Murray held to go up 6–5. But Raonic used his powerful serve to force a tiebreak and ultimately closed out the set with an ace.
With Raonic up 2–1 in the fourth set, the Canadian called for a medical timeout during the changeover and went into the locker room. Though he seem irritated by the pause in the match, Murray seemed to settle in afterwards, breaking Raonic's serve for just the second time in the match, at love, to go up 4–3 in the fourth set. The Scot went on to consolidate the break but Raonic responded with a hold of his own to save the set point. In between games Raonic once again received treatment from the trainer on his right upper leg and the injury seemed to affect his play the next few points, as Murray saved break points to win the second set and sent the match to a decider.
[tweet=https://twitter.com/Dimonator/status/693048387789307904]
"Just a difficulty to push off my leg with my adductor midway through the third set. That's what it was," Raonic said of the injury after the match. "It's unfortunate. Probably the most heartbroken I felt on court, but that's what it is."
The medical timeout proved to be a pivotal moment in the match, as Murray found his groove after that and completely elevated his game in the fifth set, earning a double break to go up 3–0 in the fifth set. The No. 2-seed ultimately ran away with the match, closing out the deciding set 6–2 after four hours to advance to his fifth Australian Open final and end Raonic's undefeated season—he was coming off a title in Brisbane earlier this month and beat No. 4-seed Stan Wawrinka and Gael Monfils en route to the semifinals. With the victory, Murray is now 11–2 in five-set matches since Wimbledon in 2009. 
"I'm in a much better state where I was 18 months ago when I was in my first semifinal of a Grand Slam," Raonic said after the match. "So I think I was giving myself chances and I was fighting hard. I was doing things right. It was just sort of how the story played out after."
"He definitely slowed down in the fifth set for sure, which was unfortunate for him," Murray said. "It would have been nice to have played more of a competitive fifth set."
On Sunday No. 2-seed Murray will look to win his maiden title in Melbourne against No. 1-seed Djokovic in a rematch of last year's title match.
"A lot of things are important when you're playing against the best players in the world," Murray said in his on-court interview. "We've played a bunch of times here…Hopefully this time it will be a different result."
Snapshots from Murray vs. Raonic
Australian Open semifinals: Murray vs. Raonic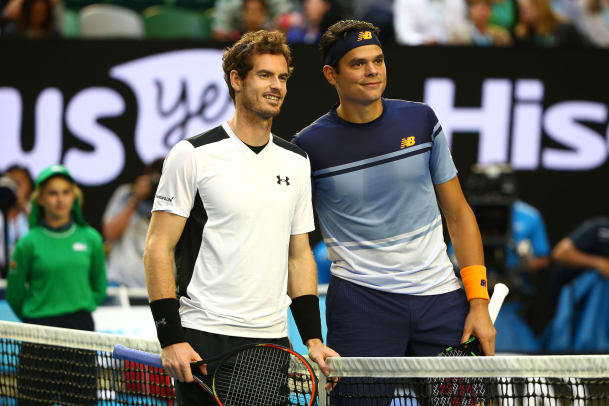 ​
This post will be updated.