Andy Murray beats Milos Raonic in straights for second Wimbledon title
Andy Murray defeats Milos Raonic to win his second Wimbledon title and third Grand Slam of his career.
LONDON – Three takeaways from the 2016 Wimbledon men's final:
• Staked with a safe lead, Andy Murray took a mid-match nap in the quarterfinals against Jo-Wilfried Tsonga. Take that lapse out of the equation, and he played an extraordinary Wimbledon, a two-week clinic in tactical, composed, efficient, offense-defense tennis. Murray garnished it all today, making hash of Milos Raonic 6-4, 7-6(3), 7-6(2)—a match less competitive than the scoreline suggests—to win Wimbledon for the second time. If Murray's 2013 title was a milestone and a victory over history, this was comprehensive and free of drama. Well done. And we'll contort and point out the irony of that, in this tournament of Brexit, a Brit is the last to leave.
• To his credit, Milos Raonic will take little consolation from his run to the final. He came here to win the trophy and his inability to serve better today will be a source of stinging regret for a long time. Credit Raonic with getting to this stage of a major for the first time—winning two-five setters in the process, including a takedown of Federer—and asserting his grass court bona fides. He conducts his business like a pro and will win a major soon enough. But that was a disappointing first match in a major final.
• Serena Williams captures 22nd major title with Wimbledon victory
• In keeping with one of our favorite themes, the plots migrates quickly in tennis. Two weeks ago, you would have taken Novak Djokovic against the field to win his third straight Wimbledon and fifth straight major, further consolidating and cementing his dominance. Today? Djokovic is long out of the event but still generating mystery. (Was that loss one lapse? A crisis of confidence? An off court issue? A vision issue? A shoulder issue?) And Andy Murray has not only reached the final of all three 2016 majors, but won Wimbledon, playing at a dazzlingly high level. And he now goes to Rio where he tries to "defend" his Olympic gold….
A few Q/A for the road:
Jon, lets keep it a 100 for a few (as Larry Wilmore would say). Is Ljubicic "really" helping Federer stay on pace or improve, or am I accurate in understanding that Federer is really regressing towards the mean? Time to move on from Ljubicic, don't you think? I mean, at this stage in Roger's career what can Ivan really tell Federer? "Rodge, lets try and land some of those serves inside the box on break point down this evening?"
—Deepak (Seattle) 
• One of the real discussion topics emerging from this Wimbledon: the role and importance and effectiveness of the coach, the "supercoach" in particular. Coaches can't, of course, coach during a match. Observe a practice session and you don't exactly see wisdom being dispensed. Telling a top player to be aggressive, or stay focused, or move in to attack a second serve?... "Gee, thanks, Belichick. How much game film did you have to break down to figure that one out?"
Feeling 22: Serena makes history with seventh Wimbledon, 22nd major title
Yet the results speak for themselves. And so do the players. Murray has very clear that he doesn't consider it a coincidence that Lendl has been present for his three biggest Wimbledon successes. Whether it's aura or comfort and the credibility that comes with having won the biggest prizes, the credentialed ones—Becker or Lendl or Edberg or McEnroe or Navratilova or Davenport or Moya—bring an additional level.
As for Ljubicic, who knows? He's a modest guy who isn't beating his own chest and has been very gracious in dispensing credit to others. You suspect that—knowing something about a hard-serving Croatian—he had advice on how Federer should play Cilic. Having coached Raonic for years, you suspect he imparted information before the semis. And how much of Federer's disappointing 2016 owes to both a knee injury and a 35-year-old body?
I'd like to see a "control group" a player who decides to let his astrologer coach him or relies on his masseuse for motivation and tactics. How much—if any—drop off would we see?
Serena is going to win this Jon and well deserved but how about showing some love to Kerber. First set 7-5 despite 90% first serves in for Serena, that says a lot about Kerber too. Would have been 6-0 if any other player.....
—Nani
• Right on. Kerber has played in two major finals. She won one and lost one; but in neither was she remotely cowed by the occasion. On Saturday, she played two loose games. Serena was playing at an elevated level. The result was the closest 7-5, 6-3 match you'll ever see.
• ​GALLERY: Snapshots from the 2016 Wimbledon women's final
Wimbledon 2016 women's final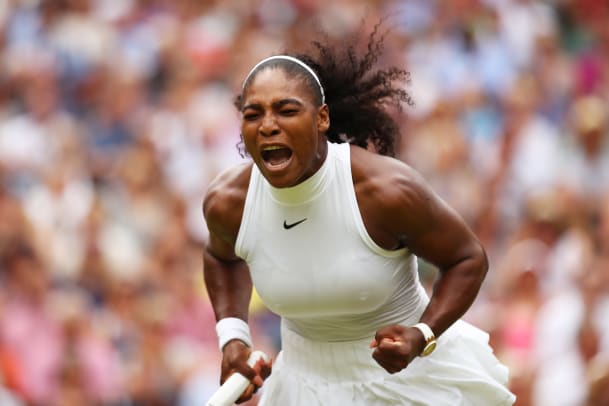 ​
John McEnroe working the ESPN broadcast booth for the finals match with Milos Raonic (McEnroe is a member of Raonic's coaching team) is a blatant conflict of interest. It creates the appearance of impropriety and comprises journalistic integrity. We simply cannot be sure if his commentary will be influenced by this. For example, McEnroe can be extremely harsh in his commentary when he believes a player is playing poorly or not giving full effort. Will he be just as frank in his remarks about Milos the man who signs his paycheck? The whole thing leaves a bad taste in the mouth. Why is ESPN doing this? It's not like there is no one else. Darren Cahill is one of the best.
—Fernando, Valencia
• There's been a lot of unhappy chatter about this among you guys. There's also been a lot of dissent and discontent among ESPN employees here. Again, I confess to being a bit torn. As a matter of media ethics, there's no discussion. It's a conflict, almost to a comical degree—not dissimilar to letting an author review her own book or a business reporter serve on the board of a company he covers. As a media outlet, you set quite a precedent going forward when you allow an analyst to work the match of a player who's paying him a salary.
Watch: Serena Williams recites Maya Angelou poem in BBC montage
As a viewer? I am fully aware of the conflict and can weigh bias accordingly. Potentially, anyway, I am getting a level of insight other may not be able to provide. There's also the meta-experience of gauging whether McEnroe is playing it straight or contorted himself to stifle his true feelings. In a weird way, the broadcast experience is enhanced.
If you're interested, here's ESPN's explanation. 
Sadly, I fear the subtext is this: "C'mon. Who are we fooling? Nick Saban working the booth for an Alabama game? That's funny, right? Ordinarily we would never allow this! But McEnroe has a degree of power/temper that eludes Darren Cahill—who coaches Halep, though you'll never see him commentating on one of her matches. And, besides, it's just tennis. It's this niche sport and everyone is hopelessly conflicted, anyway. Who's even going to notice?"
That had to have been the biggest crowd ever for a men's doubles final...thanks to Serena and Venus!
—Helen of Philly
• I noticed this, too. File that away for the next equal prize money debate. Serena Williams wins the singles title; she and Venus play in the doubles final (and win that, too. Of course.) Sandwiched in between: four French players who could walk the Champs de Elysees unrecognized play before 15,000 fans in the men's doubles final.
• Speaking of French doubles players, reader James Phan has LLS: Nicolas Mahut and Wolverine.