2016 U.S. Open men's seed report: Dark horses, matches to watch
Breaking down the 2016 U.S. Open men's draw, including dark horses, matches to watch and semifinals and finals predictions.
SI.com's Jon Wertheim breaks down the men's seeds at the 2016 U.S. Open. Read on for the dark horses, top first-round matchups and predictions, and find the women's seed report here.
1. Novak Djokovic, Serbia
Inasmuch as a defending champ, World No.1 and 12-time major winner can have a crucial event, Djokovic kinda-sorta needs this to reassert himself. I wouldn't—and don't—bet against him, but two straight Slam defeats is something he hasn't experienced since 2014. Interesting second rounder against Jiri Vesely, one of just five men to beat him in 2016.
2. Andy Murray, Great Britain
You could make a case that Murray is suddenly the player to beat. "Fresh" off a Wimbledon title and Olympic gold, he is coming off of a 21-match win streak—the longest of his career which ended in the Cincy final—and riding a wave of confidence. Starts against his friend Lukas Rosol.
3. Stan Wawrinka, Switzerland
It's been an uneven year for Wawrinka but none of his losses at Slams would be considered bad ones. Always a threat on hardcourts, and his decision to sit out Rio may pay dividends against an exhausted field. Will have to work in first rounder against Verdasco (see: Nadal in Melbourne.)
U.S. Open 2016 preview roundtable: Predictions, top storylines
4. Rafael Nadal, Spain
You always worry about the injury (especially to a wrist), but based on Rio, Nadal has played himself back into contention. Gold in doubles, a semifinal showing in singles and an unmistakable message that he still has some A-level tennis in him.
5. Milos Raonic, Canada
You have the sense that Raonic genuinely thought he could win Wimbledon and—especially having come so close—the rest of his year has the aroma of anticlimax. On the serve alone, he can play to his seeding. But can he beat Murray or Djokovic in a best-of-five?
6. Kei Nishikori, Japan
After that blazingly successful 2014 U.S. Open, Nishikori has been awfully quiet in majors. Though not unrelated, he needs to contend with a deficit of power and a body that consistently betrays him at best-of-five majors. He took a bronze medal away from Rio but still looks for the Slam breakthrough.
U.S. Open preview: Top storylines to follow heading into the final Grand Slam
7. Marin Cilic, Croatia
The 2014 U.S. Open champ is always a danger, especially on hard courts. Comes with a new coach after parting ways with Goran Ivanisevic and a strong run to the title in Cincy. Even assuming full health, how's his confidence after some rough summer losses?
8. Dominic Thiem, Austria
A newcomer to the top echelon deserves credit for his 2016 ascent. But, predictably, he hit the wall after (over)playing so many matches in the first half of 2016. Love the forehand. Love the one-handed backhand. Love the potential. But is he played out for 2016?
9. Jo-Wilfried Tsonga, France
Even at full health—which is seldom the case—there's an unmistakable sense that, sadly, he's deep into the back nine of his career.
Beyond the favorites: Six players who could make a run at the 2016 U.S. Open
10. Gael Monfils, France
As he nears 30 and perhaps realizes the mortality of a sports career, LeMonf is playing some of the best tennis of his life.
11. David Ferrer, Spain
Sadly, at 34, he's slowing down a bit, as evidenced by his expulsion from the top ten. But we say it again: now's a good time to credit him for his career. Tennis' ultimate talent maximizer, this guy.
12. David Goffin, Belgium
Fast becoming a favorite among the cognoscenti, an efficient, slick moving player who doesn't bring much power to bear but generally wins the matches he should and competes well in the ones he shouldn't.
For 2016, the U.S. Open adds more than a retractable roof
13. Richard Gasquet, France
He is what he is. An awfully nice guy with a beautiful backhand who has no problem getting to the second week of a major—to wit: his quarterfinal showing last year—but isn't up to closing.
14.  Nick Kyrgios, Australia
A few lapses notwithstanding, his tennis has overshadowed his antics. He likes the big stage. His draw is hardly unreasonable. Week two is a definite possibility. Go ahead and condemn some of the antics and the comments. But look at his results in 2016 and "underachiever" isn't exactly the word that springs to mind.
15. Roberto Bautista Agut, Spain
A vexing opponent who annoys more than he wounds.
16. Feliciano Lopez, Spain
Nice effort simply being seeded, given that he turns 35 the week after the event ends.  
Seeds 17-32
17. Bernard Tomic, Australia
Like Kyrgios, the guy can be a knucklehead but how do you go so hard on the "underachiever" charge when he's in the top 20?
18. Pablo Cuevas, Uruguay
A perpetual dark horse.
19. Steve Johnson, United States
Simply put: he knows how to win matches.
20. John Isner, United States
The trend lines are going in the wrong direction, but that serve…
How the U.S. Open found its home in New York at Flushing Meadows
21. Ivo Karlovic, Croatia
At age 37, he's turned in a terrific summer.
22. Grigor Dimitrov, Bulgaria
Quietly getting back to where he once belonged.
23.  Kevin Anderson, South Africa
Trying the salvage a meh year.
24. Lucas Pouille, France
Coming off a quarterfinal performance at Wimbledon.
What's happened since the last time Roger Federer missed the U.S. Open in 1999?
26. Jack Sock, United States
Behold the forehand of the two-medal winner in Rio.
27. Alexander Zverev, Germany
Anointed as a future champion but it's been a rough summer.
29. Sam Querrey, United States
Coming off the Slam of his life. Tough first rounder against Tipsarevic.
U.S. Open 2015 Top 100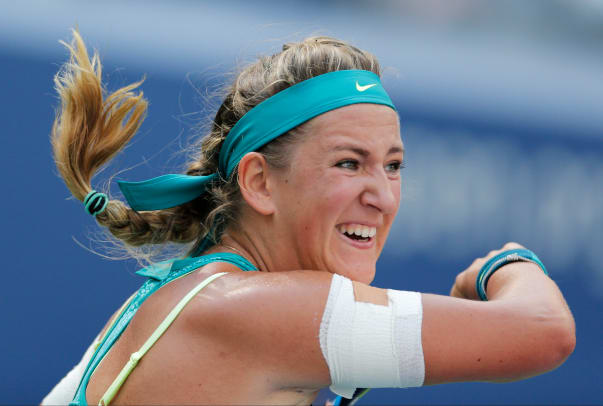 Dark Horse Pasture
Juan Martin del Potro: We write this prior to qualifying. But ranking be damned, based on the past and the present, he has to be among the Top 10 or so contenders.
Giles Muller: That lefty serve…
Thomaz Bellucci: Brazilian lefty did himself proud in Rio.
First round matches to watch
John Isner vs. Frances Tiafoe: American present vs. future.
Jack Sock vs. Taylor Fritz: See above.
Monfils vs. Muller: Rough first rounder for both.
Dustin Brown v. Milos Raonic
Upset Special
Verdasco d. Wawrinka
Here's what the top players will wear at the 2016 U.S. Open
​
Doubles winner
The Bryans: We still believe.
Semifinals
Djokovic d. Nadal
Murray d. Kyrgios
Final
Djokovic d. Murray.