50 parting thoughts from the 2017 French Open
Fifty parting thoughts from the 2017 French Open, Jon Wertheim's annual post-Grand Slam tradition.
PARIS – Cleaning out the notebook and its pixilated equivalent after a strange, yet endearing, Rafa-rific 2017 French Open….
• Never mind "what happens when the immovable object meets the unstoppable force?" What happens when they are one and the same? With a devastating blend of offense/defense and his usual clay-court nous, Rafael Nadal won his 10th Roland Garros title, and 15th Grand Slam, vaulting him past Pete Sampras. Not only did he do it without dropping a set, but his qualitative level may never have been higher. Especially given the way his 2016 broke, in some ways this might be the most significant major win of his career.
• Jelena Ostapenko picked a hell of a time to win her first tournament. The 20-year-old Latvian won the women's title by playing smashmouth, high-risk-high-reward tennis for seven rounds. In the final against Simona Halep, she betrayed little in the way of nerves and her stat-line—54 errors and 54 winners—was the perfect quantification of her attitude. She's now up to No. 12 in the rankings and she's not defending much in the way of points for a long time. Say this, too: she did not cut the figure of a classic clay-courter. It remains to be seen whether this was a magical two weeks; whether we have a new champ in our midst; or something in between. But it will be fun getting the answer.
Lifted by her aggressive game, unseeded Jelena Ostapenko triumphs at Roland Garros
• Stan Wawrinka will be disappointed not to have mounted more of a challenge against Nadal in the final. But overall he must be very pleased. He played terrifically for five rounds, failing to drop a set. In the semis, he beat Andy Murray in the battle of the tournament. And, more generally, he's established himself as a real big trophy hunter.
• Simona Halep was the favorite to win the event. She won six rounds with a mix of high-level defense and high-level fighting and a blend of offense/defense tennis. In the final she drew an unseeded, inexperienced opponent. And she led 6-4, 3-0. And she failed to close. She was gracious in defeat, but her inability to bag this first Slam—and an elevation to the No. 1 ranking in the process—must be devastating.
• When Roger announced his intentions to skip the 2017 French Open, his local newspaper likened the tournament to "Christmas without presents." That was an unforced error. We can all agree that events are enriched when he—and his female alt, Serena Williams—are in the draw. But in their absence, tennis has plenty of other, well, presents.
Rafael Nadal defeats Stan Wawrinka to win 10th French Open, 15th Grand Slam title
• Dominic Thiem was, not unreasonably, dispirited when he could muster only three games against Rafael Nadal—the same player he had defeated on the same surface last month. But Thiem was stellar for four rounds, and then didn't just beat Novak Djokovic in the quarters but broke him. Thiem defends his semifinal points from 2016 and is well positioned for the rest of the year. You can't spell Thiem without "time" and he needs lots of it to set up his extravagant strokes; thus grass will be a challenge. But is there any doubt he is a star in the making?
• If Karolina Pliskova can reach the semifinals of the French Open—and come within a few games of beating Simona Halep—she can win Wimbledon. Her game is not suited for clay; and it's tailored for grass.
• As the top seed, Andy Murray technically underachieved by not winning the title. But if you had told him that he would com to Paris and win five matches—beating a wide variety of players in the process—and lose to Wawrinka in a high-quality, high-intensity five setter, you suspect that he would sign up for it, if grudgingly. Put it this way: he has much more momentum heading to Wimbledon than he had coming here.
Get to know 20-year-old surprise French Open champion Jelena Ostapenko
​
• Ryan Harrison of Shreveport and Michael Venus of New Zealand won the men's doubles title beating Santiago Gonzalez and Donald Young in the final. If you would have said before the tournament that two Americans would reach the doubles final, suffice to say Harrison and Young would not have made many shortlists. (Speaking of Donald Young, we hear he's now working with Craig Kardon at least for the grass season—Kardon having parted ways with CoCo Vandeweghe after her first round loss here.) In the women's draw, BethanieMattek-Sands and Lucie Safarova won the doubles beating Ash Barty and Casey Dellacqua in the final, the third straight major they've taken.
• Two Americans played in the girls' final as Whitney Osuigwe beat Claire Liu in three sets to become the first Yankette since Jennifer Capriati in 1989 to win the French Open juniors title In the boys; final, Australia's Alexei Popyrin beat Spain's Nicola Kuhn. "Junior winner" has always held shaky predictive value. Some go on to be top-flight players (including 2008 girls winner Simona Halep.) Others never crack the top 1000. But Popyrin and Kuhn—whose backhand is almost cartoonishly strong—sure look like future pros.
• Rohan Bopanna and Gabriela Dabrowski won the mixed doubles title, beating Anna-Lena Groenefeld and Robert Farah in the finals.
French Open 2017 men's final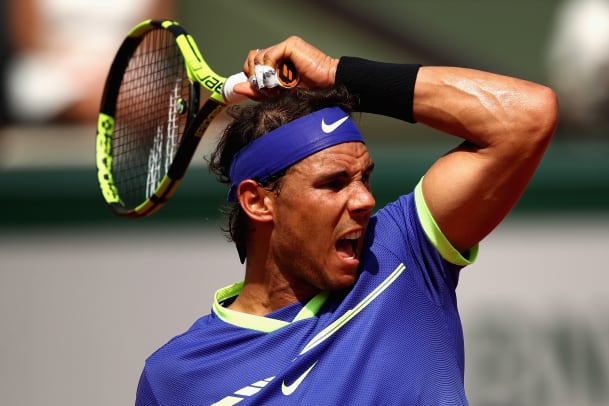 • Irony: Dominic Thiem beats Novak Djokovic, in four or five sets or, say, 7-5, 7-5, 7-5 and we're talking about this takedown and his courage. He wins by a more decisive score (7-6, 6-3, 6-0) and at least part of the conversation pivots to Djokovic, his year-long swoon and, especially, that mentally-vacant third set. Let's just be blunt: Djokovic is scarcely recognizable from the dynamo who left Paris last year with his fourth straight major. It's as if he's having a conversation with tennis, but his mind is elsewhere and he's not fully engaged. To paraphrase Fitzgerald, name me a tennis hero and I will write you a comeback story. But this is a slump that has grown legs and a tail and become a real beast.
• Andre Agassi left for a family vacation after the first week so we don't have nearly enough data points to assess his impact on Djokovic. My pet theory: the mere fact that Djokovic was able to convince Agassi to accept his offer and join the enterprise—Tacitly: "I have never coached anyone before. I have a wife and two teenagers an ocean away. But my belief in you is sufficient that I will give this thing a shot."—was an enormous boost for Djokovic. But Agassi has his work cut out for him.
• It's January 1st and you say, "Heading to Wimbledon, Federer and Nadal will have won the first two majors and four of the five Masters Series titles." Your spouse would be conferring to see if "psychiatric evaluation" would still be covered under the Affordable Care Act.
• This is meant not to enflame a border war but strictly as an historical observation. The fifth set of the Federer/Nadal 2017 Australian Open—a 42-minute interregnum—will have consequences on tennis history that will echo for decades. Nadal holds that break of serve, the major title differential is 17-15. Nadal wins here and it's 17-16. And his head-to-head record is superior, especially in the biggest matches. And—get this—he would have won a major at age 31; Federer's last would have been 30. As it stands, Federer wins that match, goes up 18-14 in Majors and banks a biggie at age 35. That, kids, is a rivalry.
A missed opportunity, deep disappointment for Simona Halep in French Open final
• A theme a lot of you raise: the gradual disintegration of the Big Four. I would argue the exact opposite and contend that the collective half-life is one of the more underrated aspects of this story. In the summer of 2012, Andy Murray won Olympic gold (beating Federer) and the U.S. Open (beating Djokovic) to enter the club. Imagine if someone then had said, "Five years from now, each of the four will have won a major within the last 13 months. And the fifth was won by the 32-year-old Stan Wawrinka." As often as we discuss the Big Four, the "golden era" and the three GOAT candidates playing simultaneously, I'd suggest that longevity is a solidifying factor.
• Elina Svitolina was destroying it, as the kids say. She had won four titles heading into Paris and was on track to finish the year ranked No. 1. She leads Simona Halep 6-3, 5-1 in their quarterfinal and life is good. Less than an hour later she leaves the court a loser, 3-6, 7-6, 6-0—author of one of the great chokes lead squanders in recent memory and you wonder how she'll recover.
• We hate the WTA's on-court coaching, a cheap and cynical gimmick that portrays women as damsels in distress who must rely on others to solve their problems and calm their nerves. On-court coaching, of course, is not permitted at majors. Question: might the over-reliance of on-court coaching and then its absence at big events be responsible for the inconsistent results we see on the women's side?
Kristina Mladenovic details falling out with former doubles partner Caroline Garcia
• We saw plenty of exceptional serving; but Petra Kvitova authored the best return. Far ahead of the schedule her doctors provided, she entered the event, to the delight of fans and her peers as well. Six months after being stabbed during a home invasion, she won a match. When she dropped one to Bethanie Mattek-Sands, 7-6, 7-6, never before has a seed been less bothered by a loss to a qualifier. This is more than "ring rust" or "lacking match play." Kvitova still struggles to ball her dominant left hand and make a fist. But she's back, and she'll be in the contender conversation at Wimbledon. (Pet peeve: references to Kvitova's "horrific home invasion." Is there any other kind? Does a home invasion really require a modifier?)
• This event's version of post-tournament framing. Is Petra Martic—a chronically injured veteran who was outside the top 500 in April—thrilled to have qualified and then reached round four? Or is she stung by squandering a 5-2, 30-0 lead in the third set and against Elina Svitolina?
Fashion at the 2017 French Open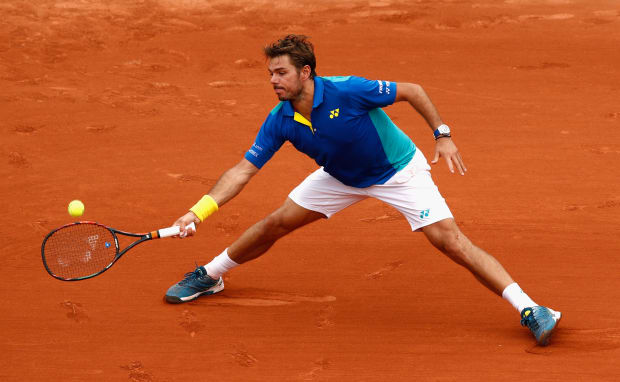 • This is going to sound too harsh by one standard deviation, so bear that in mind. But here goes: Many players have their reductive one-sentence shorthand. Maria Sharapova is the businesslike endorsement queen. TimeaBacsinszky is the hotel worker who mounted a comeback. Jo Konta is that late blooming Brit born in Australia. GarbineMuguruza is becoming known as the potentially great player who resents the pressure and expectation that attend potential greatness. Time and again, she makes references to this. Here's the latest following her loss to Mladenovic: "I love this tournament no matter what happens. I'm going to be super happy to come back. I think it's just—it's gonna sound weird, but I'm actually happy that this stage of the year is done, because I wanted to go as far as possible. But even if I didn't, I think I'm going to feel much better now to continue the year, and everybody is going to stop bothering me asking me about this tournament, so it's going to be a little bit like, 'Whew, let's keep going.'"
There's a simple way to douse pressure and expectation. Don't win much. But if you do, there's going to be fallout. Those are the rules of engagement in virtually any competitive enterprise. Muguruza is unfailingly pleasant, impossible not to like personally. But this constant complaining about the weight of expectation is not only unbecoming; it sends a terrible message to the rest of the field. Someone needs to give her the old Billie Jean King "pressure-is-a-privilege" pep talk.
• One of the more heartwarming stories: Ons Jabeur of Tunisia, who was the lucky loser and then won two matches—including a takedown of Dominika Cibulkova—before her legs deserted her against Bacsinszky in round three. Jabeur became the first Arab woman to reach the third round of a major. And here's what we like most: her game is predicated on the drop shot.
Australian tennis player sued by Kellogg's over 'Special K' nickname
• Roger Federer isn't the only player to forsake the clay to optimize his preparation for Wimbledon. Where was Vasek Pospisil, who beat No. 1-ranked Andy Murray at Indian Wells earlier this year? Never strong on clay, he devoted his spring to playing enough small events in Korea to boost his ranking to where it was high enough to get into the Wimbledon main draw. He did just that and is now up to No. 84.
• More Canada: Genie Bouchard fell in the second round to Anastasija Sevastova, a loss that looked even worse when Sevastova lost her subsequent match to Petra Martic 6-1, 6-1. You have to think that all of these losses are being noted closely by the USTA, the defendant in Bouchard's tort lawsuit, which is expected to go to trial after the U.S. Open.
Crepes? Croissants? Wine? Players tempted during French Open
• Doubles, unfortunately, was as marginalized as ever during this tournament. But what a wild event, especially on the men's side. The top seeded team of John Peers and Henri Kontinen lost in round one. Same for the second seeds of Nicolas Mahut and Pierre-Hugues Herbert, beaten as they were by Nick Kyrgios and Jordan Thompson. Last year's top team of Jamie Murray and Bruno Soares? They lost to the Mexican/America team of Santiago Gonzalez and Donald Young.
• There's no easy answer here. But I was struck by the ongoing conflict between the "letter of the law" versus "spirit of the law." In Stevie Johnson's second round match he was warned for racket abuse. After squandering a match point when his volley clipped the tape, he playfully tapped the ball out of the court. He was cited and—because he had already been warned a similar infraction—was docked a point. Suddenly what was once match point was now game point to the opponent. Wayne McEwen, the longtime official, happened to be courtside. I spoke to him a few moments later and he said simply that Johnson broke a rule and needed to bore the responsibility.
Hard to argue. Except that time and again officials use discretion, consider the context and adhere to the spirit of the law. You are less likely to call a time violation late in a match than early. When a player breaks a racket in frustration in an act of self-flagellation it's more likely to be overlooked in stances when he (and the majority are male) break it in frustration after a dispute.
French Open competitor icily shoos away opponent's handshake offer
I'm not opposed to this. Sometimes we get a speeding ticket. Other times we're driving just as fast and get off with a warning. Sometimes Starbucks demands exact change for the $3.05 order, sending you rifling through your pockets for pennies. Other times, the cashier accepts an even $3.00. The point: it must be frustrating for players that—depending on situation and personnel and whim—officials use latitude. Other times they go strictly by the book.
• This is especially true for time violations. I was given data indicating that in Novak Djokovic's third round match, he exceeded the 20-second time limit on 94% of his service points.
• We talk often about the problematic nature of tennis data. Does a high serve percentage mean that a player is firing away with accuracy? Or does it mean that she is playing risk-averse tennis, safely tapping the ball in the box, ultimately to her detriment? One category I'd like to see: play on "high leverage points." At 4-4, 30-30 what does a player do? This is when the top players elevate and it would be great if this could be empirically supported.
Rafael Nadal is back in the French Open final—and at 31, playing better than ever
• Five players who didn't get out of the first week but impressed nonetheless: Czech teenager Marketa Vondroušová, CiCi Bellis, Oceane Dodin, Borna Coric (who ranks among the most ripped players), and the young Hyeon Chung of South Korea. Here's a sixth: 17-year-old Jamiee Foulis, the Australian wildcard.
• Story to watch: Backed by a Chinese financier, the ATP World Team Cup—a big money team competition—would be held in Europe starting in December of 2019. A lot still has to go right for this to happen, not least solving the calendar issues, tennis' equivalent of the Sphinxian riddle. But talks are progressing. If nothing else, it should be encouraging to know the investors are still lining up to back tennis, even for a late 2019 date, when Federer will be 38 and Nadal will be 33.
French Open 2017 women's final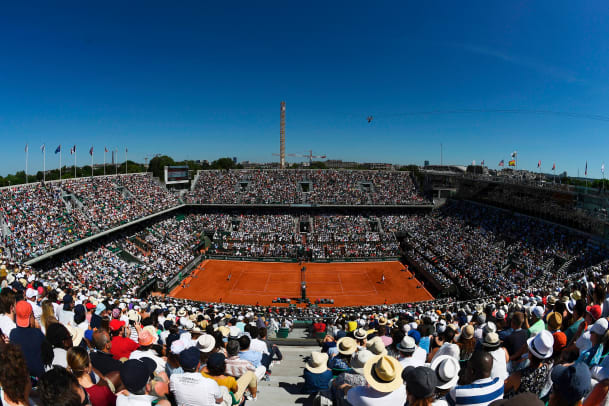 • Nick Kyrgios is tennis' id. Fun, self-indulgent, and indifferent to the sport's social norms, which, far as we're concerned, is generally commendable. But some of his decision-making is mystifying. He comes to the French Open beset by a groin injury that is so severe the players who followed him on the court schedule were told to stay alert because there was a chance Kyrgios might not even finish the match. Kyrgios goes out and plays a blazingly strong match. (He then served up a blazingly good press conference.) On his off-day he….plays doubles, upsetting the second-seeded team but doing so in a match that requires three sets and more than two hours. For his next match he is physically and emotionally vacant, breaking rackets and generally checking out. Oh well, on to Wimbledon. We say it again: the battle between Kyrgios' better angels and his lesser instincts remains one of the most gripping rivalries in tennis.
• CiCi Bellis, turned 18 in April and is now in the top 40. With only 60 or so ranking points to defend all summer, it's likely she'll be seeded come U.S. Open time. For a player who's not physically imposing, she sure doesn't get outhit much. And her competitive instincts are absolutely first rate.
Juan Martin del Potro shows true meaning of sportsmanship at French Open
• The day Juan Martin del Potro comforted Nicolas Almagro as he sobbed—"I told him to think of his family and his baby.—Kristina Mladenovic wrote a first-person essay taking a swipe at Garbine Muguruza and then destroying her former doubles partner, Caroline Garcia. Instead of turning this into a gender studies symposium, perhaps we should use this to promote the richness of the tennis ecosystem. You want collegiality? Check. You want more typical gossipy sniping among athletes? We have that, too.
• One of the more emotional stories of this tournament: Stevie Johnson winning two matches so shortly after the passing of his father. It struck me that, for those of us who've had the misfortune of going through this drill, work can be a welcome distraction from grief, an escape even. Yet in the case of Johnson, his father was a tennis coach and the architect of his game. So even as he went to work, his father was on his mind. As he said after putting away Borna Coric in four sets, he was recalling his father's mandate to continuing fighting until the last point. 
A memorial fund has been set up in Steve Johnson Sr.'s name and donations can be made to: Orange High School, Memo line: Steve Johnson Sr. Memorial Fund. Contributions can be sent to: Vicki Reyes, Orange High School, 525 N. Shaffer Street Orange, California 92867      
• In September of 2007, Anna Chakvetadze was ranked No. 5. In December of that year, she was the victim of a home invasion. From Wikipedia: "Chakvetadze's home was robbed. Chakvetadze was tied by six invaders who also beat her father, Djambuli. The six men left with over $306,000 worth of goods and cash. Chakvetadze was the target of the robbery, as the men demanded a Rolex watch she had recently won in an exhibition and told her as they left, 'Keep playing. We'll come again.' Seven suspects were arrested three months later."
Maxime Hamou banned from French Open after forcibly kissing reporter on air
Now at age 30, she was here broadcasting for Russian TV—quite skillfully, say independent sources—and has graciously agreed to an upcoming podcast.
• This French Open played out amid the backdrop of the upcoming vote on the host city for the 2024 Olympics (and possibly 2028 simultaneously.) Paris is considered the front-runner. According to the French Federation, they have been told that while Roland Garros is the obvious tennis venue, they should expect to share the grounds with a second event such as boxing or judo.
Every tennis player can relate to what Nick Kyrgios hates about playing on clay
• Implicit in that, by 2024—in fact by 2020 we're told—there will be covered venues at Roland Garros. As always, it's one thing to concoct a fancy architectural rendering. It's another thing to actually take out the spades and backhoes and begin formally—especially in Paris where regulation is a sport and building codes are sacred texts. But we're told that by 2020, the refurbishment and roof(s) will be complete.
• Construction plans mean that Court One, d/b/a The Bullring, will be razed, bringing an end to one of the great courts on the tennis caravan. A friend posed this question, though: Much as we love The Bullring, can you name one seminal match played there? My answers were slow in coming.
• What's that? You want more venue talk? Kevin Spacey is a frequent guest at the U.S. Open. But next week he'll be coming to the National Tennis Center as a performer.
• Can someone launch a kickstarter campaign to upgrade the WTA website? I'm in for the first $100.
• Trivia time: Who is the last French-born woman to win the French Open singles title at Roland Garros?
• The usual cut-and-paste: Way too many players are getting hurt with way too wide an array of injuries; and tennis authorities are doing way too little to address this in a meaningful way. The data is dirty, as we often say. Madison Keys didn't retire from her match; but she lost and returned to the United States for work on her left wrist. Speaking of left wrists, Juan Martin del Potro—who lost so much of his career to that injury—didn't retire in Paris either. But he pulled up with a groin injury in his second round match. Fortunately for him, his opponent, Nicolas Almagro, was injured worse and quit in tears. (He underwent surgery and will be out 6-8 weeks.) Del Potro then played a captivating set against Murray, lost it, and completely ran out of reserves. Again, no retirement or withdrawal, but a physically compromised match. Nick Kyrgios was last seen limping around the lounge with a groin injury. He lost to Kevin Anderson, who lost two rounds later when he retired with a hip injury.….you get the point. Maybe this is simply an offshoot of an ever-more-fit field. Maybe it's the wreckage wrought by lightly regulated string and racket technology. Maybe it's owed to overtraining. (The criticism consistently launched against USTA Player Development.) Maybe this is the wear-and-tear wrought by best-of-five tennis. But what a pity that tennis' leadership has essentially shrugged and said, "This is the new reality, players. And it's a 'you' problem.'"
• At the very least, tournaments make the playing surface as safe as possible. In his third round match against Horacio Zeballos, David Goffin stumbled on the tarp in the backcourt, injuring his ankle.
A) Given the way the entire court is utilized, maybe the tarp shouldn't be on the court itself. B) At a minimum, it ought not to be camouflaged, the same color as the red clay. Think of a warning track in baseball. If Goffin had seen a different colored tarp out of the corner of his eye, might he have avoided that mishap?
• Indulge a quick rant. Before the tournament Margaret Court emerged from under a rock, as she does periodically, to spew some artisanal homophobia. She then doubled down, likening the "gay lobby," to Nazi Germany. (Rule of thumb: Unless the topic is mid-20th century Europe, the first person to reference Hitler/Nazis loses the argument.)
Debating bible verses is a conversational cul-de-sac but what always gets me about this issue is the asymmetry of pain. As anyone with gay friends, family, neighbors (or simply a baseline level of empathy) knows: you are dispensing tremendous pain when you deprive people of rights that others are given. And, yet, you harmed by their activity…how exactly? The level of righteousness is really staggering. You don't like gay marriage? Fine. Don't get gay married. But actively seeking to deprive other people of something when you are not impacted at all by the conduct? It's not just wrong. It is cruel.
Mailbag: Will the renaming of Margaret Court Arena actually happen?
Tennis Australia has been disappointingly quiet here. The issue isn't going away and the calls to rename Margaret Court Arena after someone who doesn't practice overt bigotry are only going to amplify. Here's how this plays out: Tennis Australia gives players the options of not performing inside Margaret Court Arena. Some players will do it immediately on principle. Others will follow, fearing the implication that they are tacitly approving of Court and her message, such as it is. Tennis Australia can then rename the venue claiming that it is not a political or social statement but simply an accession to the players' collective will.
• The Bryan Brothers, Bob and Mike, lost in the second round to Sam Groth and Robert Lindstedt, who, at 40, was the oldest man on the court. The Bryans last major title came at the U.S. Open in 2014. But, contrary to report and speculation, don't look for them to retire in the immediate future. In addition to tennis, they have several commitments that strongly suggest they'll be around through the 2018 U.S. Open.
• Back to the trivia: Simple, right? Mary Pierce in 2000. Who could forget? Or for-jhay, as it were.
But not so fast. Pierce was actually born in Montreal…..What about Francoise Durr in 1967? Nope, she was actually born in French Algiers. Nelly Adamson Landry in 1948. Not, born as she was, in Belgium. Raymonde Jones Veber in 1944? She was French born but dismissed on a technicality. In 1944, while Vichy France was occupied by Nazi Germany, The French Championships were only open to local players. As such, they are not counted by the FFT as the French Open. Simone Irinarne Lagargue, winner in 1943, is also disqualified on these grounds. Answer: The last French born woman to win the French Open at Roland Garros is...Simonne Mathieu, the winner in 1939. If you knew that, you are owed an extended tip of the chapeau.
Kvitova's comeback includes playing New Haven before U.S. Open
• It will be interesting to see what Wimbledon does with its male wild cards. There are four British players in the top 60 (Murray, Kyle Edmund, Dan Evans and Aljaz Bedene.) After that the next highest ranked Brit is ranked No. 216. Marcus Willis—last year's darling—is No. 397. Traditionally the tournament has been admirably open to giving the golden tickets to players from outside the Empire.
• Let's get the Wimbledon hype going. Federer will be tanned, ready and rested. Maria Sharapova—a former champ—will not be playing, as expected, after she announced on Saturday that she will skip the grass season due to injury, with plans to return at Stanford in late July. Victoria Azarenka will be back. So will Sloane Stephens. Players on protected rankings are not seeded so a top player could draw any of the three aforementioned names in round one.
Maria Sharapova pulls out of Wimbledon, grass circuit with injury
• Only peripherally related to tennis but consider this an unpaid endorsement of Velib and its sister, Citibike, in New York. This is the urban rent-a-bike program. What a great way to get around a city; what a great way to familiarize yourself with a city. All for the comically low price of $1.75. At the French Open, there are multiple Velib docking stations within a few feet of the main gate.
• As always, thanks for your assorted comments, criticism and complaints about the Tennis Channel. As always, know they're all read. As always, know, too, that there are often an equal and opposite reaction. As always, t.v. is a collaborative medium and kind words about the features should also be directed to others: Shelby Coleman, Nitin Varma, Brian Nelson, Tiffany McLoughlin, Angela Evans and the rest of the team.
Enjoy the rest of June, we'll do it again at Wimbledon….