Rafael Nadal's 2017 U.S. Open Title Reignites the GOAT Debate
Is Nadal or Roger Federer the greatest men's tennis player of all-time? It's a question that has been hotly disputed for years, but now that both men won two majors in 2017, the debate is rekindled once again.
NEW YORK – The question wasn't quite settled before Sunday, and it definitely isn't settled now. After Rafael Nadal won his 16th Grand Slam title at the 2017 U.S. Open, we're no closer to the answer—in fact, we're probably further away. Who is the Greatest of All Time in men's tennis?
Every Nadal triumph at a major forces us to reconsider the hackneyed debate over the greatest men's tennis player ever. His latest title, capped by a straight-sets victory over Kevin Anderson, is no exception. By tennis law, we must debate whether Nadal or Roger Federer has the greater resumé. And debate we will.
No. 1 Rafael Nadal Is Back at the Top with 2017 U.S. Open, 16th Grand Slam Title
"I don't really think much about these kind of things," Nadal said after the match. You don't, Rafa, but we clearly do. Our obsession with this ultimately meaningless question ensures that tennis fans, and tennis writers in particular, always have something to talk about with one another. The question has two answers, neither of which is necessarily right or wrong. But we will never give up the fight to convince someone otherwise.
After a Grand Slam season that saw both Nadal and Federer win two majors apiece, you might be inclined to think that in relative terms, we're back where we were at the start of 2017. Federer now has 19 Grand Slams, and Nadal has 16—still a three-Slam gap. Nadal still holds a strong edge over Federer head-to-head—his strongest claim to GOAT status—but Federer beat Nadal in the Australian Open final and finished the year 3-0 against his rival. If you thought Federer was the greatest men's player ever on Jan. 1, 2017, you still hold that opinion. If you were in Nadal's camp, you're still there. Like cable news junkies, what we watch reaffirms our worldview.
Whether you're Team Rafa or Team Fed, we can all agree the 2017 tennis season inexorably reignited the sport's signature debate. It never actually ended of course—like the 2016 election, we will litigate and re-litigate until the sun supernovas. But what we didn't expect was that the fundamental facts would change, that Federer and Nadal would absurdly reemerge as the top players on tour and split this season's Grand Slams.
Nadal's victory over Anderson probably shouldn't change your outlook on the GOAT debate. But it does allow us to further question the conventional wisdom of Federer's supremacy. And Nadal, in particular, has a great chance to fundamentally change the facts of the debate next season.
Nadal leaves Flushing Meadows as a deserving World No. 1, with most of his top competition both at least 30 and injured. The stunning, mysterious decline of Novak Djokovic, who seemed destined to challenge Federer and Nadal's all-time supremacy, left an unforeseen void in men's tennis. Andy Murray, who started the year No. 1, seemed like the obvious man to fill that void, but injuries have significantly hampered his season. A few young players, namely Alexander Zverev, have shown promise, but there's no indication they're ready to challenge for majors. Meanwhile, Federer and Nadal are playing their best tennis in years. Time is a flat circle.
50 Parting Thoughts from the 2017 U.S. Open
Crucially, Federer is 36, while Nadal is just 31. I wouldn't bet against Federer to win another major or two, but the question for Nadal isn't whether he'll win more—it's how many he can win. The Spaniard obliterated his competition at Roland Garros, and he'll almost certainly be a very strong favorite in Paris next season. But the "King of Clay" also currently occupies the equivalent hard-court throne, an incredible achievement for a player that has been wrongly labeled a clay-court specialist. He dropped just three sets at the U.S. Open, and he was three holds away from winning the Australian Open. Even on grass at Wimbledon, Nadal dominated before falling to Gilles Muller in the fourth round after a marathon 28-game fifth set. He's playing well enough to compete for titles on every surface.
Tennis Players Congratulate Rafael Nadal on 2017 U.S. Open Title
There's still plenty of tennis left this year, but Nadal's U.S. Open title sets the stage for the great debate of men's tennis to define the 2018 season. Perhaps Djokovic returns to his 2015 form or a young player steps up, forcing us to argue with little new evidence to present. If the 2017 season taught us anything, it's that we shouldn't attempt prognostication.
I am, however, willing to make one prediction about 2018: We will absolutely continue debating whether Roger Federer or Rafael Nadal is the greatest men's tennis player of all-time. 
Snapshots from the U.S. Open final
Best Moments from the 2017 U.S. Open Final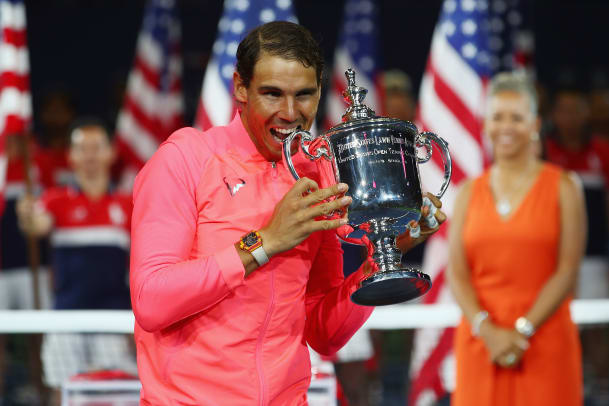 ​