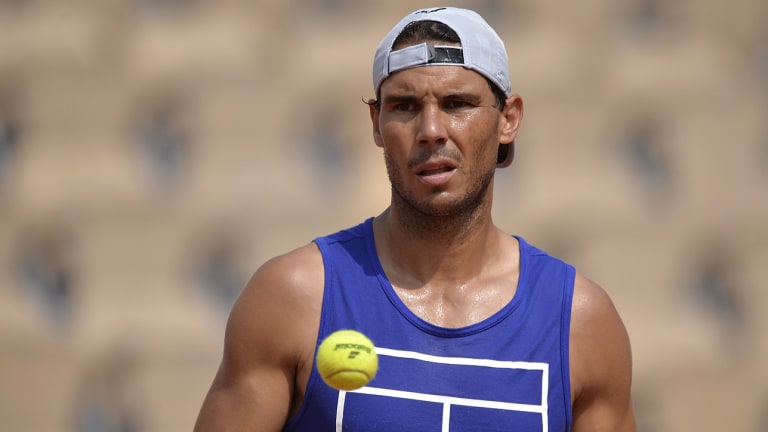 French Open 2018 Seed Reports
Breaking down the 2018 French Open men's and women's draws, including matches to watch, dark horses, semifinals and finals predictions and more.
Sports Illustrated's Jon Wertheim breaks down the men's and women's seeds at the 2018 French Open. Read on for the dark horses, top first-round matchups, predictions and more. 
Men's Draw
I don't practice Santaria / I ain't got no crystal ball.... But some prognosticating before the 2018 French Open, as Rafael Nadal goes for title No. 11 (not a typo) and 127 other players attempt to thwart him, here are your men's skinnies…..
1. Rafael Nadal (ESP)
Can this be right? Only the fourth time he's been the top seed. He's not simply the favorite. It's hard to envision a situation—injury notwithstanding—in which he doesn't win an 11th (not a typo) French Open title. Lost one match—and won three titles—during clay season. And the best-of-five format gives him a cushion against a zoning opponent. Must be a strange experience, entering a major knowing you cannot exceed expectations.
2. Alexander Zverev (GER)
Takes the No. 2 spot in Federer's absence. Credit him with this ascent—he just turned 21—and his ranking is no fluke. But it's not a function of Slam excellence. Still needs to prove himself in best-of-five matches. A first round loser in 2017.
3. Marin Cilic (CRO)
A finalist at two of the last three majors but hard to see another one in Paris. A good, but not great, clay-courter whose lumbering movement and flat low-margin-for-error strokes can be exposed.
4. Grigor Dimitrov (BUL)
Same old story for Dimitrov. Gorgeous player and likable figure. He possesses the full palette of shots; that we've long known. Does he possess the full range of emotion to survive seven rounds? Big opportunity here.
5. Juan Martin del Potro (ARG)
One of the few players who can outslug Nadal. (If perhaps not for five sets.) Playing French Open for only the second time since 2012. Great to see him back at this level and with this well-deserved ranking. But unclear if he's ready to win majors, especially on this surface.
6. Kevin Anderson (RSA)
Credit Anderson for his ranking and professional approach. But if he reaches the second week, it will mark an achievement.
7. Dominic Thiem (AUT)
A semifinalist two years running and his takedown of Nadal in Madrid ought to fire him with self-belief. His questionable decision to play a tune-up this week could come back to bite him.
8. David Goffin (BEL)
Such a solid performer who plays the minor keys, but is capable on all dimensions. One of those guys who may lack the firepower to win Slams, but will always give himself the best chance. And, meanwhile, you admire the professionalism.
9. John Isner (USA)
Nice bounceback year punctuated by his career win in Miami. Also, note that Isner is one of a small handful of players to take two sets off Nadal in Paris, a better clay-courter than you might expect. Perhaps the first American—get this—to reach the fourth round in 15 years.
10. Pablo Carreno Busta (ESP)
A quarterfinalist last year, but becoming one of those players who beats those he should and falls to those he shouldn't.
11. Diego Schwartzman (ARG)
Pause and applaud the fact that a guy who is 5'7" and 141 lbs. is a top 16 seed. Pity he's near Nadal in the draw.
12. Sam Querrey (USA)
Credit him for this ranking, but curtail expectations on clay. His career record at Roland Garros: 4-11. Tough first rounder against…Tiafoe. Ah, tennis irony.
13. Roberto Bautista Agut (ESP)
Is what he is. A No. 12-20 player who makes for an annoying opponent, but does not threaten to win the title
14. Jack Sock (USA):
A better clay player than you might think but the what-have-you-done-for-me-lately meter is running awfully low. Finished 2017 with a flourish; is 6-10 in what has, so far, been a dismal 2018.
15. Lucas Pouille (FRA)
Best of the French legion.
16. Kyle Edmund (GBR)
Highest ranked Brit is marrying a lot of game (which has always been there) with a lot of self believe (which has not).
Seeds 17-32
18. Fabio Fognini (ITA)
You know what you're getting (and this includes some of the most disgraceful behavior in tennis.) But the highs can be considerable.
20. Novak Djokovic (SRB)
Jarring to see that No. 22 next to his name in the rankings, the first time he's been outside the top 20 since 2006. Tennis' great mystery. But the 2016 champ showed promise in Rome, reaching the semis and playing competitively against Nadal.
21. Nick Kyrgios (AUS)
Assuming he plays, he could make week one interesting. But for real contender status, wait for the grass.
23. Stan Wawrinka (SUI)
One of tennis' five families. For all intents, he's been out for the past year. But he's won this thing before and reached the finals last year. All about his health. (Tough first rounder in Garcia–Lopez.)
24. Denis Shapovalov (CAN)
The ascent continues. Into top 25 and could be top 20 by the end of the event. Tennis' iPhone X. The future isn't the present. But it's coming.
26. Filip Krajinovic (SRB)
Fine ascent at age 26.
30. Fernando Verdasco (ESP)
Spanish vet (is there any other kind?) beat Zverev in round one last year.
27. Richard Gasquet (FRA)
Always fun to watch his artistry; but days of contending are behind him.
31. Feliciano Lopez (ESP)
The biggest grass > clay ratio of any Spaniard in history. But props to him for being the oldest seed in the men's draw.
32. Gael Monfils (FRA)
Come for the show, stay for the tennis.
Dark Horse Corral
David Ferrer: By industriousness alone. Former Roland Garros finalist is still at it.
Stefanos Tsitsipas: Now in the top 40, Greek teenager has the makings of a future star. Everyone aboard the band-chariot!
Frances Tiafoe: Not only has he shown he can play with anyone; he's shown that he can play with anyone on clay.
Pablo Andujar: Great comeback story—guy started the year at No. 1690—starts against 18th-seed Fognini.
First Round Matches to watch
Tiafoe vs. Querrey: Meet the new boss?
Steve Johnson vs. Adrian Mannarino: Poke us for the inevitable fifth set.
Edmund vs. Alex de Minaur: Highest Brit starts against ascendant Aussie teen.
Alexander Zverev vs. Ricardas Berankis: Berankis will Zverev work for it.
Isner vs. Rubin: The "Dev/Arnold" special.
Borna Coric vs. Philipp Kohlschreiber: Two players who are both probably among top 25 contenders.
Upset Special
Tiafoe d. Querrey
Doubles winner
Marcelo Melo/Lukasz Kubot
Semifinals
Nadal d. del Potro
Thiem d. Zverev
Finals
Nadal d. Thiem
Women's Draw
Last year the No. 47-ranked player won the women's title at the French Open. This year—even with Serena Williams back in play—the field is comparably chasmic.
1. Simona Halep (ROU)
If the tennis fates owe a player, it's this one. A bridesmaid three times—including the 2017 French; as well as the previous major—you have that ineffable feeling that it's her time. Worry, though, about her record in finals (she's lost six of her last seven) and the back tweak she experienced last week in Rome. Needs to overcome 128 players—the field and herself.
2. Caroline Wozniacki (DEN)
Winner of the previous major and, in Serena's absence and Sharapova's decline, you might say the face of the WTA. But clay has never been her strongest surface. But it will be interesting to see how she handles herself playing her first major as a Grand Slam champ.
3. Garbine Muguruza (ESP)
The enigma continues. Capable of winning, as she did in 2016. Capable of losing early, as she does too often. Won Monterrey—and has lost three of her last five matches. She either feels little pressure; or she is slumping. So it goes.
4. Elina Svitolina (UKR)
Comes in having won Rome, dispatching Halep in a one-sided final. But in Slams, Svitolina still needs to convince us (and herself) she's varsity over jay-vee. But, increasingly, you sense that the breakthrough seems to be a matter of when, not if. We'll say now.
5. Jelena Ostapenko (LAT)
Give her a lot of credit for staying on the scene. The defending champ is either plump with confidence; or burdened by the knowledge that in the event of early defeat, a boatload of points fall from her ranking.
6. Karolina Pliskova (CZE)
This we know: she would like to see Hawk-Eye on clay. It will be interesting to see if her YouTube moment from Rome has any lingering effect. Love the power but those typical flat, hard Czech strokes don't come with much margin for error on clay.
7. Caroline Garcia (FRA)
An elegant athlete who seems to be overcoming her yips and gradually becoming elite. A quarterfinalist in 2017, can she make her first Grand Slam semi?
8. Petra Kvitova (CZE)
A terrific spring included another title in Madrid. Results are erratic on clay, but tennis has a hard time resisting these kinds of storyboards.
9. Venus Williams (USA)
All credit to Venus for being a top ten seed. This is a player who started her career without an email account or a cell phone. Seven wins on clay is too big an ask, but a strong showing in Paris will propel her on the grass.
10. Sloane Stephens (USA)
A bellwether for the WTA in 2018. Could play deep into week two (as she did in New York, winning the title.) Could lose her first outing (as she did in Melbourne.) All part of the fun….
11. Julia Goerges (GER)
Cooled off since reaching the Charleston finals. Streaky—both macro and within a match—but not the worst sleeper pick.
12. Angelique Kerber (GER)
In a very strong comeback season, she has already won 25 matches in 2018. Experienced veteran who knows how to win, though she's not at her best on clay.
13. Madison Keys (USA)
The pure ballstriking remains fearsome. But it's been a rough year so far, especially on the clay.
14. Daria Kasatkina (RUS)
Progressing nicely. A reliable winner who might not be ready to compete for Slams, but is building to that.
15. CoCo Vandeweghe (USA)
Another polar-or-equatorial, Warriors-or-Suns player. A first round loser last year, but a better clay-courter than you might think, as we saw in Stuttgart.
16. Elise Mertens (BEL)
A surprise semifinalist in Australia and won the title in Rabat. Not even five months into the season, she has won 25 matches.
Seeds 17-32
17. Ashleigh Barty (AUS)
Not her choice surface, but always dangerous with her athleticism and sneaky power.
18. Kiki Bertens (NED)
Semifinalist in 2016 is among the best claycourters outside the top 10.
21. Naomi Osaka (JPN)
Cut and paste: Not her choice surface, but always dangerous.
22. Johanna Konta (GBR)
A player in need of a strong showing, especially with Wimbledon coming.
23. Carla Suarez Navarro (ESP)
Always good for a fourth round showing.
25. Anett Kontaveit (EST)
Rolling Estonian gathers no loss.
28. Maria Sharapova (RUS)
Two-time champ is showing signs of knocking off some rust. Self-belief is seldom an issue, but does she have the durability?
29. Kristina Mladenovic (FRA)
Absolutely mystifying player. She was a contender at this time last year. Then she went a half-year without winning a match. Now she is merely uneven. A French favorite who, in 2017, took out the defending champ (Muguruza) looks to recapture the magic in Paris.
Dark Horse Nation
Serena Williams: Realistically—on clay especially—she's a long shot to win her first major back from pregnancy. But bet against her at your peril…..
Petra Martic: Athletic veteran played into week two last year.
Ekaterina Makarova: Getting on in years but Russian lefty always dangerous.
Maria Sakkari: the Greek Freakette.
Svetlana Kuznetsova: Former champ (in 2009!) turns 33 next month but still fighting. Gets Muguruza in Round One.
Sam Stosur: Former runner up tries to fire up the memory banks.
Danielle Collins: Former NCAA champ brings Cavalier attitude. First match against Wozniacki.
Victoria Azarenka: Former No. 1 deserved a nod. Starts off against Siniakova.
Belinda Bencic: Fine time to remind us she's still around….
First Round Matches to watch
Sofia Kenin vs. Naomi Osaka: Two rising stars.
Wozniacki vs. Danielle Collins: Rough first match for both.
Garbine Muguruza vs. Svetlana Kuznetsova: Two former champs meet right away.
Serena Williams vs. Kristyna Pliskova: Not ideal for Serena to meet hard-serving lefty right away….
Mladenovic vs. Andrea Petkovic: Two players in need of wins.
Upset pick
Can't go full upset here, but could see Kuznetsova challenging Muguruza.
Semifinals
Halep d. Muguruza
Svitolina d. Kvitova
Finals
Svitolina d. Halep