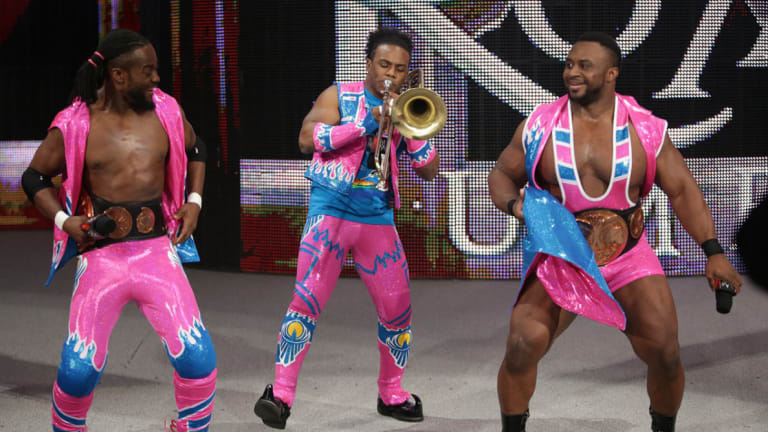 The New Day Won't Associate With Hulk Hogan Until He Makes a 'Genuine Effort to Change'
Hogan was reinstated into the WWE Hall of Fame three years after being removed for making racist comments. 
Hogan was reinstated into the WWE Hall of Fame three years after being removed for making racist comments. 
The New Day has reacted to Hulk Hogan's WWE Hall of Fame reinstatement, saying they won't associate with the former wrestler until he makes a "genuine effort to change."
In July 2015, WWE terminated its contract with Hogan (real name Terry Bollea) in light of a recording that featured Hogan using the N-word repeatedly while discussing his daughter's love life. He was removed from the WWE website and there was no more mention of his time with the company.
On Sunday the company explained why it was reinstating one of its most popular figures after the three-year ban.
"After a three-year suspension, Hulk Hogan has been reinstated into the WWE Hall of Fame. This second chance follows Hogan's numerous public apologies and volunteering to work with young people, where he is helping them learn from his mistake. These efforts led to a recent induction into the Boys & Girls Clubs of America Hall of Fame."
Kofi Kingston, a member of the WWE trio The New Day, tweeted a statement from the group after being "bombarded" with questions.
"How do we feel? Indifferent. We are not happy, or sad, or angry or resentful. Who WWE puts into the HOF is totally and completely up to the company and from a career standpoint, there is no argument on whether or not Hogan should have this place. We have no problem with his re-induction in the slightest degree. It is impossible to even begin to mention the history and evolution of the business without mentioning his name and accolades."
"On a personal level, when someone makes racist and hateful comments about any race or group of people, especially to the degree that Hogan made about our people, we find it simply difficult to forget, regardless of how long ago it was, or the situation in which those comments were made. But we also do not respond with more feelings of hate. Instead, we just do not associate with the people who convey or have conveyed this hurtful mindset. This instance will be no different. Perhaps if we see him make a genuine effort to change, then maybe our opinion of him will change with him. Time will tell."
WWE's Titus O'Neil re-tweeted Kingston's statement and said he was "in full agreement with and support of everything said in this statement."
Hogan apologized to the WWE roster backstage at Extreme Rules in Pittsburgh on Sunday, though fellow Hall of Famer Mark Henry told TMZ on Monday that the company's black wrestlers are split "50-50" over Hogan's return. 
O'Neil also elaborated with a statement released Wednesday evening, saying he found Hogan's apology lacking. 
"Unfortunately, I must echo the sentiment and dissatisfaction expressed by many of my fellow contemporaries concerning Mr. Bollea's apology and its lack of true contrition, remorse and a desire to change. Mr. Bollea's apology 'that he didn't know he was being recorded' is not remorse for the hateful and violent utterances he made which reprise language that has caused violence against blacks and minorities for centuries

"I stand firm in my position that Mr. Bollea is entitled to reinstatement; he was and is a role model, hero and icon to countless people. I hope that Mr. Bollea's missteps in communicating to the WWE talent in Pittsburgh are not repeated to his fans and I expect that he shale pursue an agenda that clearly communicates to all third parties that his language was inappropriate, wrong and should not be tolerated in a civilized and inclusive society."