How Muhammad Ali's death was covered, plus best article links
From ESPN to The New York Times, a look at how Muhammad Ali was covered by the media
Your teams on the go or at home. Personalize SI with our new App. Install on iOS or Android.
When ESPN is at its best, when it marshals its immense resources to educate, entertain, report and make sports viewers smarter, it is an unmatched sports media organization. Such was the case during the early morning hours on Saturday when preparation and happenstance converged for the network's covering of the death of Muhammad Ali.
The announcement of Ali's death was made by the Los Angeles-based anchors Neil Everett and Stan Verrett at 12:28 a.m. ET Saturday. The network then forged into non-stop, commercial-free coverage from 12:28 a.m. until 4:14 a.m. ET. Think about that: No breaks in nearly four hours of coverage. ESPN then played a taped version of SportsCenter between 5 a.m. and 6 a.m. before live coverage resumed from 6 a.m. to noon on Saturday.
A group of seven anchors (Bob Ley, Jeremy Schaap, Scott Van Pelt, John Anderson, Steve Levy, Everett and Verrett) on two different coasts hosted the first 5 1/2 hours of Ali coverage. Linda Cohn and Michael Eaves replaced the group above at 6 a.m. ET, followed by Sara Walsh and Randy Scott, who hosted until 12 p.m. ET.
There was much pre-planning by ESPN on how to cover Ali's death, but planning is one thing. Execution is ultimately how coverage is judged. Schaap said he and his bosses were discussing all day Friday whether he should come to the Bristol studios as news about Ali's health grew worse. It wasn't until about 5:30 p.m. when he was summoned by Andy Tennant, the executive producer of Outside The Lines. At the time, Schaap was on his way to JFK airport in New York City to work on a Vin Scully story. He arrived in Bristol at 7:30 p.m. and waited.
Muhammad Ali—boxer, activist and provocateur—dead at 74
"Ali was the most important figure in sport, and one of the most important in the world beyond sports, in the second half of the 20th century," Schaap said. "There is so much to say, so many stories to tell, so many angles to cover. Like so many millions of people, I've been thinking about, talking about and fascinated by Ali for my whole life. Personally, for me, I felt I was on set representing my father [Dick Schaap], who was very close to Ali. He first met Ali before Rome [Olympics, in 1960], he loved Ali, and I think wrote some of our finest stories about Ali. My dad's not here to tell his stories or offer his thoughts. I just wanted to communicate, as best I could, his perspective on his favorite subject and one of his favorite people."
Van Pelt was scheduled to be off on Friday night, but he got a call from his bosses in the afternoon informing him that Ali might not survive the night. He arrived at ESPN around 9 p.m., which is about four hours later than he'd typically head in for SportsCenter. Around midnight, Van Pelt was about to head home after taping one small feature on Ali. As he was walking out of the studio, Anderson and Schaap were running up the stairs toward the same studio. The news had come down:
The champ was gone.
Van Pelt said because of the timing of the death, it was a confusing couple of minutes figuring out who would be on the air in Bristol.
"I sat with Jeremy, and John was on the main set and we just started talking," Van Pelt said. "I looked up at some point and in walks Bob Ley, who had turned around on his way home to take his very rightful place on a desk as well. There was no idea among us how long we'd be on the air. It was Muhammad Ali, we were going to talk and allow others to talk until it seemed like we'd covered it. Nobody was looking at watches or wondering when they could go home. Nobody wanted to. We just kept going."
A child of contradiction, Muhammad Ali was an essential American
Ley initially left ESPN at 4:30 p.m. ET on Friday when the office called and told him to come back because things were looking particularly dire for Ali. He arrived at the SportsCenter studio about 6:30 p.m. ET on a standby basis and was scouring for material, watching vintage Ali on YouTube to pass the time. "Remember, nothing had been confirmed yet, though all sources and indications were that it was extremely grave," Ley said. "We had a front row seat doing nothing for the 11 p.m. SportsCenter while strategizing with [SportsCenter executive] Mike McQuade how to staff and approach this into the night and potentially through Saturday."

Around midnight, Ley left ESPN for home, again, when he received a text from Robbin Dunn, an Outside The Lines producer, that Ali had died. Luckily, Ley was just 10 miles from Bristol and turned quickly around, speeding back to the office. He walked into the SportsCenter studio at 12:35 a.m. ET to join Van Pelt, Schapp and Anderson on-air. "It was probably at the moment I was screeching up an exit ramp and back to Bristol that I had a sense that the day which had begun at 4:50 a.m. for me was gonna take a while to put into the books," Ley said.
The guests ESPN had during its Ali overnight coverage included Kareem Abdul-Jabbar, Bob Arum, Dr. Harry Edwards, Evander Holyfield, Jesse Jackson, Larry Merchant, David Remnick, Al Sharpton and Janet Evans, who passed the torch to Ali at the Atlanta Olympics in 1996. There were also a slew of ESPN pundits weighing in on Ali's life, as well as live reporter coverage from the hospital in Scottsdale (Michele Steele) and the Ali Museum in Louisville (Britt McHenry and Coley Harvey). Feature content included a Schaap obituary, a William Nack essay, pieces on Ali and Howard Cosell and Ali's relationship with his Louisville hometown.
Muhammad Ali gave joy to millions and never stopped having fun
"Not a lot of pictures, pretty basic television," Ley said. "Just some good stories, opinions and perspectives, grounded in the most personal of recollections. Generally, I was proud of the spirit which infused the entire enterprise. The people booking guests, the crew, our producers and directors, all of my colleagues, it was in the sprit of how we built the place along time ago, grew it and sustained it. Those moments and opportunities can be rare, and it's a proper reminder of what I hope makes our place special."
The network said there were more than 100 production, programming and other personnel working on the overnight coverage from Bristol, Louisville, Los Angeles, San Francisco, Scottsdale and other locations.
"I say this with respect to my peers and friends who work in the business other places in sports television," Van Pelt said. "Maybe someone else could have done what we did, the way we did it. But I doubt it. Either way, what anyone else did or didn't do is of no consequence. Our only concern was doing what was required in that very significant moment. We have resources and infrastructure, and we are wired for moments like that. But my point is when that level of professionalism and ability are demanded, when they are absolutely required, they were delivered. You can rightly criticize us for things, as you could anyone, but late Friday into very early Saturday is the shining example of what we are prepared to do, what we are able to do and what we do."
SI's 100 Greatest Photos of Muhammad Ali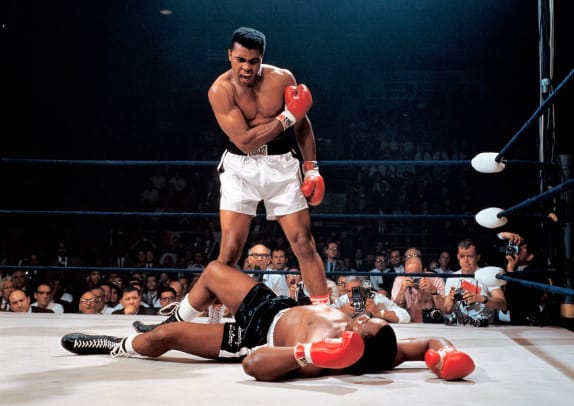 ***
He's been on the story since 1964, so of course he was the natural choice to write the final chapter. Six years ago, Bill McDonald, the obituary editor of The New York Times, contacted Robert Lipsyte with what most writers would consider an intimidating, near impossible, task: Write the obituary for Muhammad Ali.
The writing stakes were enormous: This was a Page One obituary on arguably the most famous living person. It would be a piece read long after Lipsyte, McDonald and, quite frankly, all of us are gone.
There was no word count given, only the idea that it would be long and on Page One of the Paper of Record. For weeks, Lipsyte walked around the assignment, unable to start it given its importance.
"I have an enormous collection of books and articles on Clay/Ali and my own notebooks go back to February 1964, before the first Liston fight," Lipsyte said on Saturday. "That's when I met him. Since then I've always considered myself on the story, unquestionably my most significant personally and maybe professionally, too. So, I was most concerned about not leaving something crucial out of the obit, about missing some piece of the puzzle, some fact or someone's interesting observation. It felt like a major responsibility."
Muhammad Ali: Best quotes from the boxing legend
​Lipsyte was one of the youngest reporters at Ali's first title fight in 1964 against Sonny Liston ("The Times's real boxing reporter didn't think it was worth his time, thank goodness," he said) and both careers unspooled at the same time. The two were of similar age (Lipsyte is four years older) and Lipsyte found Ali endlessly interesting. I asked him what emotions he felt writing about one of the subjects that defined his professional career.
"I feel sad now, but I didn't feel sad while writing the obit because the tone had to be factual, impersonal, the Times's version of the last word," Lipsyte said. "I could quote terrific writers like Dave Kindred, Jack Newfield and Tom Hauser in places an informed opinion was necessary that shouldn't be mine. Or Red Smith, who represented the established press. So I kept a kind of writing game face on although I'm sure the real emotions I felt for him along the way informed the copy.
"[Ali's] evolution from a barely literate, clownish prodigy who found security in a cultish group to a more complex and thoughtful man was a powerful journey to trail, and I'm grateful for the chance. I hope he found pleasures in the last few years when he was barely mobile and mute. I think his legacy was in how he made so many of us brave."
Here is the obit, and as you'll see, the 78-year-old Lipsyte was up to the task.
•••
Ali was the subject of some of the most remarkable journalism during his life. His death also produced some beautiful writing. Below, in no order, are pieces from Saturday that stayed with me.
• The New Yorker editor and Ali biographer David Remnick, on Ali's legacy
• Newark Star Ledger columnist emeritus Jerry Izenberg, on his lifelong friendship with Ali
• Ali biographer Thomas Hauser, writing for The Guardian:
• Via The Los Angeles Times photo blog: In 1981, Muhammad Ali talked a man out of jumping from the ninth floor of a building
• The Hall of Fame writer Dave Kindred, on covering Ali
• ESPN's Jeremy Schaap, whose father Dick wrote many seminal pieces on Ali, narrated and wrote this video obit
• Alex Belth, writing for Deadspin, compiled some of the greatest features on Ali
Muhammad Ali's 10 greatest fights
• Sportsnet's (Canada) Stephen Brunt, on growing up with Ali
• Dave Zirin, writing for The Nation, on Ali and social justice
• The Undefeated's Marc Spears, on two hours with Ali
• The New York Times writer Harvey Araton, on Ali as a connector of generations
• Esquire's Ali tribute
• "My dinner with Ali" (reprinted by Deadspin on Saturday)
• The Ringer's Bryan Curtis, on Ali and sportswriters
• From ESPN's Tommy Tomlinson: "How my Dad and I learned to love Muhammad Ali"
• The AP's always-excellent Tim Dahlberg, on covering Ali
• ESPN's T.J. Quinn, on Ali rejecting white society for most of his career
• MTV News writer Jamil Smith, on the patience of Ali
President Obama pays tribute to Muhammad Ali
• William Nack, writing for ESPN, on the end of Ali's journey
• From Time.com: Behind the greatest photo of Muhammad Ali
• Ron Borges, writing for Boston Herald, on a life covering Ali
• Check out this photo of Ali in Africa from former New York Times writer and Columbia University professor Howard French
• Keith Olbermann, for The Ringer, on four encounters with Ali
• Deadspin's Daniel Roberts, on what we've lost with Ali's death
• The Sunday Times's (United Kingdom) 16-page wrap on Ali
• The front page of Louisville's The Courier-Journal
• Philly.com's Dick Jerardi, on hanging with Ali at Deer Lake
• New York Daily News cartoonist and columnist Bill Gallo, on his Ali reflections
• Slate's "Hang Up And Listen" podcast interviewed Lipsyte on Saturday
• New York Magazine's Mark Jacobson, on meeting Ali at 21
The Sports Illustrated coverage:
• William Nack, in 1996, on Frazier and Ali's complicated relationship
• Richard Hoffer's obit on Ali
• Mark Kram's legendary feature on the Thrilla in Manila, the greatest story (in my opinion) in the history of Sports Illustrated
• The 100 greatest photos of Ali
• Senior writer Tim Layden profiled Ali last year
• Here is every Sports Illustrated cover featuring Muhammad Ali
• A first-person article then-Cassius Clay wrote for SI before his fight with Liston in 1964
• Charles Pierce on Ali, the contradiction
• Rick Reilly, on Ali the prankster
• Here is all of SI's coverage on Ali and the video obit
Some fun must-watch stuff:
• Here's Ali and Clint Eastwood talking with David Frost in 1969
• Here's Muhammad Ali and Joe Frazier on The Dick Cavett Show in 1974
• Here's Ali pranking kids on Candid Camera in 1974