Would one-loss Auburn jump Ohio State in the BCS?; more mail
Before we begin, a lot of you have emailed or tweeted me recently asking for my "take" on the Jameis Winston situation. My take is that -- until charges are brought -- it is reckless to speculate about the impacts of an ongoing criminal investigation, especially without knowing all the facts. This is a far more serious matter than NCAA rules violations or coaching hot-seat rumors.
So, while I realize this story is of huge interest to college football fans, I'm afraid the Mailbag will not be your go-to stop to read about it. Fortunately, we have other matters to address.
If Auburn knocks off Alabama, do you think the Tigers should jump Ohio State to play in the national championship against Florida State?
-- Derek, Baton Rouge, La.
No one-loss team has ever reached the BCS title game at the expense of a power-conference unbeaten, but Auburn, if it got to that point, would have a pretty compelling case. Not only would the Tigers have beaten top-ranked Alabama, but they also would have defeated another top-10 foe (Missouri or South Carolina) a week later in the SEC title game. Add in a third Top 25 win on the road against Texas A&M, as well as the fact that Auburn's only loss came on the road at LSU in September, and there's a lot to like.
Still, while the Big Ten isn't the SEC, neither is it the Mountain West. By season's end, Ohio State will have played two top-15 opponents (and in Wisconsin's case, I'd contend top 10). But, more importantly, the Buckeyes will have won all of their games. People take for granted just how difficult it is to go undefeated, no matter which conference a team is in. Look at Oklahoma State, which was talented enough to rout Baylor 49-17 on Saturday -- a result that proves the Cowboys can play with anyone in the country -- but which lost on the road at West Virginia on Sept. 28. Or look at Stanford, which shut down Oregon on Nov. 7, but lost at Utah a few weeks earlier. Some may scoff, but there's something to be said for Ohio State playing well enough every week to avoid an equivalent letdown against Northwestern or Iowa.
VIDEO: Rising Stars: Ohio State linebacker Ryan Shazier
So while I wouldn't want to render a final verdict until the remaining games have been played (the Buckeyes could still lose to Michigan State, after all), as of now, I'd say no, a one-loss Auburn team would not pass Ohio State in the rankings. Interestingly, this might be another scenario that gets treated differently next year by the selection committee, which will emphasize strength of schedule. If the committee --were it in place today-- felt that the Tigers' schedule (which includes a nonconference win over bowl-bound Washington State) is vastly superior to the Buckeyes', there's nothing stopping it from seeding one-loss Auburn higher than unbeaten Ohio State in the playoff. (Realistically, both would be in.) But this being the BCS, where only two spots are available in the title game, and where the unofficial directive for 15 years has been to win every game, this particular scenario does not merit suddenly bucking precedent and telling the Buckeyes, Sorry, not good enough.
By the way, all of this is moot because the Crimson Tide will beat the Tigers by 17 points.
Hi Stewart. Did Texas dodge a bullet on its coach-in-waiting plan, or is Will Muschamp somehow presiding over a uniquely bad situation in Florida?
-- Chris, Chicago
Yes, the Longhorns absolutely dodged a bullet, which is funny because earlier this season plenty of Texas fans would have traded Mack Brown for Muschamp on the spot. People in Austin love Muschamp, much the way fans of a team with a struggling quarterback fall in love with the redshirt freshman they've never seen take a snap. Some guys are meant to be head coaches, and others are just really good defensive coordinators. Muschamp falls in the latter category.
There's nothing "uniquely bad" about the situation Muschamp inherited. Most first-time head coaches would kill to break in at Florida of all places, where Urban Meyer landed the country's top-ranked recruiting class a year before Muschamp's arrival. Meyer did leave the cupboard a little bare on offense, but three years into Muschamp's tenure, that's no longer an excuse. Nor do the Gators' many injuries excuse them losing at home to a 6-4 FCS team.
Muschamp struck me as a bad fit shortly after he took over. He's a defensive-minded coach at a school whose fan base was reared on Steve Spurrier's Fun 'n' Gun and the Meyer/Tim Tebow spread offense. Muschamp is the polar opposite of Spurrier on the personality spectrum. He is hotheaded and defensive at one of the most pressure-packed programs in the nation. Now imagine him as the head coach of the Longhorns, doing five hours of coaches' shows and speaking at booster functions every week. The one thing I will say in his defense is that Texas probably would have benefitted more than Florida from an injection of Muschamp's toughness. As NFL scouts told my colleague Pete Thamel earlier this year, the Longhorns under Brown are known for their "country club atmosphere."Muschamp, as the defensive coordinator at Texas, overcame that. But if he were the Longhorns' coach, all the same flaws he's showing with the Gators would have reared their head eventually.
The good news? Someone will snap Muschamp up in a heartbeat as a highly paid defensive coordinator once Florida athletic director Jeremy Foley finally stops delaying the inevitable and pulls the plug.
THAMEL: By sticking with Will Muschamp, Florida AD puts legacy on line
I have a question about conference perception. There was a time when Mizzou was considered a possible Big Ten invitee. When that didn't happen and the school moved to the SEC, I heard a lot of talk along the lines that Mizzou was going to get raked up and down the field. Now, the Tigers have a chance to compete for the SEC championship, but no one is saying the SEC is down because Mizzou is playing well. So, how would the situation be viewed if the Tigers moved to the Big Ten and had a similarly strong run?
-- Dave, Columbus, Ohio
First of all, Missouri deserves every bit of positive press that it is receiving. The Tigers have proven a lot of people wrong this fall, myself included. They have a phenomenal defense. I did not expect them to go to Ole Miss -- a team that has beaten LSU, Texas and, very nearly, Texas A&M -- last Saturday and control the game from start to finish. (I actually picked the Rebels to win.) So I want to make that abundantly clear before giving my response. Here's my answer: If Missouri had moved to the Big Ten and was 10-1 right now, the Tigers would be ranked about five spots lower, and they would be viewed as further indictment of the Big Ten's dire state.
As I've said before, Mizzou had some pretty good teams in the Big 12 that were largely disregarded. Its 2007 squad, which went 12-2, clobbered an Arkansas team that featured running backs Darren McFadden and Felix Jones in the Cotton Bowl. But when the Tigers moved to the SEC, they took a big step up in competition, so there was reason to be skeptical whether they could compete. (Though if you'll recall, Mizzou was widely expected to have a better conference debut than Texas A&M heading into last season.)
I don't view the Tigers' success this year as an indictment of the SEC. When coupled with the Aggies' smashing debut a year ago, however, it does permanently debunk the provincial SEC conventional wisdom that if an inferior conference's best team had to play an SEC schedule, it would go 8-4. A good team is a good team regardless of the league in which it plays. With the SEC's level of respect, however, a team is much more likely to gain national acceptance than it would in some other conference.
Stewart, you and Vegas can keep picking against Missouri, but how many times do you have to come up snake-eyes before you admit you've been wrong about Mizzou?
-- Nils, San Mateo, Calif.
I've been wrong about Mizzou.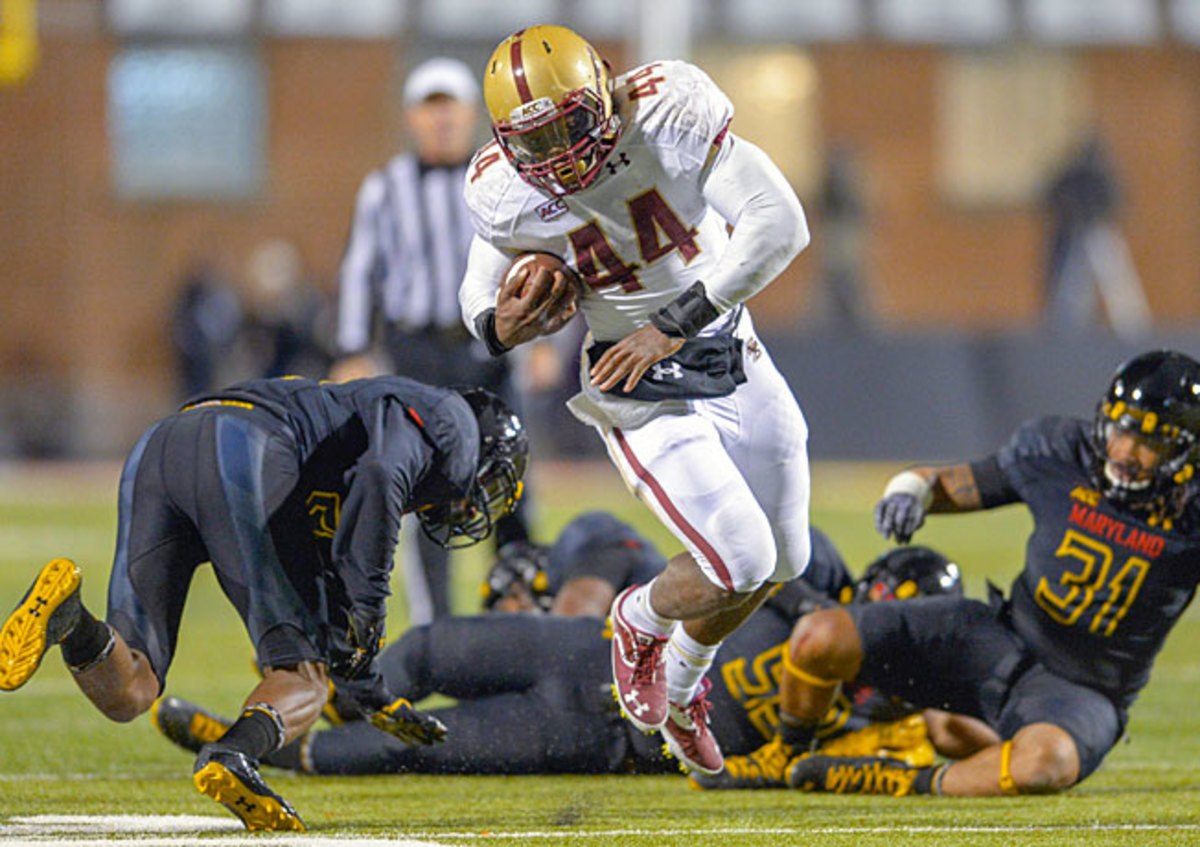 Stewart, I realize 2,000 yards is a no-joke accomplishment and that many Heisman Trophy contenders haven't exactly distinguished themselves. That said, why is Andre Williams getting THAT much love for the Heisman? If you look at his stats, he rushed for 38 yards on 17 carries against USC and 70 yards on 24 carries against Clemson. Nominate him for the Doak Walker Award, sure. But Heisman consideration?
-- Ryan, Huntington Beach, Calif.
Keep in mind, Williams also rushed for 149 yards on 28 carries in Boston College's 48-34 loss to Florida State on Sept. 28. But I understand your point. That mystical 2,000 number (which no running back has hit in five years) is his big selling point. He's also had three enormous games in a row -- 295 rushing yards at New Mexico State, 339 against NC State and 263 at Maryland -- and averaged at least 8.1 yards per carry in each. However, the more Heisman-worthy running back may be Arizona's Ka'Deem Carey, who doesn't have as many peaks, but has been extremely steady. (He has rushed for at least 119 yards in every game he's played.) Last Saturday, Carey turned in arguably the most remarkable performance of any running back this season when he carried 48 times for 206 yards and four touchdowns in the Wildcats' 42-16 rout of Oregon. But he is more than 500 yards behind Williams for the season, in part because he was suspended for Arizona's opener against Northern Arizona.
Realistically, neither tailback is going to win the Heisman. A quarterback will. But Williams has the better chance to make it to New York, due to both his 2,073-yard (and climbing) rushing total and the fact that his school is on the East Coast.
THAMEL: The Renaissance Heisman candidate: BC's Andre Williams
Stewart -- I'm curious why all the projections I'm seeing are showing Wisconsin receiving a BCS at-large selection. Why Wisconsin instead of Michigan State? Is there some formula here I don't know about, or is it simply that you (and the other prognosticators) think the bowls like Wisconsin more than Sparty?
-- Scott, Orlando
When it comes to those at-large selections, BCS bowls often shy away from teams that just lost their conference championship game, especially if there's another team available with a similar ranking or record. That's even true when the excluded team beat the chosen one head-to-head. Take last year's Sugar Bowl, for example. Florida (11-1) got the nod over Georgia (11-2) even though the Bulldogs defeated the Gators 17-9 in October.
In fact, just two years ago, Michigan State essentially got penalized for losing the Big Ten title game, which gave the Spartans a third defeat and caused them to fall out of the top 14 of the BCS standings. Coach Mark Dantonio's team was suddenly ineligible for a Sugar Bowl berth. The spot went instead to 10-2 Michigan, a team that Michigan State had beaten earlier in the season.
Thus, if facing a choice between a 10-2 Wisconsin team riding a seven-game winning streak and an 11-2 Spartans squad fresh off a loss (and with a fan base that just spent travel dollars going to Indianapolis), I'd expect the Orange Bowl to select the Badgers. However, here's the good news for Michigan State fans: If Ohio State moves up to the BCS championship game, the Rose Bowl would almost certainly take the Spartans, as Wisconsin has played in that game in each of the last three years.
MANDEL: Wisconsin lands in Orange Bowl in this week's bowl projections
So, you know ... you say "you know" a lot on your podcast. Has anyone ever mentioned this to you? I want to keep a "you know" tally when I listen during my runs.
-- Brian, Allentown, Pa.
You know, I hadn't noticed that before, but I'm going to be more mindful of it moving forward. Just so you know.
So let me get this straight, Northern Illinois beats Toledo and gets more than a .20-point jump in the BCS computers? You do realize this is a bigger jump than Oklahoma State received for beating Baylor, or Arizona State received for beating UCLA? Fresno State may be overvalued at No. 13 -- I will be the first to say it -- but there is no way NIU is No. 7, as the computers say it is. I cannot believe there is not more coverage of this. It's too bad all media outlets completely feed into the BCS and whatever it pushes.
-- Neil, Fresno, Calif.
I would hope people realize by now that the BCS' use of math is a farce. I have no problem with using computer ratings, but the versions used by the BCS are not what most of their programmers intended, due to the no-margin-of-victory edict. Thus, you can have a discrepancy like NIU ranking fourth in the BCS version of Jeff Sagarin's rankings, as opposed to 37th in his true ratings. At least the BCS formula throws out the outliers. Furthermore, there's no effective way to delve into this subject, because all but one of the programmers do not publish their methodology.
That said, remember that a team's computer average each week is not only impacted by the game it played, but also by the games of its opponents (and its opponents' opponents). The fact is, Fresno's schedule appears weaker as the year goes on. For one thing, the Bulldogs' season-opening foe, Rutgers, keeps losing and is now 5-5. Conversely, NIU's Week 1 opponent, Iowa, continues to look better after the Hawkeyes beat Michigan 24-21 last week to improve to 7-4.
Before beating 1-10 Western Michigan 33-14 on Tuesday, NIU's past two opponents, Ball State and Toledo, were a combined 16-6. Fresno's past two foes, Wyoming and New Mexico, are 7-14. So it may be that such a reversal was inevitable. What I'll be most curious to see next week is whether the voters -- who have kept the Bulldogs ranked above the Huskies all year -- might now take a cue from the computers and flip the teams in the polls.
STAPLES: Fresno State or NIU? Analyzing the debate in Power Rankings
I never thought I would see my Cal Bears field a team worse than the 1-10 squad under the last year of Tom Holmoe (2001). But this 1-11 season left me more confused and befuddled about the future. I know Jeff Tedford did not leave the cupboard totally bare in terms of talent. I know this team was young. But frankly, it seems Sonny Dykes and company are weak compared to the now-upgraded coaches and staff elsewhere in the Pac-12.
-- Jon, Sacramento, Calif.
Dykes' debut season could not have gone much worse. It definitely caught me by surprise. I think he and I were both a bit naïve to the situation he inherited, both on and off the field. He walked into a program that had eroded beyond just its win-loss record -- as evidenced by Cal posting the worst graduation rate in all of FBS.
Still, in visiting with Dykes this spring, he truly believed the Bears' 2013 campaign would go better. This was Cal. It's a great school. He had an Air Raid offense that had broken records everywhere he'd been, and he was going to run it with a freshman quarterback. What could possibly go wrong?
Evidently, everything. The defense, as it turned out, was an even bigger problem than the offense, allowing more points per game (45.9) than all but two teams nationally; a surfeit of injuries certainly took their toll on that side of the ball. Still, the Bears had more talent than they showed. If I'm a Cal fan desperate for encouragement, I'd keep in mind that it took Dykes a year and a half to get going at Louisiana Tech, where he lost 11 of his first 17 games before going 16-4 in his next 20, won a conference title in his second year and produced the nation's top offense in his third. I'd also note that Dykes' mentor, Mike Leach, suffered through a similarly nightmarish debut at Washington State last year, going 3-9 and losing his first eight conference games, before improving to 6-5 (4-4 Pac-12) this year. Sometimes, it takes a little while to change a culture. I wouldn't throw in the towel just yet.
Is everything okay, Stewart? Some of your responses were a little testier and snarkier than usual last week. Don't get me wrong. I love your brand of snark. But I just want to make sure my favorite writer isn't losing it on me.
-- Cindy Lee, Bowie, Md.
I appreciate the concern. I try to stay pretty consistent with my snark, but it's possible you're seeing a late-season spike in sarcasm as my way of coping with the fact that as the stakes rise, so, too, does reader paranoia.
Stewart, what the hell man? So let me get your wisdom straight. Oklahoma State is better than Missouri, why?
-- Matt, Manitowoc, Wis.
I couldn't tell you, man. I never wrote that.