Out Of Power: How D.C.'s most prominent AAU leader landed in jail
This story originally appeared in the Aug. 25 issue of Sports Illustrated. You can subscribe to the magazine here.
On May 28, Curtis Malone's friends and family shoehorned into the four rows of wooden benches in U.S. District Courtroom 23 in Washington, D.C. Among the two dozen supporters were a former NBA lottery pick and the man who was the highest-paid assistant in college basketball. Some wore tailored suits, others baggy warmup pants and lime-green Under Armour sneakers. Some had on designer sunglasses that hid their tears. They came to show allegiance to a man they knew as a loyal son, caring stepfather, tough-love coach and basketball power broker. They also came to wave goodbye to a man they learned nine months earlier -- when DEA agents busted him with large amounts of cocaine and heroin -- they hardly knew at all.
Malone's background didn't suggest that one day almost every NCAA coach in the country -- from Mike Krzyzewski to Billy Donovan to Bob Huggins -- would take his calls. He grew up in a modest home in Palmer Park, Md., outside Washington and didn't play much ball beyond high school. He had no college degree and had pleaded guilty to possession of crack cocaine with an intent to distribute in 1991. He worked in the moving business in the early '90s, but for more than 15 years Malone ran the vaunted D.C. Assault AAU program, producing three NBA lottery picks, helping hundreds of players land Division I scholarships, and receiving millions of dollars from apparel companies. "He was the godfather of D.C. basketball," says Gwynn Park (Md.) High coach Mike Glick, who has been a coach in the area for 21 years. "If you were a college coach and wanted to recruit in the D.C. area, you had to go through Curtis Malone."
Beneath the vaulted ceiling of Courtroom 23, Malone's drug and basketball empires both officially crumbled. Court documents and recordings from police wiretaps reveal two illicit -- and booming -- operations: a large cocaine and heroin ring that law enforcement officials estimate generated $80,000 per month in profits, and an AAU program that operated through favors, threats and backroom deals.
In an orange jumpsuit and white prison slippers, Malone sat solemnly before Judge Ellen S. Huvelle while awaiting his sentencing. He wore thick-rimmed glasses, his mustache neatly trimmed, and his voice quavered as he explained his guilty plea. "I stand in front of you with no excuses," Malone said. "Twenty years later I'm back to what got me in trouble before."
Celebrity lawyer Billy Martin, who has represented Michael Vick, Allen Iverson and Monica Lewinsky's mother, gathered 75 letters in support of Malone. Many close to Malone still view him as a benevolent mentor who sold drugs only to pay rent for needy players' families or to help out downtrodden friends from his childhood. Says his stepdaughter, Sydney Smith, "It's like the most dysfunctional Robin Hood story ever."
Assistant U.S. Attorney Stephen J. Gripkey and law-enforcement- officials dismiss this notion. They acknowledge Malone's work in the community but paint his motives as simple greed. "This isn't a Robin Hood situation," says DEA Special Agent in Charge Karl C. Colder. "He used those kids. In one [sense] he's helping young men. But at the same time he could be poisoning their parents or relatives. It's impersonating a cause."
Judge Huvelle sentenced Malone to 100 months in jail. And as Malone, 45, winked to the gallery before being sent off, he left friends, family and the basketball world to figure out whether he was an AAU coach moonlighting as a drug dealer or a drug dealer masquerading as an AAU coach.
"It's a lot easier being a drug dealer than an AAU coach," Malone said earlier this month in an interview at the federal prison in Lewisburg, Pa. "At least you know what you're dealing with every day when you're a drug dealer."
*****
The scope of Malone's drug operation may be best characterized by the number of law enforcement officials it took to catch him. The yearlong investigation included the DEA, IRS and the ATF. State, local and county police were involved. It took 60 to 70 men, wiretaps, a pole camera outside Malone's half-million-dollar home in Upper Marlboro, Md., in-person surveillance and a few drug-sniffing dogs to track and arrest him and his network of codefendants.
How USA Basketball became the premier summer spot for recruits
D.C. police officer Joe Abdalla first received a tip from an informant in 2007 that Malone was moving large quantities of cocaine. By 2012, DEA officials estimate that he was handling an average of 10 kilos per month. According to court documents, Malone bought the coke for $28,000 a kilo and sold it for $40,000. "It took us a very long time to arrest him," says DEA Supervisory Special Agent Pete Kim, who led the Malone investigation. "The people he had employed in his organization -- they were careful and street savvy and astute to law enforcement. He knew the game."
Malone's mastery of the drug world extended from his national network of connections to the code he used to stymie wiretaps. He went by the aliases of White Boy and Daddy. Malone's close childhood friend Micah Bidgell, a career criminal and one of Malone's drug connections, used "new Nike" to refer to a fresh shipment of cocaine; "size-42 pants" meant a sale of a kilo for $42,000.
"It's a lot easier being a drug dealer than an AAU coach," Malone says. "You know what you're dealing with every day when you're a dealer."
Court documents show that by 2013, Malone had an established cocaine operation and appeared to be setting up a steady heroin operation. "Cocaine buys cars, and heroin buys houses," says Abdalla, repeating a law-enforcement- aphorism he learned during his 28 years investigating narcotics. Abdalla, who recently retired from the force, called Malone an "upper-tier" dealer in the D.C. area.
A person using Malone's phone is heard on a wiretap in August 2013 complaining about the poor quality of a batch of heroin that wouldn't sell in the Baltimore market. "It's like molasses," the person said, adding that he didn't want to get a bad reputation by selling it.
No-post era? Not for college team that lands prospect Diamond Stone
Five days after that call, law-enforcement officials arrested Malone in his four-bedroom house and found nearly a kilo of cocaine and 84 grams of heroin hidden in a small ottoman in his basement. Police also found strainers, digital scales and plastic bags with white residue inside. Abdalla estimates the combined street value of the drugs to be $150,000. Hours earlier, Stephen Williams, Malone's cousin, had been arrested as he left Malone's house with $20,000 in cash and nearly a kilo of cocaine in a -detergent box, which was inside a black Under Armour bag.
"From my knowledge of his case, we missed his money," says Abdalla. DEA officials say the financial portion of the investigation is ongoing.
Three of Malone's codefendants pleaded guilty. A fourth, Bidgell, who wasn't found until May 30, hasn't pleaded yet. None of those arrested provided the police with significant information about the source of the drugs. "He surrounded himself with a trusted group of individuals," Abdalla says, "and they were very loyal to Curtis Malone."
*****
Let's start with the obvious: It is, of course, preposterous that a convicted crack dealer could become a power broker in youth basketball. But Malone simply adapted his skills from dealing drugs -- charisma, street savvy, discretion and organization -- to AAU and grassroots hoops.
Malone's basketball empire began in 1993 with a travel team at the Columbia Park (Md.) Community Center, which he ran with four friends. By the time Troy Weaver left in '96 to take an assistant coaching job at Pittsburgh, handing off leadership of the team to Malone, D.C. Assault had evolved into a national business.
Malone quickly grasped that in the essentially unregulated youth basketball world, the key is to acquire talent, because talent provides exposure, credibility and leverage, including access to college coaches, sneaker companies and NBA agents. "I ran my program as an amateur program," says Rob Jackson, who oversaw the rival DC Blue Devils. "He ran his as a business. He sold kids to schools, sold kids to agents." Malone denies ever selling a player.
Not long before Malone took over D.C. Assault, he discovered a 6-foot-8 high school freshman with a guard's shooting touch at the Watts playground in Northeast D.C. Recognizing DerMarr Johnson's potential, Malone bought him Air Jordan sneakers, Timberlands and a leather jacket. "I was like, Damn, this is my guy right here," says Johnson.
Malone simply adapted his skills from dealing drugs -- charisma, street savvy, discretion and organization -- to AAU and grassroots hoops.
Johnson had been living with his sister, but in 1996 he moved in with Malone. His play surged. After Johnson's strong performance against Lamar Odom in an AAU tournament, boxes of Adidas gear showed up at Malone's apartment.
D.C. Assault had enough cachet by the summer of 1996 that it pulled off a rare feat: appearances in signature summer events for both Adidas (the Big Time Tournament in Las Vegas) and Nike (the Peach Jam in North Augusta, S.C.). Assault's roster, assembled largely by Malone, featured four future McDonald's All-Americans: Johnson, Kevin Lyde (Temple), Mark Karcher (Temple) and Keith Bogans (Kentucky). With Johnson and Bogans rated by some scouting services as the country's top two players, Adidas executive Sonny Vaccaro signed Malone and D.C. Assault to an exclusive contract -- both Vaccaro and Malone recall it being for $50,000 per year -- that cemented Assault's status as a national power.
Before meeting Malone, Johnson wasn't even eligible to compete in high school basketball for academic reasons; Malone not only helped him study but also guided him through four schools in five years, using Johnson's case as a blueprint for his future mentees. He became so close to the players -- traveling with them, giving them gear and even taking them in -- that they didn't mind if he tried to make money off them. Malone did not coddle them; he sent Johnson for his final year of high school to MaineCentral Institute in a rural part of the state against Johnson's wishes. Malone steered Johnson to Cincinnati to play for Huggins, then encouraged him to declare for the NBA draft after his freshman year. Johnson signed with agent Dan Fegan before the 2000 draft because, he told Sports Illustrated, "it was [Malone's] decision."
With the Global Squad, international prospects search for scholarships
Johnson told SI that his relationship with Malone happened organically, and that it was not exploitative. He considers Malone family. Malone discovered him, gave him a basketball platform, sheltered him and fed him. "Regardless if he made money off agents or Adidas or anyone else," Johnson says, "I know what he did for me."
And Johnson did plenty for Malone. The Hawks chose the 6-9 Johnson with the sixth pick, and he gave Malone a Mercedes, paid him an allowance of $6,500 per month and, over his first few years in the league, donated $15,000 per year to D.C. Assault. After his second season in the league, Johnson was in a car accident, breaking four vertebrae. He played only 194 more games over the next five seasons.
A few months before Johnson was drafted, The Washington Post ran a story that referred to Malone's 1991 felony conviction for dealing crack cocaine and a '93 guilty plea for eluding police in a late-night car chase. But by then Malone had accumulated so much power that an arrest nearly a decade before didn't stop the college coaches from calling or the parents from sending their kids to Assault. His phone never stopped ringing. "I'll buy you a car, chain or watch," Johnson once told Malone, "but I'm not paying your cellphone bill."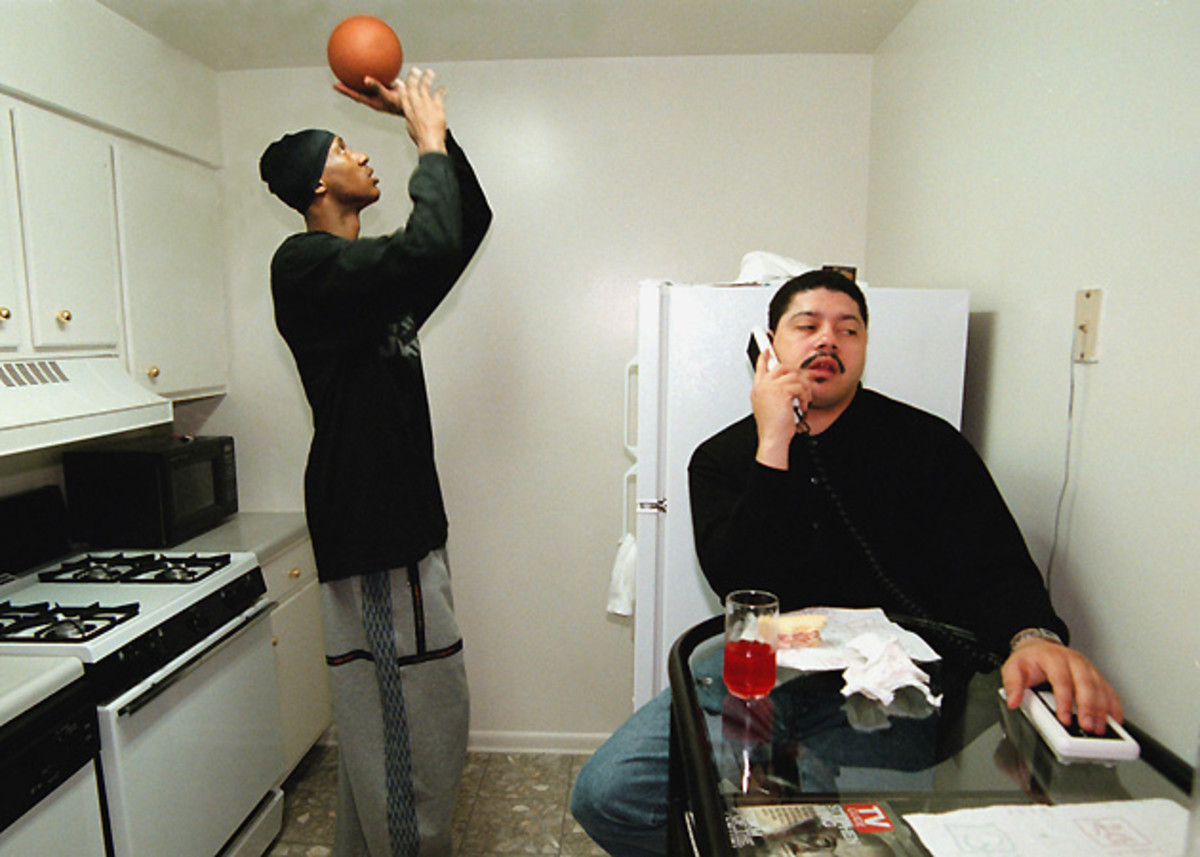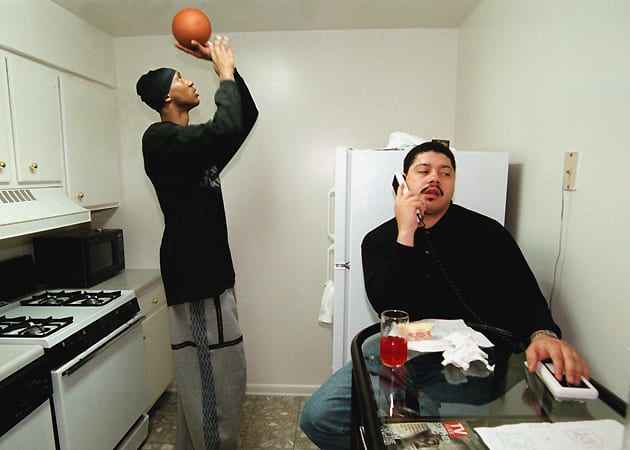 *****
Michael Beasley played in just four playoff games for the Heat this year, a garbage-time reminder that he's hanging on in the NBA despite himself. Barely. In six seasons the 6-9 forward has been arrested for marijuana possession, in rehab and out, benched repeatedly and waived.
After being chosen with the No. 2 pick out of Kansas State by Miami -- ahead of Russell Westbrook and Kevin Love -- Beasley remains an All-Star talent with D-League reliability. Says Beasley of Curtis Malone, "He's my father. All the stuff that I have been through, he's been there for me."
Is Malone a patient mentor who raised Beasley as a son and guided him through six high schools in five states? Or is he an opportunistic hustler who got close to Beasley to make something off him? Or both? "He invested in [Beasley]," says Dalonte Hill, who coached Beasley for Assault and later at Kansas State. "That's what investments do: They pay off."
Hill remembers the day Beasley's mother, Fatima Smith, called Malone and asked him take in her son, then an eighth-grader. She told Malone that she could no longer handle him. "You have to come get him," Hill recalls her saying, "to save his life."
Around 2003, Malone tells SI, he brought Beasley to live with him and his wife, Monica, and his two stepchildren, Nolan, who was then 15, and Sydney, 17. (Malone also has two daughters from previous relationships.) Monica is the widow of Derek Smith, a former Louisville and NBA star who died of a heart attack in 1996, at 34. Beasley played for Assault and settled into the basketball-centric family. Nolan went on to win ACC player of the year as a senior guard at Duke, in 2011, and is now with Galatasaray in Istanbul. "We consider Mike to be our blood brother," says Sydney, pointing out their matching tattoos.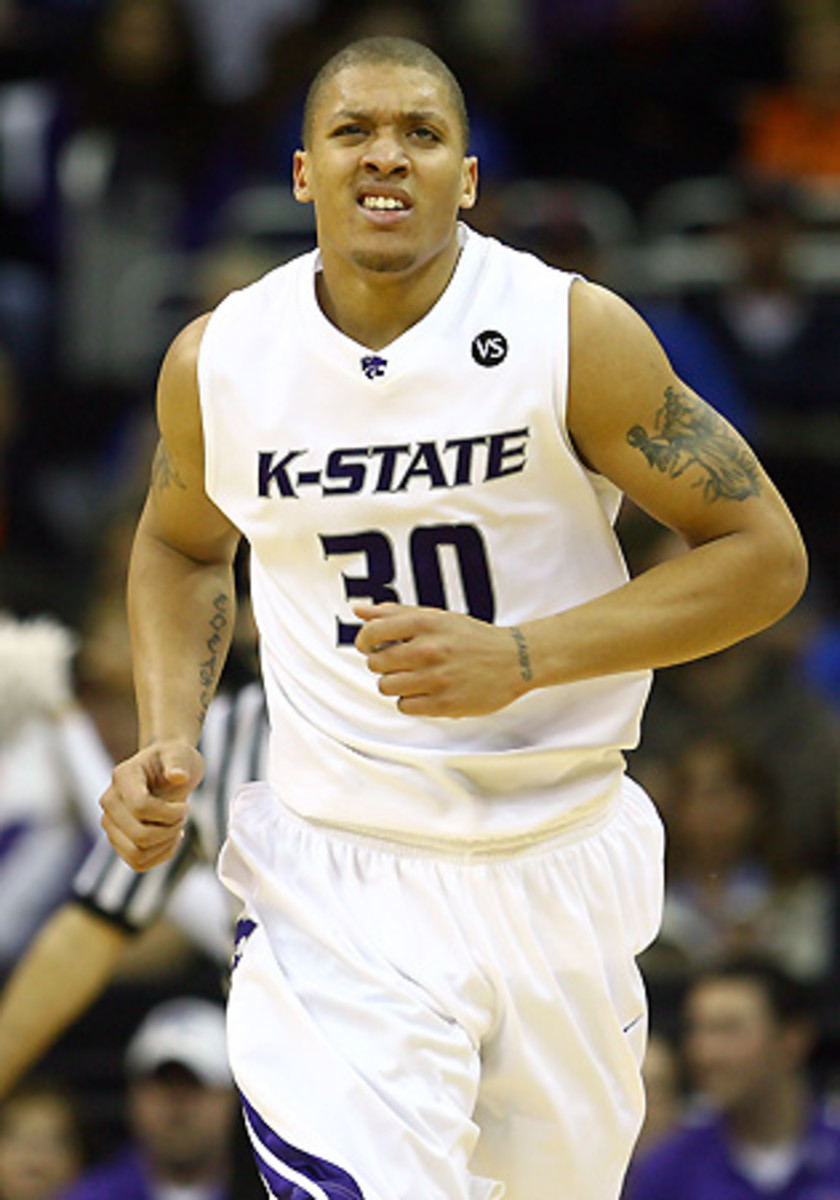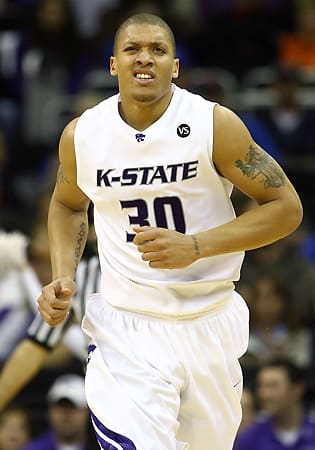 Malone stuck by Beasley after he was kicked out of prep power Oak Hill Academy for several incidents, including auto-graphing an administrator's vehicle with a Sharpie, and he helped Beasley gain eligibility to college. Beasley first committed to UNC Charlotte when Hill, a former Assault player and one of Malone's closest friends, was an assistant there. After Hill moved to Kansas State, Beasley changed his commitment and headed there too. His commitment to Kansas State stuck only after the school bumped Hill's annual salary to $420,000 from $105,000, making him the highest-paid assistant in the country. The rural school turned out to be a good fit for Beasley, who stayed out of trouble under coach Frank Martin and as a freshman averaged 26.2 points and 12.4 rebounds.
Trouble came when Beasley was preparing to enter the draft. Beasley says that Malone arranged for him to be represented by Joel Bell, a mid-level agent in the D.C. area whose two sons played for Assault. A lawsuit filed by Beasley contends that Bell gave Malone "benefits for his D.C. Assault program" and money "in exchange for [Malone] at least attempting to manipulate prospects like -Beasley" into signing with Bell. The suit was dropped, and no evidence emerged to back up the claims. When reached by SI, Bell declined to comment.
Agents have long used brokers to deliver athletes to them from AAU programs. Martin, now with South Carolina, says he knew of an arrangement between Malone and Bell. "I won't tell you I didn't know about it," he says. "Of course I knew about it. Agents run the NBA, agents run grassroots basketball."