College basketball Crystal Ball: SI picks the Final Four and more
Sports Illustrated experts peer into the Crystal Ball to predict the college basketball season, including their picks for the Final Four, sleeper teams, player and rookie of the year and more.
It's been 218 days since UConn cut down the nets after defeating Kentucky in the national championship. And now, after a long offseason, it's finally time to gaze into the Crystal Ball and predict the 2014-15 season.
So far in our season preview package, we've projected:
Now we turn to even more important matters, like our selections for the Final Four, the national championship and player of the year. Stay with SI all season long as we enjoy another great season of college basketball.
Final Four teams and a darkhorse
| | | | | | |
| --- | --- | --- | --- | --- | --- |
| writer | final four | final four | final four | final four | Darkhorse |
| Seth Davis | | | | | |
| Luke Winn | | | | | |
| Pete Thamel | | | | | |
| Brian Hamilton | | | | | |
National champion
Davis: Kentucky. I am on record saying I think this team could go undefeated. At the very least, the Wildcats should be able to run the table in the SEC. Florida did it last season, and this Kentucky team is much better. I'm not sure how long John Calipari's platoon system will hold up, but with this kind of depth, the Cats will be less vulnerable to one or two starters having an off night. And even if they suffer a team-wide bad shooting night, the frontline is so incredible that it will be impossible for opponents to score near the rim.
Winn: Kentucky. The Wildcats can win most (if not all) of their regular-season games with John Calipari's proposed platoon system which will rotate two teams of six to give as many players as many minutes as possible, but winning a national championship will require leaning heavily on the Harrison twins, point guard Andrew and shooting guard Aaron, in the NCAA tournament. Their ability to penetrate and draw fouls against overmatched guards in March will be more important than UK's extreme depth. 
• Read all of SI.com's 2014-15 college basketball preview content
Thamel: Wisconsin. The Badgers have strength, depth, experience and the built up emotional scar tissue from coming ever-so-close last year, when they lost to Kentucky by one at the Final Four. Look for Frank "The Tank" Kaminsky and Sam Dekker to power Wisconsin to its first national title since 1941.
Hamilton: Duke. There are returnees stung by a tournament loss who mesh with a fleet of talented freshmen for one of the nation's most formidable rosters. Yes, Duke and Kentucky are indeed working off the same page in some ways. But while the Wildcats' depth of talent should be staggering, the guess here is that the Blue Devils, like Louisville and Connecticut before them, will ride two lead guards (Quinn Cook and Tyus Jones), while also relying heavily on freshman center Jahlil Okafor, to bring the title back to Durham.
Breakthrough team
College basketball conference previews: Pac-12
Winn: Utah. The Utes were 21-12 last season despite losing five one-possession games and two others in overtime. If their luck (and/or crunch-time competency level) improves, they should be the second-best team in the Pac-12. Look for senior Delon Wright, who contributes to every column in the box score, to emerge as one of the nation's best all-around perimeter players. 
Thamel: Miami. The Hurricanes are the archetype of the modern team that rebuilds through transferring. The influx of Texas transfer Sheldon McClellan and Kansas State transfer Angel Rodriguez along with now-healthy redshirt freshman Deandre Burnett should make Miami a factor in the ACC race.
Hamilton: Georgetown. Last year's 18-15 showing, which included a sub-.500 finish, in the Big East should be a distant memory by spring. The Hoyas' veteran core revolves around guard D'Vauntes Smith-Rivera, the league's player of the year favorite after averaging 17.6 points per game last season. Then they add five-star talent like 6-foot-9 freshman Isaac Copeland to add scoring pop for a team that could go to the Sweet 16.
Not buying the hype on...
College basketball conference previews: SEC
Winn: UConn. The AAC is weak enough that the Huskies should finish in the top two, but I'm hesitant to call them an elite team nationally. My concern is mostly with the offense: It's hard to lose a massively valuable point guard in Shabazz Napier, plus two underrated floor-spacers in DeAndre Daniels and Niels Giffey, without taking a painful step back in efficiency. 
Thamel: Florida. There's just so much missing and so much youth it's going to take a while for the Gators to become a top 10 team. And let's settle down on the Chris Walker hype. He's scored 34 points in his whole career and lacks a go-to move.
Hamilton: Florida. The Gators built a 36-win season and Final Four berth on a base of four seniors. It will be impossible to recreate that cohesion and belief. There is potency with guard Michael Frazier II (12.4 ppg). But Dorian Finney-Smith, the reigning SEC sixth man of the year, must prove he can be a frontline producer. And one of the possible difference-makers, sophomore forward Chris Walker, remains unreliable until proven otherwise.
Midmajor to watch
Davis: Harvard. I made the Crimson my dark horse to make the Final Four. Yes, that's unlikely, but would it be any more unlikely than the previous midmajors who have made it that far? Harvard has won four consecutive Ivy League titles and an NCAA tournament game each of the last two seasons, and it has three starters back.
• MORE FROM SETH DAVIS: Ten burning questions as the season begins
Winn: Georgia State. The Panthers aren't on the same level as the mid-major holy trinity of Gonzaga, VCU and Wichita State, but they're built to cause problems in the NCAA tournament. They have a backcourt trio that's high-major quality: 6-6 marksman R.J. Hunter is a future first-round draft pick, 6-2 point guard Ryan Harrow is a Kentucky refugee thriving in a new role, and 6-2 Louisville transfer Kevin Ware should add a defensive element that they lacked last season. 
Thamel: Toledo It returns six of its top seven players on a team that tied for first in the MAC regular season last year. Expect Tod Kowalczyk's club to make a cameo in the top 25 this season and thump Oregon on Nov. 21. Senior wing Justin Drummond is the name to remember, as he scored 14.2 per game last year.
Hamilton: San Diego State. The Aztecs lost their leading scorer (Xavier Thames) and their leading rebounder (Josh Davis) and return one guy who averaged double-figure scoring (Winston Shepard). The vaunted recruiting class has questions: five-star forward Malik Pope is coming along slowly after two high school seasons cut short by injury, and four-star forward Zylan Cheatham might not play until 2015 due to a broken foot. If healthy, the Aztecs can win 20-plus games for the 10th straight year and do some damage in the postseason. That's a decent-sized if.
Continue reading: Player of the year, freshman of the year, more
[pagebreak]
Player of the year
Davis: Jahlil Okafor, Duke. Okafor is the best center Mike Krzyzewski has ever recruited. He's listed at 6-foot-11, 270 pounds, so you might think he's a little on the chunky side, but Okafor carries the weight well. Moreover, he is fundamentally sound and understands the game, and his best friend, freshman point guard Tyus Jones, joined him in Durham and knows how to feed him the ball. The biggest challenges for Duke will be keeping Okafor healthy and out of foul trouble. If the Blue Devils can does things, they will be very hard to beat.
Winn: Montrezl Harrell, Louisville. Not an easy call between Harrell and Frank Kaminsky. The deciding factor? Kaminsky has two rising stars (Sam Dekker and Nigel Hayes) alongside him in Wisconsin's frontcourt, and I see the Badgers being more balanced statistically than they were in '13-14. Harrell is the only real offensive option on Louisville's front line, and thus is a threat to average something like 18-and-11 as a junior. That's a POY stat line. 
Thamel: Okafor. I'm all-in on Okafor, as he's the best skilled big-man that we've seen in college basketball in a long time. It's scary to predict someone could have a bigger impact in college than Jabari Parker, last year's sensational Duke freshman, but Okafor should manage. (Especially because Parker was defensively, um, ambivalent).
Hamilton: Marcus Paige, North Carolina. The 6-foot-1 junior averaged 17.5 points on 44 percent shooting last year and had his share of memorable performances, like 32 points against Louisville and 35 against N.C. State. The Tar Heels will give him the ball and he'll have the chance to put up more eye-grabbing numbers. But Paige also should have more space as forwards Brice Johnson, Kennedy Meeks and freshman Justin Jackson develop into threats.
Freshman of the year
Davis: Okafor. See my answer above.
Winn: Okafor. This race won't be close. Okafor is more than ready to star for a Blue Devils team that needed a low-block presence -- and now has enough talent to contend for a national title. He's the opposite of a project, and already has better post moves than everyone in college hoops not named Kaminsky or Georges Niang. 
Thamel: Reid Travis, Stanford. Since I already included Okafor as the Player of the Year, I'll go with Stanford's Reid Travis. He's a clone of former Washington star Jon Brockman, and that's a high compliment considering the menacing way Brockman ruled the paint in Seattle for four seasons last decade. Travis is 6-7, 235 pounds and plays the game like someone stole his supper. Let's put it this way, if he went to Duke (who offered), he'd be that player everyone hates because he's strong, tough and will likely be around for four years.
Hamilton: Okafor. It might be a one-two finish for ACC talent in the national player of the year race, with the 6-foot-11 Okafor vying for those honors with Tobacco Road rival Paige. The Blue Devils can run everything through Okafor, who is a deft enough passer and also offers a nice balance of power and finesse on the block. He'll benefit from being his team's centerpiece in ways that Kentucky's Karl Towns and Kansas' Cliff Alexander might not be.
Breakout player
Which sophomores are primed to break out? Here are five candidates
Davis: Branden Dawson, 6-6 senior forward, Michigan State
Winn: Deonte Burton, Marquette. He's a near-perfect fit for my Breakout Sophomore Formula: a reasonably efficient, high-volume shooter who'll be taking on a much bigger role on a depleted team. The Golden Eagles desperately need offense, and Burton, in limited minutes last season, used a higher percentage of his team's possessions than all but one major-conference freshman -- Duke's Jabari Parker.
Thamel: Juan'ya Green, Hofstra. He averaged 16.5 points per game at Niagara before transferring and could end up as the class of the CAA this year. He has NBA people intrigued.
Hamilton: Zak Irvin, Michigan. Someone has to pick up scoring slack with Nik Stauskas departed to the NBA, and the 6-foot-6 Irvin should get the minutes and the shots as a sophomore to do so. His effective field goal percentage (59.2) and his per 40-minute scoring rate (17.4 points) as a freshman suggest that he has the stroke and the assertiveness to make the most of an enhanced opportunity.
Best shooter
Davis: Phil Forte, Oklahoma State. He doesn't have Marcus Smart to serve him up easy buckets anymore, but Forte's stroke is still poetry in motion. Last season, he ranked 14th nationally in three-point percentage (44.1), and he was second in the conference in both percentage and threes made (2.9 per game). For his efforts, Forte was named Big 12 co-sixth man of the year, but he'll be pressed into starting duty this season.
Winn: Kevin Pangos, Gonzaga. There are catch-and-shoot guys with better three-point percentages than Pangos -- Florida's Michael Frazier II is a prime example -- but the Zags' point guard has made 41 percent of his career threes while having to create the bulk of his looks. Fully healthy as a senior, he could help shoot the Zags to their first Final Four.
Thamel: Ron Baker, Wichita State. Baker attempted 320 3-pointers last season and will need to score more this year with the absence of Cleanthony Early. Look for his volume – and percentage (38.0) – to increase for the Shockers.
Hamilton: Micah Mason, Duquesne. For big-conference names, look to Florida's Michael Frazier II or Oklahoma's Buddy Hield. But if we're talking pure marksmanship? Well, Mason hit 56 percent of his attempts from long range last season. His true shooting percentage of 77.8 led the nation. Mason hoisted 116 three-pointers and averaged 10.6 points per game, so he's no small-minute or small sample size anomaly, either.
Impact defender
Davis: Briante Weber, VCU. There's a reason Weber was tabbed the Atlantic 10's defensive player of the year the last two seasons. Last year, he broke his own school single-season record for steals with 121, and he needs just 90 more swipes to break the NCAA's career mark. Since Shaka Smart has no intention of pulling back on his end-to-end "Havoc" attack, Weber should have no problem getting that record, as long as he's healthy.
Winn: Larry Nance Jr., Wyoming. The son of a former NBA All-Defensive first-teamer, Nance ranked fourth in the Mountain West in defensive rebound percentage (24.8), fifth in block percentage (7.5) and eighth in steal percentage (2.6) last season. His all-around impact -- as long as he's recovered fully from a torn right ACL that cut short his junior season -- could help get the Cowboys to the NCAA tournament. 
Thamel: Angel Rodriguez, Miami. Rodriguez will immediately emerge as the ACC's best on-ball defender. He earned Big 12 All Defensive team as a sophomore, and now that his balky left knee is fixed he should only be more suffocating.
Hamilton: Weber. The 6-foot-2 senior is the most disruptive defender in the country, leading the nation last season with 3.5 steals per game. When Weber was on the floor, 6.8 percent of opponent possessions ended with him stealing the ball, the best rate in the country. His defensive Win Shares total of 3.1 tied for seventh nationally. Weber and the Rams' "Havoc" defense represent the perfect match of player and purpose.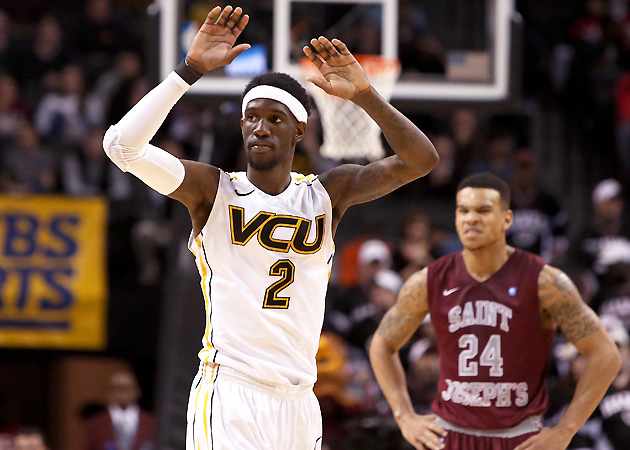 Coach on the hottest seat
Davis: Steve Lavin. St. John's. Lavin is entering his fifth season at St. John's, and he has a team with plenty of talent to be able to make the NCAA tournament for the second time. That's good news and bad news. Last year's group was also pegged for the postseason, but it came up short and lost in the first round of the NIT. If the Red Storm makes the NCAAs, then Lavin is in the clear. If it doesn't, his situation is going to get dicey.
Winn: Oliver Purnell, DePaul. Tom Crean is facing more scrutiny at Indiana, but Crean has a $12 million buyout. Purnell, whose team looks headed to its fifth consecutive last-place finish in the Big East, will have just two years left on his deal following this season, putting his buyout more in the $3.5 million range. For a program hoping to move into a new arena in 2016-17, a change is likely in order.   
Thamel: Purnell. Maybe it's impossible to win at DePaul. But now that Purnell has a bit of talent on campus he needs to show the school's brass that he's not mailing it in as he enters the fifth year of a seven-year deal.
Hamilton: Tom Crean, Indiana. One 17-15 season -- after 27- and 29-win campaigns -- ratcheted up pressure on the Hoosiers' seventh-year coach. Then came Emmitt Holt hitting teammate Devin Davis with his car, which put Davis in the hospital. It earned Holt an illegal consumption citation – a third late-night alcohol-related incident for an Indiana player this offseason -- and a four-game suspension. Two other players were suspended for four games for unrelated failed drug tests. If they make the NCAA tournament, Crean may make it off the hot seat. But that's probably what it takes at this point.
A bold prediction
Davis: The 30-second shot clock is coming. The ACC and Atlantic 10 experimented with it during the preseason. Hopefully, this time next year, it will be firmly in place across the board. College basketball needs more possessions, more shots and more points.
Winn: North Carolina wing Justin Jackson, who was Rivals.com's 11th-ranked recruit in the Class of 2014, emerges as the nation's most efficient freshman scorer, and positions himself to be in the All-America conversation in 2015-16 -- if he stays out of the NBA draft.
Thamel: College basketball officials (finally) start to wake up and realize that their regular season is so enveloped in irrelevancy that they start serious discussions to begin the season after the first semester. This would, finally, get it out of college football's shadow and give it more of a showcase in the spring. The low ratings, lack of stars and long scoring droughts have made college basketball's regular season a drag. They need a bigger and better showcase and a better window for fans to familiarize themselves with the constant roster turnover.
Hamilton: With its top three scorers back from a 27-win team, including conference player of the year Wesley Saunders, Harvard becomes only the second Ivy League team to reach the Sweet 16 since 1979. (Cornell did it in 2010.)