How Ohio State used Oregon's model to be a contender; Punt, Pass & Pork
How Ohio State modeled its program after Oregon to become a title contender. Plus, more analysis in an all-championship edition of Punt, Pass & Pork.
DALLAS -- Urban Meyer and Mark Helfrich sat on a dais Sunday morning with the empty ice cream cone that is the new College Football Playoff trophy placed between them. Someone asked Ohio State coach Meyer about the methods the Buckeyes have used at practice to simulate Oregon's offensive tempo in advance of Monday's national title game. Ducks coach Helfrich couldn't help but interject.
"Be specific," Helfrich deadpanned. "Please."
"Without getting into too much detail -- next question," Meyer cracked.
Meyer then answered the question, but kept the specifics to himself. Helfrich would probably love to know exactly how Meyer's defensive staff is simulating Oregon's tempo, because Meyer is one of the few coaches who has been allowed inside the Ducks' famously secretive program. He visited Eugene in 2011 while working for ESPN, and Meyer maintains a relationship with former Oregon coach Chip Kelly, who brought a warp-speed offense and an intense desire for privacy to the team. Kelly didn't share much with other coaches when he was at Oregon, and Helfrich and his staff have carried on that philosophy.
Oregon-Ohio State title game ushers in era not defined by SEC dominance
"I talk to coaches once in a while and share some ideas. But we play it pretty close to the vest at Oregon," Ducks offensive coordinator Scott Frost said a few days before the Rose Bowl. "I guess we kind of figure that we are not going to get as much out of going to other places when we show what we do. That might be misguided and sound arrogant, but we are comfortable with our scheme and our system. We want to keep it in-house."
What makes Monday's matchup so interesting is that Meyer has gone behind Oregon's curtain, and his relationship with current Philadelphia Eagles coach Kelly has allowed him to learn even more. When I visited Columbus for spring practice in April, I was sitting outside Meyer's office waiting for my appointed interview time. Meyer's door opened, and who walked out? Chip Kelly.
• TITLE GAME HUB: All of SI's College Football Playoff final coverage
Meyer built his career on a spread offense that used single-wing and option principles to run between the tackles, but he long eschewed cranking the tempo. Even though much of what Meyer ran at Bowling Green, Utah and Florida had roots in what Rich Rodriguez did at Tulane, Clemson and West Virginia, Meyer never seemed to enjoy going fast the way Rodriguez and Kelly do. At Florida, Meyer's teams would huddle and then bleed the play clock dry. Meyer briefly experimented with tempo, sending then-coordinator Dan Mullen to Missouri to learn how Gary Pinkel and his staff went so fast. Mullen even began to implement the tempo change with the Gators, but Meyer quickly put the kibosh on it.
"I snatched that after about four days of spring practice," Meyer said. "Technique went to hell and our receivers coach is over there signaling instead of coaching receivers. We ended that real fast."
Meyer wanted Florida quarterback Tim Tebow to be able to look his teammates in the eyes in the huddle, so he resisted.
When Meyer got to Ohio State in late 2011, however, he realized he couldn't fight the tempo revolution any more. He hired Tom Herman, who ran an up-tempo attack at Iowa State, as his offensive coordinator. Meyer also continued to pick Kelly's brain. That's how Kelly came to be in Columbus -- along with Boston College head coach and former Meyer assistant Steve Addazio -- in April. The coaches traded schematic and program-building philosophies. So, it is safe to say Meyer has learned quite a bit more about what Oregon does than most of his peers.
Meyer obviously didn't implement everything he learned from studying the Ducks. "You go in there, they're playing Lion King music. They have like a DJ at practice, bizarre stuff now," Meyer said of his 2011 trip to Oregon. "I remember I was like, 'What is this?' I worked for Earle Bruce. We didn't have Lion King and DJs at practice." Also, the Buckeyes didn't copy Oregon's offense. Herman drew on his own experiences as well as information-sharing visits to places such as Clemson, where then-coordinator Chad Morris ran an up-tempo offense forged on the high school fields of Texas.
If you're trying to decide whether Meyer's knowledge of Oregon's scheme gives the Buckeyes an advantage Monday, reread that last sentence and then look up the score of last January's Orange Bowl between Ohio State and Clemson. That's why Ducks coaches aren't too concerned about the amount of information shared between Meyer and Kelly long before anyone knew these two teams would meet in this season's most important game.
Ohio State's path to title paved by precocious recruiting class of 2013
"It's the way you practice. It's the way you implement it," said Oregon receivers coach Matt Lubick, whose father, Sonny, once employed Meyer at Colorado State. "It's all the different nuances, and it's hard to figure out. The only way you know it is by doing it."
Lubick, the newest member of Oregon's staff, used to study Ducks' film while working at Duke in an attempt to get ideas the Blue Devils could use in their offense. Now that he has seen Oregon's operation from the inside, he believes that unless someone has spent a significant amount of time in the Ducks' practices, meetings and conditioning workouts, he simply couldn't assemble all the aspects that make the plays work as well as they do. "Even if you had a copy of your playbook, how do you coach it?" Lubick said. "How do you teach it? How do you make adjustments? Sometimes, it could make you more confused."
• ELLIS: Breakdown: Which positions give Ohio State, Oregon an edge?
Besides, the Ducks do the same thing. They've gotten information from other staffs in an effort to unlock opponents' secrets or create a magic-bullet play. "We steal stuff, too," Helfrich joked. "We're equal-opportunity thieves." 
That's why Meyer's knowledge of Oregon probably won't affect the outcome of the game. While he may have borrowed some offensive concepts -- the sweep Ezekiel Elliott took for an 85-yard touchdown in the Sugar Bowl could be an example -- what Meyer really wanted to learn was how Oregon created a winning culture. Meyer has tried to do the same at Ohio State, but because everyone is different, what he created will not precisely mirror what Kelly created in Eugene. Nor will the culture in Kelly's program match what Oregon's culture has evolved into since Helfrich took over. And that's why attending a few practices or sharing information with the former coach likely doesn't unlock any mysteries that would give a team a decided advantage on the field. "It's not really a secret," Oregon linebacker Derrick Malone said. "It's who we are. It's the players and the coaches."
A random ranking
These are the top five songs about the Dallas-Fort Worth Metroplex. North Texas forever.
1. The theme song to Dallas
2. "Does Fort Worth Ever Cross Your Mind" -- George Strait
3. "Dallas Days and Fort Worth Nights" -- Chris LeDoux
4. "Possum Kingdom" -- Toadies (Possum Kingdom Lake is 100 miles from the Metroplex, but the Toadies started in Fort Worth.)
5. "Goin' Through the Big D" -- Mark Chestnutt (Mark says he doesn't mean Dallas, but we can presume the D took place in Dallas.)
[pagebreak]
First-and-10
1. How will Oregon deal with the loss of receiver Darren Carrington, who was suspended for the national title game after testing positive for marijuana? Pretty much the same way the Ducks have dealt with every other lost player this season.
That's an amazing array of lineups for a 13-1 team about to play for the national championship. It also doesn't show the other side of the ball, where Oregon recently shook off the loss of All-America cornerback Ifo Ekpre-Olomu by beating Florida State by 39 points in the Rose Bowl.
Thanks to Carrington's suspension, Devon Allen's injury in the Rose Bowl and tight end Pharaoh Brown's injury on Nov. 8, the Ducks will face Ohio State without three of their top five producers of receiving yardage. So, why aren't Oregon coaches more concerned? "It doesn't affect what we're doing at all, to be honest with you," Lubick said. "We're excited about the guys we've got. We've got depth. It's actually the healthiest we've been in a long time."
Byron Marshall, Keanon Lowe, Dwayne Stanford and Charles Nelson will likely be the receivers targeted by quarterback Marcus Mariota on Monday night. Tight end Evan Baylis, who replaced Brown, will try to follow up on a six-catch, 73-yard performance in Pasadena.
Lowe, a fifth-year senior, is the unquestioned leader of the group. He was held without a catch against Florida State, but blocked so well that Helfrich considered him one of the biggest reasons for the win. "Keanon Lowe last week dominated that game and on the stat sheet didn't show up," Helfrich said. "He had one [catch] called back because of an offensive pass interference, he had one catch that was ruled incomplete and dominated the game. The guy took over the game. We don't have things in our system that it's, 'Hey, we need to throw this guy the ball in this play, period.' That doesn't really exist."
• THAMEL: Ducks suspensions bring NCAA marijuana policy into question
2. No matter what happens Monday night, Ohio State offensive coordinator Tom Herman will have to recover quickly. Not long after the final whistle, he will begin his full-time duties as Houston's head coach. Since getting hired by the Cougars last month, Herman has pulled double duty. He has hired assistants -- including former Texas offensive coordinator Major Applewhite for the same job at Houston -- and support staff. He has also tried to build a game plan to win the national title with Cardale Jones, who was Ohio State's third-team quarterback in August.
Herman is excited to start his next chapter, but said the toughest thing will be leaving behind Jones, Braxton Miller and J.T. Barrett, the three very different quarterbacks who all started for him at various points. "I try not to think about it. But win, lose or draw, when that clock hits zero, and I'm gonna walk out of that locker room, there's going to be three guys I'm leaving," Herman said. "You talk about building some relationships and going through some fires. I try not to think about it because I don't want to get too emotional."
3. Mariota and Helfrich told the story Saturday of a moment of similar importance made less emotional by Mariota's typical low-key approach. The Ducks had a team banquet the Sunday following Thanksgiving in 2013. That's when Mariota, who had discussed his NFL draft options with his family over the previous few days, decided to tell Helfrich that he intended to return for '14.
Life at military school: Cardale Jones looks back on his time at Fork Union
"It was very Marcus-like," said Helfrich, who then gave his best Mariota impression. "He's like, 'Hey, coach. I think I'm going to come back.'" Helfrich was dancing inside, but didn't show it. "He just shook my hand," Mariota said, "and said, 'Let's go do it again.'"
4. If you send a text message to Ohio State quarterback Jones this weekend, don't expect a response. "He showed me where he blocked all those numbers," Herman said. "He can't receive phone calls from anybody that's not his mom, his grandpa or me, basically, and he did that on his own. I didn't tell him to do that. He just wanted to make sure he was locked in and focused and ready to go."
Jones issued a slight correction on the list, but it's still a pretty select group. "I blocked out every contact in my phone except coaches and my mom," he said. "She's traveling down here [Saturday]. Have to make sure she gets here safe. But it took me like 40 minutes to block everybody on my phone." 
5. Last week Oregon running backs coach Gary Campbell pointed toward the street that runs past the team's football complex. Across the street is the field where the Ducks practiced long before they were football fashion plates who regularly competed for the national title. "You had to be careful crossing the street if you lost," Campbell said with a laugh.
The Ducks have several coaches who remember those days, and that institutional memory has helped Oregon maintain its edge through four coaching changes since 1995. Campbell has been an assistant since '83. Jim Radcliffe started as Oregon's assistant strength coach in '85 and became the head strength coach in '87. Defensive coordinator Don Pellum played at Oregon, was a graduate assistant with the team and has been a full-time assistant since '93. Offensive line coach Steve Greatwood worked with the Ducks from 1982-95 and returned in 2000. Tight ends coach Tom Osborne worked at Oregon from 1992-2001 and then returned in '07.
Oregon's Road to the National Championship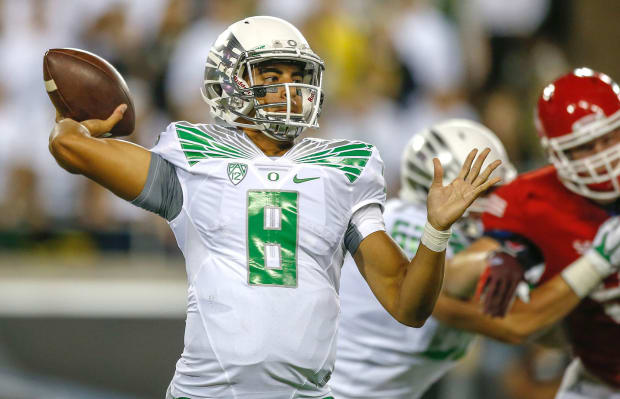 6. If you want an autograph from an Ohio State player, give that Buckeye your name. The school is working to avoid a situation like the one that got Georgia running back Todd Gurley suspended by asking its players to personalize all autographs. This would render them valueless on the autograph market. It might also make them more special to the fans who receive the autographs.
7. Oregon offensive coordinator Frost can understand how Helfrich felt following Kelly. When Frost took over as Nebraska's quarterback in 1996, he had to replace a legend as well. "I took over for Tommie Frazier as a quarterback at Nebraska," Frost said. "We could have won 52 games in a row and it still wouldn't have been as good as what Tommie did. Might have been a bad comparison but Mark had a little bit of an uphill battle taking over for Chip just because the perception."
Frost, who was hired by Kelly at Oregon, said Helfrich has been far more than a caretaker of Kelly's program. "To me, we have not just stayed at the same level," Frost said. "[Helfrich] has been great at changing the things that needed to get changed, continuing to evolve. I can't speak highly enough about what he's done. I haven't really noticed him being more comfortable this year. I thought he fell into the job and was a great leader last year. Maybe some of the staff around him like myself are more comfortable in year two in our new roles, but Mark has been the same guy from the first day he took over."
8. Ohio State defensive end Joey Bosa might be the first pass rusher to base his sack celebration on an emoticon. His "What, me worry" shrug after sacks is based on this little guy (¯\_(ツ)_/¯) that should be well known to anyone with a Facebook, Twitter or Instagram account.
Thriving on the edge: The growth and promise of Ohio State DE Joey Bosa
Naturally, some enterprising T-shirt manufacturers -- who probably have already received cease-and-desist letters from Ohio State -- have immortalized the shrug in shirt form. Does Bosa have one? "No, I don't," Bosa said. "But I need to get it copyrighted or patented."
9. For the third consecutive game, Ohio State defensive tackle Michael Bennett will wear No. 53 to honor Kosta Karageorge, the former Ohio State wrestler and walk-on defensive lineman who was found dead of an apparent suicide on Nov. 30. Bennett switched from No. 63 after serving as a pallbearer at Karageorge's funeral. "It was nice to see people talk about him and honor him for the Big Ten championship week," Bennett said. "Then it just kind of falls off. People move on. I don't want it to just be forgotten. I don't want his family to think the team has forgotten him. I want them to know we're thinking about Kosta every single day."
10. Credit Bennett with admitting teams occasionally have to manufacture the chips on their shoulders. Oregon is currently listed as a six-point favorite over the Buckeyes, and Ohio State players and coaches are using their underdog status for motivational purposes. Meanwhile, some of the Ducks talked last week about no one believing in them -- except, apparently, Las Vegas bookmakers. Bennett said it wouldn't matter if everyone on the planet thought the Buckeyes would win. They'd still find a way to create an us-against-the-world mentality. "If we were 20-point favorites, it really wouldn't make any difference," Bennett said with a laugh. "We'd find a way to say, 'That's bullcrap. They're just trying to get us off our guard.'"
• SCHNELL: Oregon tailback Thomas Tyner finding stride at perfect time
What's eating Andy?
After Monday night, we won't see another college football game until September.
What's Andy eating?
My gustatory goal for the weekend was to visit the two best barbecue joints in Dallas. I had been to Pecan Lodge, home of near-perfect brisket and beef ribs, in its old Dallas Farmer's Market location, but I hadn't been since it moved to the Deep Ellum neighborhood. Meanwhile, friends who visited Dallas kept raving about Lockhart Smokehouse, which is not to be confused with the trio of barbecue joints in Lockhart, Texas, which sits about 225 miles south of Dallas.
I hit Pecan Lodge on Saturday. Fortunately, I had heeded the advice of barbecue Sherpa Daniel Vaughn. Vaughn, an ex-architect who now serves as the barbecue editor -- yes, it's a real job -- at Texas Monthly, has eaten at almost every barbecue joint in the state, and knows most of their secrets. The secret at Pecan Lodge: If you don't want to wait an hour or two in line, order in bulk at the express counter. This actually isn't a secret. There are signs directing diners to do just that, but most don't think they need a minimum of five pounds of barbecue. This is silly. Of course you need five pounds. Just take the rest home and eat all week.
So, while the suckers waited in line for much of the early afternoon, a friend and I waited five minutes before ordering The Trough, a platter loaded with brisket, sausage, pulled pork, pork spare ribs and a beef rib. I got a slight case of the Deep Ellum Blues when the man behind the register told me they had run out of beef ribs. On my prior visit, the beef rib was the best thing on the menu. But I rallied and asked him to replace the beef rib with an order of that day's special: fried ribs. We also added an order of jalapeno mac and cheese and an order of greens because unlike 90 percent of the barbecue joints in Texas, Pecan Lodge has owners who understand it's possible to cook a side dish other than a pot of bland beans.
The disappointment over the beef rib melted away when I bit into the fried rib, which was a spare rib deep-fried, drizzled with a Buffalo barbecue sauce and sprinkled with bleu cheese. Fried ribs aren't as easy as they sound. If they aren't meaty enough, they can turn tough as leather. Yet these fried ribs were perfect, bursting with juice underneath a golden crust. The more traditional spare ribs were cooked exquisitely. The brisket was excellent as usual. It isn't quite as ethereal as the brisket at Franklin Barbecue in Austin, but when combined with the rest of the package, Pecan Lodge makes a strong case for being the best overall barbecue restaurant in Texas. And because pitmaster Justin Fourton spent time among the pig-eaters while attending The Citadel, Pecan Lodge is one of the few places in Texas that serves good pulled pork. That might not mean as much to the native Texans who only want their brisket and their sausage links. However, those of us from Swine Country appreciate a little taste of home.
I got an extra treat on Sunday when I visited Lockhart Smokehouse. I arrived to find Vaughn, who lives in Dallas, at the counter submitting an expert order for our group. I'm glad he did, because I likely would have screwed it up. When I go to a barbecue restaurant in Texas, I follow Vaughn's standard advice and order the Trinity: brisket, sausage and spare ribs. This almost always works, but it wouldn't have at Lockhart, as the brisket is just average. What's amazing about Lockhart is that even though it doesn't shine preparing the single most important item in the Texas barbecue universe, it makes up for that by being great at everything else.
When Daniel peered over the counter Sunday, he caught sight of the special. A lot of places try to smoke prime rib, and a lot of places smoke it terribly. They leave the meat on until it reaches medium well, and only savages eat prime rib medium well. Daniel saw red. Lockhart's prime rib was a perfect rare to medium rare. So, Daniel ordered more than three pounds. Forty-five minutes later, none remained. The prime rib was smoky, cut thick and dripping with juice. No accompaniment was needed, but a dunk in the garlic jus offered a different but equally delicious flavor.
We also got the jalapeno sausage, which offered a perfect snap followed by a swift kick from the peppers. The sausage at Lockhart Smokehouse actually comes from Lockhart, Texas. It's from Kreuz Market, which inspired Lockhart Smokehouse's "No forks, no sauce" philosophy. Lockhart even manages to smoke turkey that remains tender and juicy. Anyone who has pulled a dry bird out of the smoker knows turkey is a maximum degree-of-difficulty meat.
After taming that pile of meat, Daniel addressed the group with one of most powerful sentences in the English language: We probably should also have pie.
We walked a block to Emporium Pies, where I was faced with a Sophie's Choice of desserts. Did I want a slice of Smooth Operator, a French Silk pie with a pretzel crust? Or a slice of Buttermilk Blitzen, a chai-spiced buttermilk pie? Or a slice of Drunken Nut, a bourbon pecan pie? I opted for the latter (a la mode, of course).
It seemed to have less pecans and more filling than most pecan pies. This is a good thing, because an overabundance of pecans can give a pie a bitter edge. Trading filling for nuts would have made the pie too sweet if not for the booze. The bourbon cut the sweetness of the filling perfectly, and the result was a glorious amalgam of nuts, sugar and brown liquor that provided the ideal follow-up to a pound or so of smoked prime rib.
If you're going to cover the national title game, you have to eat like a champion.