Final Four keys: What to watch for in Kentucky-Wisconsin showdown
Four keys to the Final Four rematch between the Kentucky Wildcats and the Wisconsin Badgers.
Four keys to Saturday's Final Four showdown between the 38-0 Kentucky Wildcats, champions of the Midwest Regional, and the 35-3 Wisconsin Badgers, the West Regional winners.
1. The best vs. the best
Kentucky leads the nation in adjusted defensive efficiency. Wisconsin leads the nation in adjusted offensive efficiency. Both teams put those traits on display en route to the Final Four. The Wildcats have held NCAA tournament opponents to 32.8% field goal shooting and 20.3% from three-point range. The Badgers have shot 49.8% from the field in the tourney and 41.6% from three. Both teams have already vanquished an opponent that threatened to cancel out their supposed advantage. Wisconsin blitzed Arizona, which was third in the nation in defensive efficiency, by shooting 80% in the second half of the West Regional final. And Kentucky stymied Notre Dame, which was second in the nation in offensive efficiency, holding the Irish to 28.6% three-point shooting to escape in the Midwest Regional final. Whichever team is able to dictate its style of play on Saturday will advance to Monday night's final.
2. The Life Of Sam
Kentucky is heavy Final Four favorite, but title is far from automatic
Wisconsin has the likely Wooden Award winner in Frank Kaminsky. Kentucky has at least four players who will be first-round NBA draft picks this June in Karl-Anthony Towns, Willie Cauley-Stein, Devin Booker and Trey Lyles. The best player on the floor Saturday night, however, might just be Sam Dekker, Wisconsin's 6'9" junior forward. He's hardly a breakout star since he was, after all, a high school All-American and a second-team All-Big 10 pick as a sophomore. But he displayed the full breadth of his skills last weekend on his way to West Regional Most Outstanding Player honors, scoring career-highs in back-to-back games. First he went for 23 points on 10-of-15 shooting against North Carolina in the Sweet 16. Then he poured in 27 on 8-of-11 shooting, including 5-of-6 from three-point range, against Arizona in the Elite Eight.
For the tournament, Dekker is averaging 21.8 points per game on 60.4% shooting from the field and 48.1% from three-point range. He is Wisconsin's best slasher and could be the most difficult matchup for the Wildcats. While Kentucky has an army of players 6'10" and above who can rotate onto Kaminsky, Dekker has the quickness and strength to be a tough cover for any of those bigs and has at least three inches on any of the guards who might try to check him.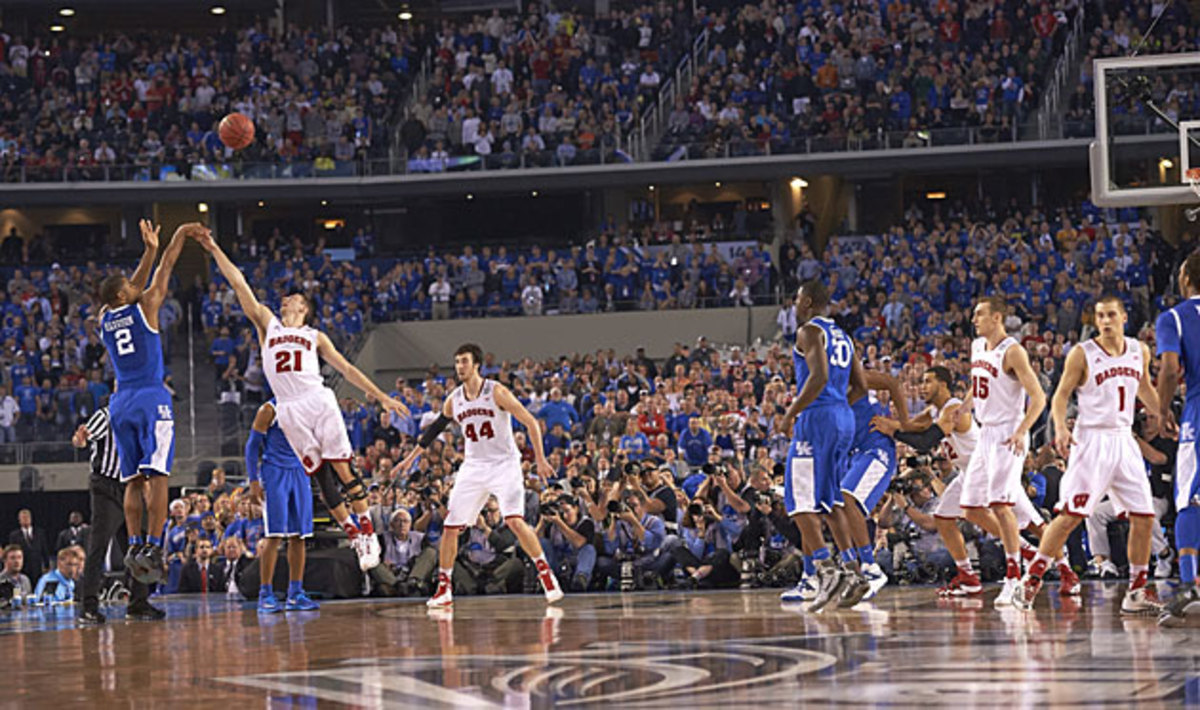 3. Rematch
These teams met in this exact same spot a year ago, with the Wildcats pulling out a 74-73 win. Aaron Harrison drilled his third game-winning three-pointer in as many outings with seven seconds left to put UK in front, and the Badgers' Traevon Jackson missed a pull-up jumper at the buzzer.
Aside from the Harrison twins, who combined to play 65 minutes and score 17 points that night, this is a very different Kentucky group. Of the nine Wildcats to play in last year's game, only four figure to have any kind of a meaningful role on Saturday. James Young (37 minutes) and Julius Randle (27 minutes) left for the NBA, Alex Poythress (29 minutes) is out for the year with a knee injury, Jarrod Polson (three minutes) graduated and Dominique Hawkins (11 minutes) has played just five minutes combined in this tournament.
Kaminsky, Dekker lead fun-loving Wisconsin Badgers back to Final Four
Wisconsin, meanwhile, has back every player but one from last year's game, and the absence of Ben Brust, who played 38 minutes and scored 15 points, figures to be mitigated by the emergence of Bronson Koenig in the backcourt and the return of Jackson, the team's starting point guard until he broke his foot in January and who has played 16 minutes over the past two games since coming back.
But it's one player who didn't step on the court at AT&T Stadium last April who could have the biggest impact in Indianapolis. Willie Cauley-Stein missed the final three games of last year's tournament with a leg injury. Had he played, the Wildcats might well be going for their second straight championship this weekend. As it is, the nation's best defensive player will have to check the likely national player of the year, a matchup that could decide the outcome. Kaminsky's inside-out ability and his skill at putting the ball on the floor has often gotten opposing bigs in foul trouble. Cauley-Stein, in part due to the Wildcats' depth up front, has rarely had to play often enough for that to be the case; he's fouled out of just two games this season and he's been fouling less despite playing more as the tournament goes on, mostly because he hasn't faced anyone as big or as skilled as Kaminsky. Expect him to play close to the 33 minutes he logged against the Fighting Irish—just the third time this season he's played at least that many—and to finish with more than the lone foul he picked up in that game.
4. Turnovers
No team in the nation takes better care of the ball than Wisconsin. The Badgers turn the ball over on just 12.3% of possessions, tops in the nation, and they play at a slower tempo than all but six other teams. They also have Jackson back to help with the ballhandling against what figures to be some intense pressure from the Wildcats. Kentucky, meanwhile, forces turnovers on 21.8% of opponents' possessions but couldn't get Notre Dame, which ranked third in turnover percentage this season, to cough it up more than seven times in last Saturday's Midwest Regional final. Had the Fighting Irish shot closer to their season average than the 28.4% they managed from three-point range, they might have completed the historic upset. Thus, if Wisconsin is able to take care of the ball, limit possessions and hit a few extra shots, they could well succeed where Notre Dame failed, and advance to their first national title game in 74 years.