North Carolina Blues: How HB2 cost hoops-crazed state NCAA tournament games
Duke and North Carolina will open the NCAA tournament in Greenville, S.C., instead of Greensboro, N.C., because of the controversial "bathroom bill" that caused the NCAA to move the games from the Tar Heel State. Will the Big Dance return anytime soon?
This year, as they have been so many times in recent decades, the North Carolina Tar Heels and the Duke Blue Devils are among the favorites to win the NCAA tournament. Often their path to a national championship has begun in their shared home state, which has hosted NCAA tournament games 30 times in the past 38 years. 
This year was supposed to be the 31st time, but the paths for UNC and Duke took an unexpected detour last fall. In September the NCAA yanked the first- and second-round tournament games away from Greensboro, N.C., and one month later moved them 190 miles away to Greenville, S.C., in light of North Carolina's controversial anti-LGBT law.
It takes the Tar Heels out of North Carolina, where their NCAA tournament record is 33-1 all-time, and places them in a state where they've never played a postseason game. Duke, which is 34-6 in NCAA games played in North Carolina, has played just two games in South Carolina, both in 2002, which was the last time the Palmetto State was able to host NCAA tournament games.
South Carolina is itself just two years removed from the lifting of a politically related ban on hosting NCAA events. For 13 years, the state was ineligible to bid on hosting because the Confederate flag still flew above the Columbia statehouse. After nine black worshippers were killed in a Charleston church in a 2015 hate crime, the flag was removed, and the NCAA lifted the ban and allowed South Carolina back in the mix for tournament games.
Less than a year later, North Carolina put into action House Bill 2, commonly known nationally as the "bathroom bill," a law narrowly designed to force transgender people to use the bathroom corresponding to the gender on their birth certificate and not the one with which they identify. After multiple warnings, the NCAA removed this week's games from Greensboro and awarded them to Greenville, and the future of the NCAA in one of its most frequently used states is now in doubt.
Host cities for NCAA championships and tournament game sites from 2019 to '22 will be announced in mid-April. HB2 is still on the books in North Carolina, and the basketball-crazed state is running out of time if it wants a chance at keeping tournament games in the state through the end of the decade and beyond. Meanwhile, North Carolina's loss has already become South Carolina's gain after a 15-year drought, and there may be more to come.
"The last thing that we think about as practitioners in college athletics is getting politics involved in the heart of competition," said Furman athletic director Mike Buddie, whose school is the official host for the Greenville games. "It's a shame that our opportunity had to come at North Carolina's expense, but kind of ironic that South Carolina for so many years was out of the running because of political issues."
Play the Fox/SI Bracket Challenge!
*****
Kim Strable, the president of the Greensboro Sports Council, compared the city losing the NCAA tournament to a tornado warning. When most people first hear the warning they do the odds and continue about their day with some minor precautions. The warning continues, and this time they look out the window and see the clouds forming. And then . . .
"The tornado actually hit our town and blew up stuff that is meaningful to us," Strable said. "We lost some history and relationships here. We don't know if this is all there is or if there's more to come."
North Carolina and the NCAA are strongly linked. This year marks just the third time since 2004 that no NCAA tournament games will be played in the state. Five times since 1979, two North Carolina cities have hosted games in the same year. Greensboro, which is about 45 minutes west of Duke and UNC, has hosted some memorable postseason games, including 23 ACC tournaments and the 1974 Final Four, when David Thompson and NC State dethroned UCLA, ending the Bruins' run of seven straight national championships.
To be sure, North Carolina has lost far more than this weekend's college basketball games. In April 2016, PayPal canceled a planned expansion into North Carolina that would have created 400 jobs, a move that the Charlotte Chamber of Commerce estimated had a $285 million loss to the county's economy. That same month Bruce Springsteen canceled a show scheduled for North Carolina. Pearl Jam did the same less than two weeks later. Last July, the NBA pulled the All-Star Game from Charlotte and eventually gave it to New Orleans. And after the NCAA took the tournament games from North Carolina in the fall, the ACC, which is headquartered in Greensboro, followed suit and moved the ACC football championship from Charlotte to Orlando (last week's ACC men's basketball tournament had long been planned for the Barclays Center and is scheduled to return to Charlotte in 2019).
The law, instituted by North Carolina's Republican-controlled legislature, is known as one of the most anti-LGBT laws on the books anywhere in the country. There have been flirtations with a compromise, but nearly a year later the law remains in place. In November's election, Republicans maintained their supermajority in the legislature, while incumbent Republican senator Richard Burr beat his Democratic opponent, Deborah Ross, 51%-45% and Republican candidate Donald Trump won the state's presidential vote.  
One of the lone bright spots for Democrats last year was Roy Cooper, the attorney general who defeated one-term gubernatorial incumbent Pat McCrory—a supporter of HB2—by just more than 10,000 votes to become the governor.
"For decades, you could travel this country and people would ask you where you're from and you say North Carolina and they would immediately begin talking about the Research Triangle Park, our banks, our mountains, our beaches," Gov. Cooper told SI.com. "And now most of the time you get the question, 'What in the world is going on in North Carolina?' They ask that question because they know we have had the reputation as a beacon of the South. Obviously we have issues such as investing in education and health care and putting more money into everyday people's pockets, but the repeal of House Bill 2 is tied into all that."
Duke coach Mike Krzyzewski called the law "embarrassing." North Carolina coach Roy Williams went even further in early February, when a water crisis in Chapel Hill forced the Tar Heels' Feb. 4 home game against Notre Dame from the Smith Center to the 23,500-seat Greensboro Coliseum the next day.
"You know, I'm glad that some people in Greensboro got to see us play," Williams, an Asheville, N.C., native, said after the game. "I'm glad we were able to take a game here because of that stupid rule that we have in our state that took a lot of great opportunities for people in our state, and great athletes that like to do things in our state. I shouldn't say rule; I guess it's a law. A law's more important than a rule, I guess. But I just think it's ridiculous, and what it's doing to our state and the reputation of our state."
The fight against inequality is more important than basketball games or rock concerts. But the other impacts are real, too. Greensboro's visitors center estimated the city will lose nearly $14.5 million with this weekend's games not taking place. Charlotte still has first- and second-round games in 2018, but those games are very much in limbo and could go the way of this year's Greensboro games. Charlotte officials are planning as if the games will go on until otherwise noted.
An NCAA spokesman said in a statement that the organization is "excited to have South Carolina host tournament games" this year, but declined to answer follow-up questions from SI.com regarding a deadline for North Carolina and the future bids.
"The reality is if the NCAA stonewalls us through 2022, every one of those teams that might have gotten to play in their own backyard won't [do so] anymore," Strable said. "They're going to go somewhere else."
Bracket math: Five tips to picking your bracket based on what the numbers say
*****
If a backboard breaks during warmups of one of this weekend's games, Greenville has a plan for it. A rare March snowstorm in South Carolina? Thought of that, too.
"Every meeting we have is, what haven't we thought of," Buddie said.
The last time a South Carolina city hosted the men's basketball tournament was in 2002, with first-seeded Duke and second-seeded Alabama leading eight teams to Greenville for the South regional. The year before, the NCAA had issued a ban on predetermined tournament games in South Carolina and Mississippi because the Confederate flag was still flying at their respective statehouses, but the NCAA allowed Greenville to keep those games because they were set before the ban was adopted.
The NCAA lifted South Carolina's ban in 2015 when the flag was lowered (Mississippi's still stands), and cities like Charleston, Columbia, Hilton Head and Myrtle Beach, in addition to Greenville, could once again bid for NCAA championships and tournaments. Greenville had its eye on winning bids in the 2019 to '22 cycle that the NCAA was soon opening.
Buddie, along with the Bon Secours Wellness Arena general manager Beth Paul, Southern Conference senior associate commission Geoff Cabe and the city's visitors center began planning for the bids in August 2015, shortly after Buddie was hired at Furman and just weeks after the Confederate flag was lowered. They went to Indianapolis in May 2016 for its bid symposium to learn more about the process, to show their faces to the committee and also to put a bug in the NCAA's ear. Seeing a potential issue in Greensboro, Paul made sure the schedule at the arena was clear for the March 2017 dates. The signal was obvious: Hey, not to be pushy, but if you need a tournament site on short notice that happens to be just outside of North Carolina…
Hoop Thoughts: A closer look at each region of the NCAA tournament bracket
​
When the NCAA took the games from Greensboro it opened an abbreviated bid period for other cities. Greenville made sense. The arena was available that weekend. The eight full-service hotels within five miles of the arena were willing to work with organizers to be ready that weekend. And, of course, Greenville was a logical choice geographically. In October, the NCAA awarded Greensboro's games to Greenville, making it just the third time the state of South Carolina hosted the men's basketball tournament (1970 was the first time).
"The NCAA didn't owe us anything," said Chris Stone, president of VisitGreenvilleSC, "but I think that because of what happened, sure, there's a feeling that 'here's an opportunity to go to South Carolina. Let's see if we can make that work.' That's a card that I'm sure was in our favor."
The group was excited, and then 20 minutes later, Buddie got an email from the NCAA with 13 attachments detailing instructions for hosting. It dawned on him that these were the same attachments Greensboro had gotten three years before. Greenville would have five months to get ready.
And there's even greater pressure on Greenville this weekend. Not only do they need to fill the 15,000-seat arena and run the event smoothly for the sake of this year, but also if they want to host another event in the next five years.
"The work for us began in October, because everything we do from here on is going to make an impression on the NCAA staff," Buddie said. "We have to execute this year but we want to be in the regular rotation so we're leaving nothing up to chance."
*****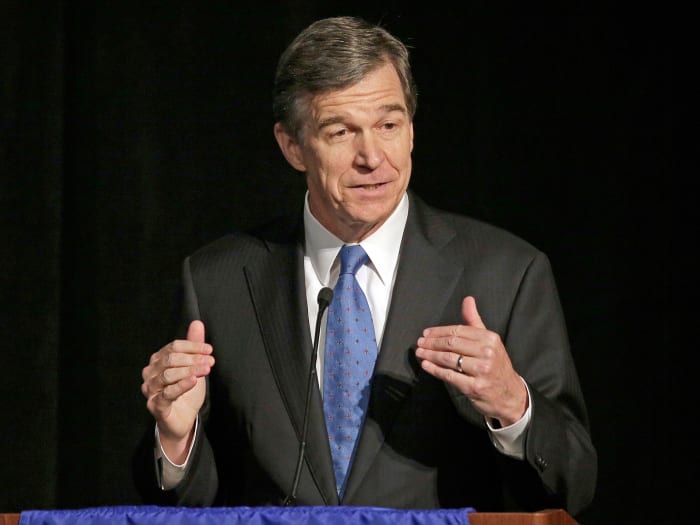 In the brochure sent to potential host sites as early as January 2016, the selection committees were slated to meet last fall and announce in December their decisions on more than 400 championship sites for four academic years starting in 2018-19.
But in the same press release announcing what cities got North Carolina's tournament games, the NCAA stated its announcement was "projected for spring 2017."
According to two North Carolina city sports commission presidents, that deadline is April 18. And they, along with Gov. Cooper, believe the NCAA pushed the deadline in order to give North Carolina, which has 133 bids for this cycle, time to repeal House Bill 2.
"The fact that they have backed that process up was really, even though they didn't say it like this, to buy some time to give North Carolina," Strable said. "They were gracious. They did more than what you might normally expect of a national governing body. They know us and they know how we do things and they know what fanbases like. They're friends, and we're their friends."
If the law stays on the books, and Greenville performs well in its dress rehearsal, South Carolina could very well be hosting Tobacco Road schools for years to come.
"Certainly there's an adrenaline factor and concern that we make sure on the national stage that we do everything that we say we do," Buddie said. "At the end of the day, it's just a tremendous opportunity to set Greenville up for long-term."
Media Circus: Breaking down CBS and Turner's March Madness broadcast package
The NCAA hasn't given North Carolina a hard deadline to repeal HB2, possibly because it doesn't want to appear as a public ultimatum and especially because Texas is readying to debate a similar bill in its legislature. Texas' Senate Bill 6 passed in a 7-1 committee vote and is heading for a full vote in the Republican-controlled Texas senate. What's unclear is whether the NCAA would be satisfied with a compromise involving HB2, or if only a full repeal will do. Gov. Cooper and others are working under the assumption that the NCAA will have a drop-dead date in the coming days, since the announcement is scheduled for April 18 and the NCAA usually takes about a month between the decisions and when they become public.
"Negotiations (on HB2) are picking up considerably," Gov. Cooper said. "People do recognize that it will be important to bring the NCAA, the ACC and the NBA All-Star Game back to our state. I believe that it will be what can push us toward resolution of this and the repeal of House Bill 2, but that remains to be seen."
The 133 bids North Carolina stands to lose, which South Carolina would likely gain some of, involve men's and women's lacrosse, soccer and track and field championships. But the crown jewel is the men's basketball tournament, which has 11 bids total in the cycle for Charlotte, Raleigh and Greensboro.
The shot clock is about to expire on the state of North Carolina's tournament hopes, and it could be years before the ball is in their court again.