Patrick Ewing hire is latest evidence of Big John's mammoth influence at Georgetown
Georgetown's decision to hire Patrick Ewing is a reasonable risk on a former Hoyas star with years of NBA coaching experience. It also serves as confirmation that former Georgetown coach John Thompson Jr. continues to hold great sway over the program.
One of the world's greatest photographs was taken in 1984, after Georgetown won its first and only national title. Coach John Thompson Jr. and star center Patrick Ewing are standing in the White House on either side of Ronald Reagan. (A cropped version of the image was the cover of this very magazine the next fall.) Each of the three men is holding a basketball, and thanks to the absurd distortion of scale of the two big men, it appears as if America's then-president, who stood 6'1", was about as tall as the average fifth-grader.
The Ewing era at Georgetown was the program's peak: one title and two near-misses at the hands of Michael Jordan and then Villanova and its near-perfect game. A big man coached and another big man sat at the top of college hoops, eventually landing as the No. 1 pick in the 1985 NBA draft. Ewing went on to become one of the best players in Knicks history, to play on the Dream Team and was inducted into the Basketball Hall of Fame in 2008. Basketball came easy for him, from an NCAA title to NBA Rookie of the Year honors to All-Star recognition to gold medals. Then he got into coaching, and it took him 15 years to get his first head job, succeeding the son of the man who stood on the other side of Reagan all those years ago.
When Georgetown hired Ewing on Monday, 33 years and one day after his Hoyas' lone championship, it kept the job in the family. Firing John Thompson III two weeks ago was a necessary but awkward move thanks to the shadow his father still casts over the program, and hiring Ewing seems if not logical, then certainly the most Georgetown move of all. It's at once a smart gamble on an unproven coach and an affirmation that the elder Thompson still holds the greatest sway of anyone over Hoya basketball. That's a tricky but unavoidable truth about Georgetown hoops: Succeeding as coach is as much about tactics and recruiting as it is about navigating a relationship with Big John.
Georgetown's hiring of Patrick Ewing is a fascinating gamble
Ewing certainly has mastered the latter, which is more than can be said of the coaches who reportedly turned down the job last week, Texas's Shaka Smart and Notre Dame's Mike Brey. And what Ewing lacks in experience coaching at the college level, he makes up for with work ethic and years on the NBA sideline. After segueing straight into coaching upon retirement, Ewing seemed like the kind of guy who'd earn a head job within a few years…until he didn't. His name was in the conversation for plenty of openings, but it never went further than that. It's puzzling but understandable in a league trending toward the perimeter; of the 15 active head coaches in the NBA in 2017 who played in the league, 13 were guards. Not one is a former center.
Like firing a family: Georgetown's dismissal of John Thompson III is a significant, but needed, change
Ewing's lack of experience coaching at the college level will necessitate he surround himself with an experienced staff and connected recruiters, although his name alone should carry plenty of weight with the cream of the high school hoops crop. Names don't win games, but at a school whose program is largely built on one coach's legacy, Ewing's name fits—and he's certainly earned a chance to prove he has what it takes to run a team.
I was a freshman at Georgetown in 2006–07, the year the Hoyas made their most recent Final Four. Jeff Green, Roy Hibbert—they're who you likely remember about the team that lost to Ohio State in the national semifinals. My favorite player that year, though, was a transfer from Indiana: Patrick Ewing Jr. He was mostly unremarkable on the court, averaging 4.1 points per game, but he was Patrick Ewing's son, which was enough to put heads on a swivel all over campus.
Classic SI Photos of Patrick Ewing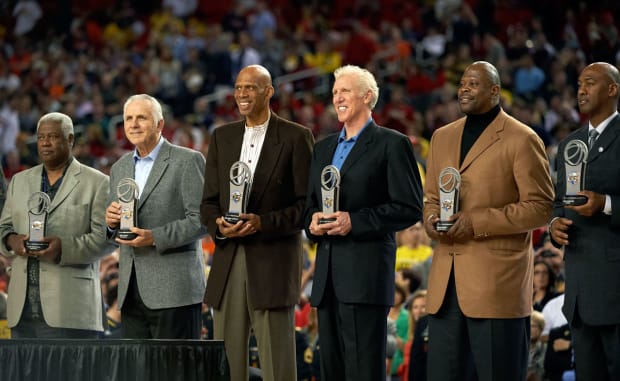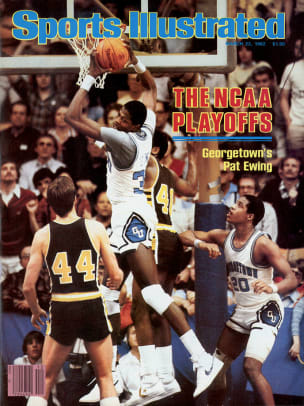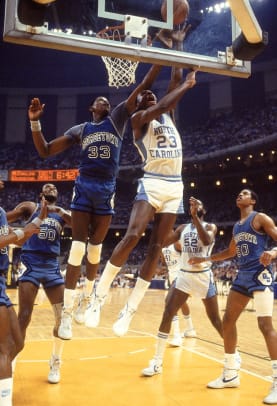 A floormate of mine that year worked in some sort of fundraising capacity for the school, making those dreaded phone calls to alumni and parents asking for even more money than the astronomical tuition they'd already paid. One afternoon, he rushed into the common room. We'd never believe it, he said. On his list that day had been the parents of a basketball player, Jeremiah Rivers, and his dad had answered the phone. Doc Rivers had answered the phone. He had asked Doc Rivers for money. This guy was amped, until someone else piped in: That was cool, and whatever, but it could've been better. It wasn't like he'd gotten Patrick Ewing on the line.
That's Ewing in a nutshell. He's Georgetown basketball's trump card. He's the Hoyas' best, and it takes a certain amount of confidence—and hubris—for a school hire its G.O.A.T., much less for him to want or accept the job. To hire a coach is most likely to eventually fire him, and if you thought firing JTIII was complicated, imagine, gulp, Georgetown axing Ewing. (Or don't. I prefer not to. A blissful refusal to accept reality is often the only way to cope with sports.)
• Get your North Carolina national championship gear
That's not to say failure is imminent, or even likely, with the hire. Ewing has some of the best resources in college basketball at his disposal, in a city that's a hotbed of recruiting, at a program that, with a few tweaks, has the potential to run the Big East. These things can work out, and Ewing has enough years on the sideline to know that being a head coach anywhere is a beast. At Georgetown, it's a Goliath of a task.
In addition to the posed photo that appeared on SI's cover in 1984, there's also an outtake of the three men's White House meeting that year. I like it 100 times more than the one that appeared with the headline "THERE THEY GO AGAIN" in honor of the Hoyas being ranked No. 1 in our college basketball preview. It's a strange image, if not somehow natural. In it, Ewing is looking down at the top of the president's head, which is turned up toward Thompson. Reagan's lips are pursed, and the coach, his hair barely gray yet, is smiling.
• Get SI's North Carolina championship package
If you've watched a Georgetown game at any point in the past 15 years, you know that John Thompson Jr. does not smile. He sits stoically in his seat behind the bench. He winces imperceptibly, his expression remaining mostly blank, occasionally annoyed. This is not a jovial man. But 33 years ago, Patrick Ewing helped make him grin like a maniac at the White House, and wouldn't it be something if that happened again?