The 30 Hottest Names on This Year's Coaching Carousel
Get to know these 30 coaches before this year's hiring and firing carousel ramps up—Power 5 athletic directors around the country already know them well.
In talking to industry sources, the feeling is that this winter could be a big year for sitting head coaches to land bigger coaching jobs, and that the field of head coach–ready coordinators isn't as strong as it's been in previous years. By far, the top free agent looming around the coaching carousel is former Oregon head coach Chip Kelly, who is working as a TV analyst for ESPN this fall. He will be very picky with his next coaching move. The 53-year-old Kelly was 46–7 in four seasons as Oregon's head coach, with three of his teams finishing in the top four. I know there are bunch of coaches on the hot seat in the SEC, and those would be big jobs that figure to pay very well. I'm skeptical at this point that Kelly would want any of those if they come open. (I've already weighed in on the Ole Miss situation.)
If the bottom dropped out at Notre Dame—and I think the Irish would have to have another really bad season to move on from Brian Kelly—would Chip Kelly consider that? Perhaps. I could see Arizona State making a big move for him if Todd Graham doesn't have a big bounceback this year, and a return to the Pac-12 might be tempting. For now, let's focus on the coaches who will be on the sidelines this fall, and which ones may have the best chances to move up.
2017 College Football Crystal Ball: Playoff Picks, Bold Predictions and More
Sitting head coaches
1. Philip Montgomery, Tulsa: One coach who faced Montgomery's squad last season said the Golden Hurricane had the fastest tempo of anyone he'd ever played and was wowed by how well they were coached. The 45-year-old Texan put a jolt into the Tulsa program with his offense, going from a respectable six-win debut season to 10 wins last fall. This year's team does have to replace triggerman Dane Evans but still has plenty of good skill talent and a veteran O-line. Montgomery has a chance to make a big statement on a national stage next Thursday night when Tulsa visits Oklahoma State.
2. Frank Wilson, UTSA: A charismatic New Orleans native, Wilson, who was a top recruiter at LSU for Les Miles, led the Roadrunners to their first bowl in his debut season. If he can get UTSA to nine wins or more this fall, his name will get very hot. As one SEC administrator pointed out to me a few weeks ago, you know he can recruit well in the SEC—a lot of the other coaches people are putting on lists like this, you have no idea if they can do that. As SI reported on Wednesday, UTSA stepped up for Wilson, making him the highest-paid coach in Conference USA at $1,050,000 per year.
3. Scott Satterfield, Appalachian State: His stock is soaring after leading the Mountaineers to 21 wins in the past two seasons after going 4–8 and then 7–5. There are a couple of potential vacancies in the ACC and the SEC (Ole Miss, perhaps) where the 44-year-old North Carolinian might make a lot of sense.
4. Jason Candle, Toledo: There had been some buzz building within coaching circles about Candle even before he took over at Toledo when Matt Campbell left for Iowa State. The Ohio native, a product of D-III power Mount Union, is 37 and coming off a strong first season in charge. The hunch here is that the Rockets, who return a lot of firepower, should be even better in 2017. Just how big of a job could Candle get from here?
5. Ken Niumatalolo, Navy: Few coaches are respected more by their peers than the guy who has spent a decade piling up wins at Navy. Niumatalolo, 52, was in the mix for the Cal job last year. Keep in mind he's 14–2 in the AAC, a conference that is loaded with up-and-coming coaches. The tricky part is some ADs are gun-shy to sign up for his option system.
6. Scott Frost, UCF: A Chip Kelly disciple with NFL ties, Frost has gotten folks excited around Orlando after taking a team that went winless the year before he arrived to a bowl game in his first season. I'll be surprised if Frost doesn't get the Knights to double-digit wins before too long. He's very marketable, but he also has arguably the top non–Power 5 head coaching job in the country right now, and he will be choosy.
7. Chad Morris, SMU: The former Texas high school coach did a terrific job helping Dabo Swinney get Clemson rolling, then took over an SMU program that had fallen apart. The Mustangs went from two wins to five wins from his first to second year, but he is going to need a breakthrough season to be in consideration for any hefty SEC jobs or Texas Tech, should that come open. That said, I do buy that SMU is ripe for that kind of year—or at least another big step forward.
8. Troy Calhoun, Air Force: I'm surprised Calhoun hasn't been lured away yet. The 50-year-old has won 28 games over the past three seasons, and even though he's coaching at a service academy, he has an expansive offensive background and is a former NFL offensive coordinator. His job also didn't get any easier with the return of a Department of Defense policy change that requires two years of active duty immediately after graduation, which makes playing in the NFL that a much more remote possibility for service academy players.
What Would This Year's Playoff Look Like Without Alabama? #DearAndy
9. Bryan Harsin, Boise State: A Chris Petersen protégé, Harsin is 31–9 in three seasons at Boise State. The 40-year-old was an assistant at Texas under Mack Brown. He would appear to be a solid candidate for some potential Pac-12 vacancies, assuming he keeps the Broncos near the top of the Mountain West.
10. Mike Bobo, Colorado State: The former Georgia quarterback and offensive coordinator has won 14 games through two seasons in Fort Collins. He probably needs a big year in the Mountain West to springboard into contention for an ACC job or maybe get Ole Miss, but keep on eye on the Rams. They have 15 starters back, including a good QB in Nick Stevens, a big-play WR in Michael Gallups and nine returnees on defense.
11. Mike Norvell, Memphis: A longtime assistant under Todd Graham, the former Arizona State offensive coordinator and Central Arkansas product had a strong debut season with the Tigers, going 8–5. At 35, he's the second-youngest head coach in the Football Bowl Subdivision behind Oklahoma's Lincoln Riley. With QB Riley Ferguson back, Memphis is primed for a run at 10 wins.
12. Neal Brown, Troy: He's coached in the SEC as an assistant at Kentucky and in the Big 12 at Texas Tech. He just led the Trojans to a 10-win season after going 4–8 in his first year. The 37-year-old Brown seems like he'd be a strong candidate to step into one of these AAC jobs should they come open.
13. Blake Anderson, Arkansas State: A Larry Fedora protégé, Anderson is 24–15 in three seasons at Arkansas State. With a big year in the Sun Belt, he might emerge as an option if NC State comes open.
14. Nick Rolovich, Hawaii: One of the more unique characters in college football, Rolovich had a terrific first season at UH, going 7–7 at a program that is so under-resourced it seems like it's on life-support. The 38-year-old Northern California native should be on a lot of ADs' radar if he can continue to keep Hawaii competitive.
15. Craig Bohl, Wyoming: His age, 59, probably will scare a lot of ADs, but he's got Wyoming pointed in the right direction: The Cowboys won eight games in 2016 and should be even better with touted QB Josh Allen back. Oh yeah, Bohl also led North Dakota State to three national titles, too. If Bill Snyder decides to step down, Bohl could be in play at Kansas State.
Others to keep in mind: Seth Littrell, North Texas; Chuck Martin, Miami (Ohio); Skip Holtz, Louisiana Tech; Bobby Wilder, Old Dominion.
Preseason Power Rankings: Who Will Make 2017's Strongest Playoff Case?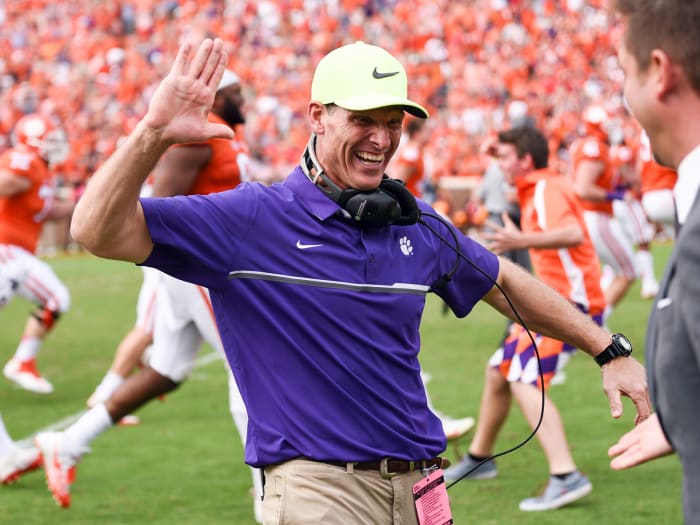 Rising assistant coaches
1. Joe Moorhead, Penn State offensive coordinator: The architect of the most exciting offense in college football, Moorhead helped Penn State win its first outright Big Ten title in over 20 years. He's smart, innovative, down-to-earth and well-liked by his players. He also already has head coaching experience, having taken over a 1–10 Fordham team and gotten the Rams to 12–2 by year two. The 43-year-old Pittsburgh native would warrant a look from anyone in the market for a head coach, not just programs in the northeast.
2. Dave Aranda, LSU defensive coordinator: The highest-paid coordinator in college football, Aranda backs it up on the field with his results. In 2016, LSU's defense allowed the fewest touchdowns (16) and fewest touchdowns per game (1.3) in the country. The Tigers also led the nation in red zone touchdown percentage allowed by a wide margin. Over the span of Aranda's three seasons as Wisconsin's defensive coordinator, the Badgers ranked No. 1 nationally in total defense, No. 2 in scoring defense, No. 3 in pass defense and No. 4 in run defense. His low-key personality may give some ADs pause, but his football sense and preparation are as good as any in the game. He's also making around $2 million a year, so it's going to take a pretty good job to pull him away from Baton Rouge.
3. Greg Schiano, Ohio State defensive coordinator: He did a terrific job turning a dismal Rutgers program into a respectable one before he left to take over the Tampa Bay Buccaneers. Schiano returned to the college game last year and has become Urban Meyer's right-hand man. Years ago, Schiano could've had the Michigan job. Don't be surprised if the Buckeyes end up in the playoff this winter and Schiano ends up on the radar for a similar powerhouse brand looking for a new head coach. He also had an exemplary academic track record at Rutgers: At one point it ranked behind only Northwestern in APR, and it had the best APR mark of any state university in the nation four years in a row. Schiano is not the only Buckeyes assistant who could land an FBS head coaching job with a big 2017: co-OC/QBs coach Ryan Day, a Chip Kelly protégé who did well as Boston College's offensive coordinator, also figures to get some looks from ADs this winter.
4. Brent Venables, Clemson defensive coordinator: Last year was a big one for Venables. His team not only won the national title, but he also won the Broyles Award as the nation's top assistant. The 46-year-old is beloved by players and has always had a strong reputation as a recruiter. He's made it known he's not going to jump at just any chance to be a head coach, since he is very happy with how things are now. One intriguing twist could come at Texas Tech, where Kliff Kingsbury is on the hot seat and Red Raiders AD Kirby Hocutt is one of Venables's closest friends.
5. Tony Elliott, Clemson co-offensive coordinator:His personal story is inspiring, overcoming so much tragedy to walk on at Clemson and earn a degree in industrial engineering. Now he has risen up the coaching ranks, playing a key role in the Tigers' climb to the national title. Clemson is 70–13 and have 10-plus win seasons in his six years on staff. Last season as the Tigers' play-caller he help light up Alabama's No. 1 defense for over 500 yards on 99 plays—all but two snaps came out of the shotgun. Even if the Tigers don't end up as a Top 5 or even Top 10 team this year, Elliott still should be in the mix for AAC and maybe even some ACC head coaching vacancies.
6. Tony Gibson, West Virginia defensive coordinator: In a short period of time, Gibson has made a case to be the best defensive coordinator in the Big 12 and one of the most underrated in college football. After entering 2016 with only two returning starters following the loss of the Mountaineers' best defensive player Dravon Askew-Henry on the eve of the season, Gibson's unit was tops in the conference in total defense, scoring defense and fewest opponent first downs, and second in rushing defense during Big 12 play. No one gets more out of his defense than Gibson. This year, he again opens the season with only two starters back while standout linebacker David Long comes back from a meniscus injury (he probably will not return until October). Gibson would be a logical option at Appalachian State, Toledo, Marshall or Northern Illinois should any of those come open.
7. Manny Diaz, Miami defensive coordinator: The Miami native made a big impact during his first season in Coral Gables, leading a unit that finished ninth nationally in yards per play (up from No. 86 in 2015), 12th in scoring defense (up from No. 77 in '15), fifth in tackles for loss (up from 105th in '15) and 22nd in team sacks (up from 70th in '15). The Canes look like they could be even better on D this year. Diaz has had success coaching in the ACC and the SEC, and he has the kind of big-picture presence that should translate well to the head coach role.
8. Jeremy Pruitt, Alabama defensive coordinator: Being a coordinator under Nick Saban often leads to a head coaching job, and Pruitt, 43, appears to be the next in line. In 2013, he helped Florida State win a national title. He returned to Alabama last fall after a stint at Georgia, and the Tide proceeded to lead the nation in scoring defense (13.0 points per game) and rushing defense (63.9 yards per game). We'll see what Pruitt (who is currently making $1.3 million per year) would be willing to leave Tuscaloosa for.
9. Jedd Fisch, UCLA offensive coordinator: He learned from Pete Carroll, Mike Shanahan, Steve Spurrier and Jim Harbaugh, among others, before moving to L.A. to try and help Jim Mora turn around a Bruins team that just went 4–8. If the Bruins find a way to double their win total from last year, his stock will continue to rise, especially since the eyeballs will be on how he works with top quarterback Josh Rosen. Last year, serving as Michigan's passing game coordinator and splitting play-calling duties with Tim Drevno, Michigan was No. 1 in the Big Ten in scoring and No. 2 in passing offense—despite breaking in a new QB. Michigan went from 13th in the Big Ten in scoring (20.9 points per game) the year before Fisch and Harbaugh arrived to fourth (31.4) in 2015 to first (40.3) last year.
10. Jake Spavital, West Virginia offensive coordinator: A third-generation football coach, the 32-year-old Spavital returned to Morgantown (where he was the quarterbacks coach in 2011-12) to take over as play-caller on what should be a very potent offense with Will Grier at QB. Last year, Spavital directed a Cal offense that had to replace No. 1 draft pick Jared Goff and the team's top six receivers and still produced the nation's No. 10 offense, only a two-spot drop from the previous year. During his time at West Virginia, Texas A&M and Cal, Spavital has proven to be an elite recruiter, landing both five-star talent (Christian Kirk, Kyle Allen and Kyler Murray) while also unearthing unheralded prospects who blossomed into stars (Kevin White, Daryl Worley and Josh Reynolds). He was also a big reason why Cal landed coveted grad transfer QB Davis Webb last year. If Philip Montgomery leaves Tulsa, Spavital—a Tulsa native who interviewed for the head coaching job there three years ago—would make a lot of sense.
Meet the College Football Player Who Earned Two Degrees Before His Fourth Season
11. Tee Martin, USC offensive coordinator: The former NFL QB who led Tennessee to a national title two decades ago has played a key role in the Trojans' return to the Top 10. Martin has long been regarded as one of the better recruiters in college football and has developed a bunch of playmakers in his stints at Kentucky and USC. If the Trojans have as good a year as many are expecting, both Martin and QB coach Tyson Helton are likely to get some consideration for head coaching jobs this winter.
12. Matt Canada, LSU offensive coordinator: One of the most innovative minds in football, Canada worked wonders at Pitt last year, producing the highest season point total in school history (508). The Panthers also improved their scoring output by over 14 points per game from the previous year and were the only Power 5 team to score at least 28 points in every regular season game. They also led the nation in red-zone touchdown percentage (82.7%). His past two offenses (including his NC State unit in 2015) have scored a combined 11 TDs in two meetings with very talented Clemson defenses. If Canada can get the Tigers to start lighting up the scoreboard and at least crack the top five in scoring offense in the SEC—something that hasn't happened since 2011—he'll likely be in the mix for some FBS head coaching jobs. But keep in mind that Canada, like his defensive counterpart Aranda, is making so much at LSU that he might not be an option for most non–Power 5 programs.
13. Tim Drevno, Michigan offensive coordinator: He has worked alongside Jim Harbaugh ever since their days at the University of San Diego and led the Big Ten's No. 1 scoring offense in 2016. The 48-year-old from Southern California has been in the mix for some head coaching jobs and likely will be again this winter if the Wolverines can remain a Top 10 team in spite of all their NFL departures this offseason.
14. Jimmy Lake, Washington co-defensive coordinator: Chris Petersen's coaching tree is starting to bloom, and Lake is just one of a few guys on the Washington staff who may parlay another College Football Playoff run into a head coaching job, along with offensive coordinator Jonathan Smith and co-DC Pete Kwiatkowski. Lake developed the best secondary in college football last year and played a big role in Washington's playoff run. Folks inside the business rave about Lake, as do people who have worked with him before. He also has spent a half-dozen seasons in the NFL as an assistant, and he seems like he'd be a decent fit pretty much anywhere in the country.
15. Mike Yurcich, Oklahoma State offensive coordinator: He has successfully made the leap from small-college offensive coordinator at Shippensburg University in Pennsylvania to a guy who oversees what could be the most prolific offense in college football this year. In 2016, OSU was one of only two Power 5 teams to produce a 4,000-yard passer (Mason Rudolph), a 1,000-yard rusher (Justice Hill) and a 1,000-yard receiver (James Washington). In his four seasons with the Cowboys, Yurcich's offenses have averaged 36.2 points and 450.6 yards of total offense per game. He also deserves credit for pulling Rudolph out of South Carolina and helping him develop into a star. He's another one who could be in line for one of the potential open AAC jobs.
Others to keep in mind: Pep Hamilton, Michigan passing game coordinator; Jonathan Smith, Washington OC; Alex Grinch, Washington State DC; Todd Orlando, Texas DC; Eddie Gran, Kentucky OC; The Oregon guys, DC Jim Leavitt and co-OCs Mario Cristobal and Marcus Arroyo; Billy Napier, Arizona State OC; Dan Enos, Arkansas OC; Sonny Cumbie, TCU OC; Mike Elko, Notre Dame DC; Morgan Scalley, Utah defensive coordinator.