Ohio State Vs. Michigan: Looking Back on 'The Spot,' Five Years On
In the rivalry's 100th meeting, they played their first overtime game.
Full Frame is Sports Illustrated's exclusive newsletter for subscribers. Coming to your inbox weekly, it highlights the stories and personalities behind some of SI's photography.
To get the best of SI in your inbox every weekday, sign up here. To see even more from SI's photographers, follow @sifullframe on Instagram. If you missed our story on boxing photographer John Iacono, you can find it here.
With last year's scheduled meeting cancelled due to COVID-19, one of college football's biggest rivalries will renew Saturday. Ohio State will meet Michigan for the 104th time, with this edition pitting two teams with realistic College Football Playoff hopes.
While Ohio State has made three of the last five playoffs, Michigan has yet to make one. But the closest they've been was on a gray Saturday in Columbus, Ohio, five years ago this weekend.
"On a day that would make Woody, Bo and Jim Tressel smile, No. 3 Michigan and No. 2 Ohio State showcased their revived rivalry with an instant classic played out amid the overcast smog," wrote Pete Thamel for SI.
The 2016 edition of the rivalry was the 100th meeting between the schools, their first overtime game, and the only one in the CFP era to have stakes so high … until this season's edition.
Jeff Haynes was at "the Shoe" that day, photographing for SI the up-and-down nature of the game, the raucous energy and the postgame chaos.
Even with the outsized hype surrounding the game, it lived up to it. Michigan eventually extended its lead to 10 points in the third quarter.
"There are no statistics to fully quantify the hopelessness. Ohio State trailed 17–7 late in the third quarter, but considering the feeble offensive performance it felt like 177–7," Thamel wrote.
Michigan coach Jim Harbaugh had never been closer to slaying his rival than he was at that point. His defense had locked up Urban Meyer's spread attack. His offense, while sloppy at times with penalties and giveaways, was doing enough to give his team a lead late into the third quarter.
OSU needed all the help it could get. And Michigan obliged. An interception gave the Buckeyes the ball deep in Wolverines territory and it got worse from there.
"A pair of penalties on Michigan, including Jim Harbaugh's dramatic unsportsmanlike conduct penalty, made the ensuing drive essentially a two-play, four-yard stroll for Ohio State," Thamel wrote. "Just what an ailing offense needed. Mike Weber capped it with a one-yard touchdown run to cut the Michigan lead to 17–14."
Held scoreless during the rest of regulation, Michigan was unable to stop Ohio State from knotting the game at 17 with a last-second field goal.
That's when the drama really escalated.
In the first overtime, Wolverines QB Wilton Speight answered a J.T. Barrett touchdown run with a fourth-down touchdown pass.
With the ball first in the second overtime, Michigan added a field goal. And Ohio State could have attempted its own on its second drive, facing a fourth-and-1 at the 16. But Meyer kept his offense on the field. Barrett ran to his left and was hit first by a Wolverine defender then by the backside of his own teammate.
Did he get that yard? On the field, the officials gave Barrett enough.
Thamel recounted a postgame conversation between Meyer and Barrett about that moment:
"They told me on the headset, 'They're buzzing for a review,'" Meyer told Barrett. "My knees started shaking."

Barrett laughed heartily and shot back: "My knees started shaking, too! I wasn't sure that we got it!"
The call was upheld, putting the final punctuation on a play that would become known, simply, as "The Spot."
On the very next snap Curtis Samuel scampered into the end zone for the walk-off touchdown. Ohio State 30, Michigan 27.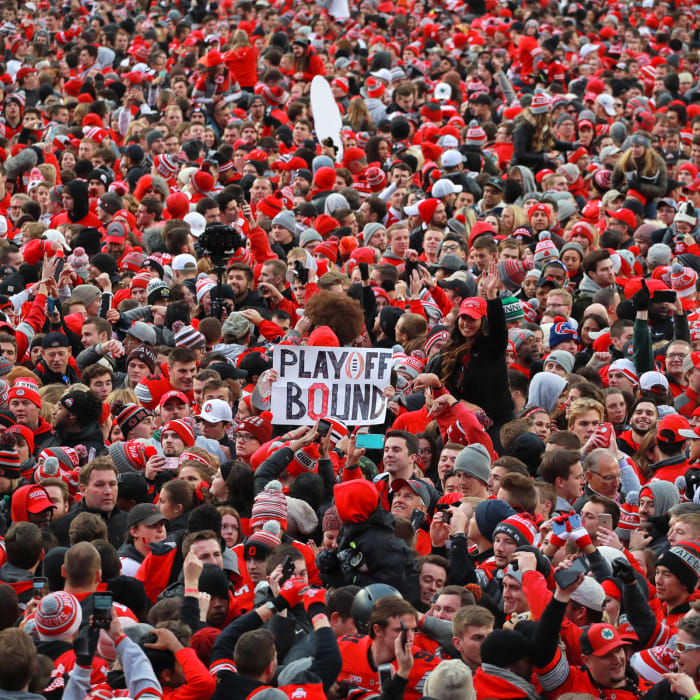 Have questions, comments, or feedback about Sports Illustrated's newsletters? Send a note to josh.rosenblat@si.com.