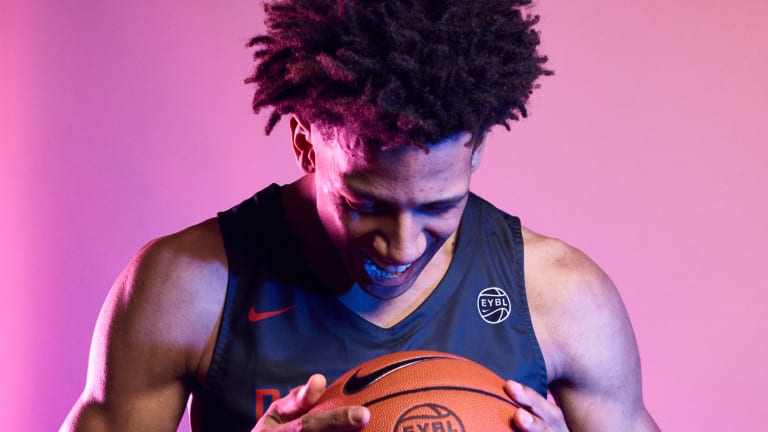 Five-Star Wing Jalen Johnson is Reminding the Country He's Elite
Duke Signee is the Highest Ranked Recruit in the Blue Devils' 2020 class.
Jalen Johnson had always subscribed to the notion that there are no losses in life, only lessons, but the cliché phrase never rang as true as it has over the last three months.
Last summer, Johnson was the best player on one of the best teams on the toughest summer circuit in the country, the Nike EYBL, leading Phenom Universe (Wis.) averaging 17 points, 9.2 rebounds, 6.2 assists, 1.6 blocks and 1.3 steals a game.
The 6-foot-9 wing was subsequently named All-EYBL first team and capped off the stellar summer by committing to Duke in July.
RELATED: Jeremy Roach Thriving Coming Off ACL Tear
A month later, Johnson announced that he was leaving Nicolet (Glendale, Wis.), where he'd led the Knights to a state title, for IMG Academy (Bradenton, Fla.), the reigning GEICO Nationals champs.
But when the season started, Johnson wasn't playing and eventually left IMG in December for "personal reasons."
That's when Johnson learned that the old cliché "out of sight, out of mind" was no respecter of person, even if you're the highest ranked recruit in what is currently the No. 2 recruiting class in the country.
"I just wasn't out there, and because of that people forgot about me I guess," Johnson said. "That just taught me to value the game more and it showed me that this stuff comes and goes. It made me hungrier."
Johnson re-enrolled at Nicolet last month and has played five games with the team, averaging 26.2 points a game.
"It feels good to be back home with my family and with my teammates," Johnson said. "It feels right. It wasn't easy to go through everything, but I had people who were there for me."
Namely, Duke coach Mike Krzyzewski and associate head coach Jon Scheyer.
Johnson said the two coaches remained in constant contact with him throughout his time away from competing, "just encouraging me and challenging me."
"Every time I got off the phone with Coach K or Coach Scheyer I felt so inspired," Johnson said. "I mean every time. It's just what I needed at the time. I worked harder than I ever have before."
Five days a week, Johnson was in the Nicolet gym at 5 a.m. for the first of his two self-mandated, grueling workouts.
"I've definitely sensed the difference in the anxious edge in him," Nicolet coach Allan Hanson said. "Being away from the game has just made him want to play harder, achieve the team goals and show everyone he's still the player we all know that he is."
That said, while he was aware of the rule that players must compete in more than 50 percent of their games in order to be eligible to make the McDonald's All American Game, Johnson doesn't mind admitting that it stung a bit last month when the official list dropped.
RELATED: Duke-UNC Recruits Make Their Picks on the Big Game
"It was a dream of mine to play in that game, but I have a great support system and I was getting mentally prepared for it," said Johnson, who was picked for the Iverson Classic and the Jordan Brand Classic after the season. "I respect the rules and I understand. These accolades are nice now, but I'm more focused on the bigger picture."
Par for the course for a player projected as a lottery pick in the 2021 NBA Draft.
Before that, Johnson said his goals are twofold: Win another state title and win a national title with Duke, which he and Duke's other five signees often discuss in their Group Chat.
"The Duke Brotherhood isn't just a saying, it's real," Johnson said. "Those guys have been there for me and have been lifting me up the whole time. We're all on the same page and we have depth and balance in our class. I feel like we can do something special next season; something that people can't forget."