Talking steaks—and grabbing burgers—with the over-70 'First Couple' of competitive eating
Scarfing down a 72-oz steak in under an hour is not a task that 73-year old Rich LeFevre nor his wife Carlene look particularly equipped to do, but they've done that and more in their long careers as competitive eaters, which they discussed with SI over...of course...dinner.
Rich LeFevre didn't need to read the menu for longer than a few seconds. Having eaten more steak than most people ever will, he made up his mind quickly. Rich nudged his glasses down his forehead and turned around.
"Come on," he said, "let's get out of here."
The 73-year-old and his wife, Carlene, know how to dine on a budget. They're both competitive eaters who're accustomed to free food and absurd amounts of it, like 72-ounce steaks and three-pound burgers. A six-ounce filet for $44 doesn't digest quite the same way.
"It's amazing how much people will pay for a small piece of meat," Rich lamented as he pushed through a set of double doors back onto Lexington Ave. in New York.
On a warm evening in early July, Rich, Carlene and I cast into the bustling Midtown streets in search of an economical dinner. It was the LeFevres' (pronounced Le-Fever) last meal before taking the stage at Coney Island on July 4 to scarf down plates of hot dogs, which neither of them look particularly equipped to do. Rich is a wiry 5-foot-6 figure, just north of 100 pounds and rests his wide-frame glasses above a pair of deep wrinkles that sculpt his smile. Carlene often sports a pair of flashy sunglasses to complement her wispy blonde hair and rosy cheeks.
Together they comprise competitive eating's "first couple," as they've been dubbed by Major League Eating founder George Shea. They've been tackling massive meals for most of their 43-year marriage, officially doing so for MLE in parts of the last 15 years. Rich and Carlene brush off remarks about their age, knowing they've found their youth in a craft dominated by twentysomethings with superhuman digestive tracts.
Talkin' Food with...Shaq: The NBA legend talks doughnuts, Miami restaurants and what a Shaq McMuffin is
"The joy I get out of eating competitively is beating out these other guys who are training so hard," Rich said. "I'm still able to beat the vast majority of them. It's only the top guys that can beat me and they're just the superstars.
"It gives me satisfaction knowing that I don't train and I can still beat these guys that do."
Competition threaded itself through Rich's life well before he signed with MLE at age 58. As an accountant for 25 years, he tested himself by racing against a calculator-aided coworker to add up series of five-digit numbers. He did laps around his and Carlene's bedroom to ensure his pedometer registered thousands more steps than his wife. Wii Golf is his lastest fascination. If Rich can't reach his usual 16-under mark, he'll stop playing for the month.
"You either have (competitiveness) or you don't," Rich said. "It's just something I was born with. I need to have it in my life. If I don't have any kind of competition, there's just a lull there.
"That's what competitive eating kind of brought to me."
Without the aid of any phone or GPS, we start zig zagging through an endless amount of street blocks. Rich remembered a deli he and Carlene had eaten at in years past on 49th street. His mind wandered back to the veal parmesan buffet he dove in on—all for $11, mind you.
This was the first sign of Rich's impressive recall ability, which stretches beyond the scope of his meals. In addition to numbers, the Syracuse, New York native wields an inexplicable fascination for lists. He has no interest in ranking his favorite foods, but music is a different story. A bookshelf in the LeFevres' Henderson, Nevada home holds 18 volumes of his top 3,500 songs ever, color coded to indicate each song's strength in its position.
Ask Rich the location of any song on his most recent list and he guarantees he'll get within 100 spots. Ask him to rank his top hot dog eating performances and prepare to be disappointed.
"I've never been in the zone with hot dogs," Rich said. "Never. I'm never satisfied with the way things turn out."
We avoid the subject as our trek to a deli that may not even be open reaches the 30-minute mark. Carlene grumbled that our expedition needed to end quickly. With no clear destination in sight, Rich directed his focus toward the red sign at the end of the block.
"You like Chick-fil-A?" he asked with a sneaky smile.
We reached the street corner only to have our excitement crushed by the calendar. It was Sunday, a death sentence to any devotee of the "Original Chicken Sandwich." Chick-fil-A isn't open on Sundays.
Our last resort sat across the street, similarly decked out in red and white décor: TGI Fridays. We slid into a booth adjacent to the bar and the real work began.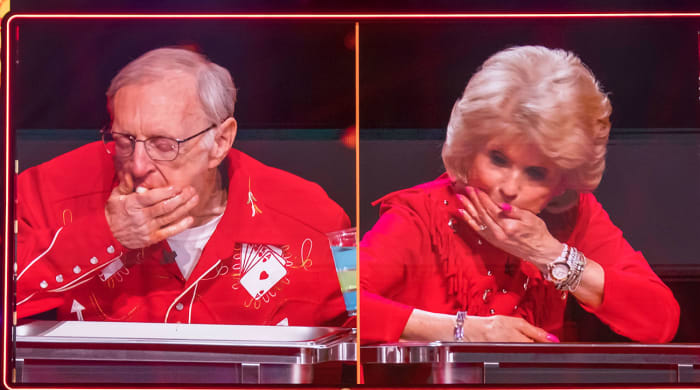 Just like he did at the first restaurant, Rich perched his glasses on his forehead to study the menu. Carlene flipped through slowly, entranced by the larger-than-life pictures of hamburgers, steaks and fruity drinks. After a semi-contentious back and forth with the waitress, who refused to do any substitutions, all of our burger orders were placed.
"You know," Carlene began, "I always said I wanted my last meal to be ribeye, cookies, cake and candy. I changed my mind in the last two weeks. I want hamburgers."
Rich shook his head and suggested his last meal needed to be steak, which hardly comes as a surprise considering how he waded into competitive eating. He's not among the majority of eaters, Carlene included, who prefer shorter, 10-minutes-or-less competitions. Rich first made headlines by eating two 72-ounce steaks and sides at The Big Texan Steak Ranch, in Amarillo, Texas. He and Carlene first went in 1985 for the monstrous challenge, which demands finishing a 72-ounce steak, bread roll, side salad and baked potato in under an hour in order to be refunded the $72 meal price.
"I didn't have any doubt that we could do it," Rich said in complete seriousness. "I mean, it's only 72 ounces."
Thirty-two minutes later, $144 refund in hand, they went to celebrate with triple-scoop ice cream cones.
"It was just easy," he says now, 32 years after his first of 13 trips to the restaurant.
Wimbledon is truly a treasure, but its classic strawberries and cream snack is not
That made Rich's 7-ounce burger at Fridays, fixed with lettuce, tomato, onion strings and melted Swiss cheese, no match. Even in this very casual setting, he finished in 12 minutes. Had I not peppered him with questions as he wedged French fries between the patty and bun, he easily could have finished in about half the time.
Carlene took a more savory approach to her meal. While her husband plowed through his thick burger with persistent, mouth-wide-open bites, Carlene carefully indulged. She opted to get two thinner patties, resembling her favorite sandwich from Burger King.
"Oooh," Carlene said, marveling at her meal. "I haven't had me a French fry in a couple years."
She wasn't poking fun at herself, either. The only way the LeFevres maintain their gluttonous lifestyle is to try and not have one at all. They buy whole wheat pasta and quinoa, mixing in veggies and very occasionally chicken breast. Just days before our meal, Carlene said, she made only a bowl of Pico de Gallo for dinner. Of course she quadrupled the recipe, but that's to be expected.
Rarely will they actually splurge on the greasy and grimy food the couple most enjoys. The occasion needs to merit it. For their 43rd wedding anniversary in June, the two enjoyed a big pizza dinner before gabbing dessert at Thrifty's ice cream. They settled on two triple-scoop cones…each.
And as a young couple vacationing on a 1977 Royal Caribbean Cruise, Rich and Carlene took full advantage of their all-you-can-eat privileges. Rich ordered six entrees one night: Three filet mignons, two beef wellingtons and veal parmesan. Carlene devoured 24 French lamb chops.
"There's no way you could exercise enough to make up for all we eat," Carlene said.
Perhaps the most boggling part about the LeFevres' food feats is that they're usually still hungry for more. After his first couple of hot dog eating contests, Rich went back to the staging area to snack on some fries, chicken tenders and yes, even a hot dog. He laughs thinking back to his old antics. Now he tries to wolf down 30 hotdogs—"because it sounds better than 29"—and escape back to the hotel. (Unfortunately for Rich, 29 was exactly the number he ate this year). Even Carlene snuck a few sweet treats after polishing off a dozen hot dogs at Coney Island.
Safe to say they both could've chowed down a bit longer after our TGI Fridays burgers, but we ventured back toward the hotel to discuss what's ahead.
In the twilight of her eating career, Carlene is preparing to take on the role of cheerleader. She admitted this Fourth of July was her last in the hot dog eating competition. Rich plans to turn out as long as he stays relevant. The white flag will come when he's no longer within striking distance of prize money.
He refuses to be a "table-ender," or in other words, one of the last qualifiers. Rich remains far too prideful to snatch a petty spot at the table. He'll know when his time is up, even if he hopes that day never comes.
"Willie Mays retired because he could no longer hit the fastball or field like he used to," Rich said, referring to his boyhood idol. "He just knew people would pass him by. Well, if people pass me by, I'm not going to make a fool of myself and keep going."