Relentless Attack: How Tim Grover Became One of the NBA's Most Revered Trainers
Credit the 1989 Detroit Pistons for setting Tim Grover's career in motion. Grover saw an article in a local newspaper describing how Detroit's physical play was affecting Michael Jordan mentally. Jordan was tired of being overpowered by his opponents, but he had injured himself in a workout with a trainer once before and was not regularly working with one at the time. Grover believed he could help Jordan. The worry was that he wouldn't get the opportunity. Grover contacted the Bulls and eventually spoke with the head athletic trainer and the team doctor.
After a series of interviews, Grover finally met with Jordan. Grover detailed his plan for helping the young swingman get stronger and avoid injuries. He would introduce a training regimen that would better prepare Jordan for the grind of NBA competition. Jordan was skeptical. Here was a 25-year-old trainer, with no prior experience working with professional athletes, laying out how the best player in the NBA could reach new physical heights. Eventually, Jordan relented. "I'll give you 30 days," Grover recalls Jordan saying. "30 days turned into 15 years."
Grover is now best known as the choice personal trainer for an esteemed group of NBA players. He is also the CEO and owner of Attack Athletics, which employs trainers around the world, and his list of current and former clients include Jordan, Charles Barkley, Kobe Bryant and Dwyane Wade. Grover is also the author of multiple books. His latest work, Jump Attack: The Formula for Explosive Athletic Performance, Jumping Higher, and Training Like the Pros, is an expanded version of an earlier publication outlining his vaunted training program, set to be released June 3.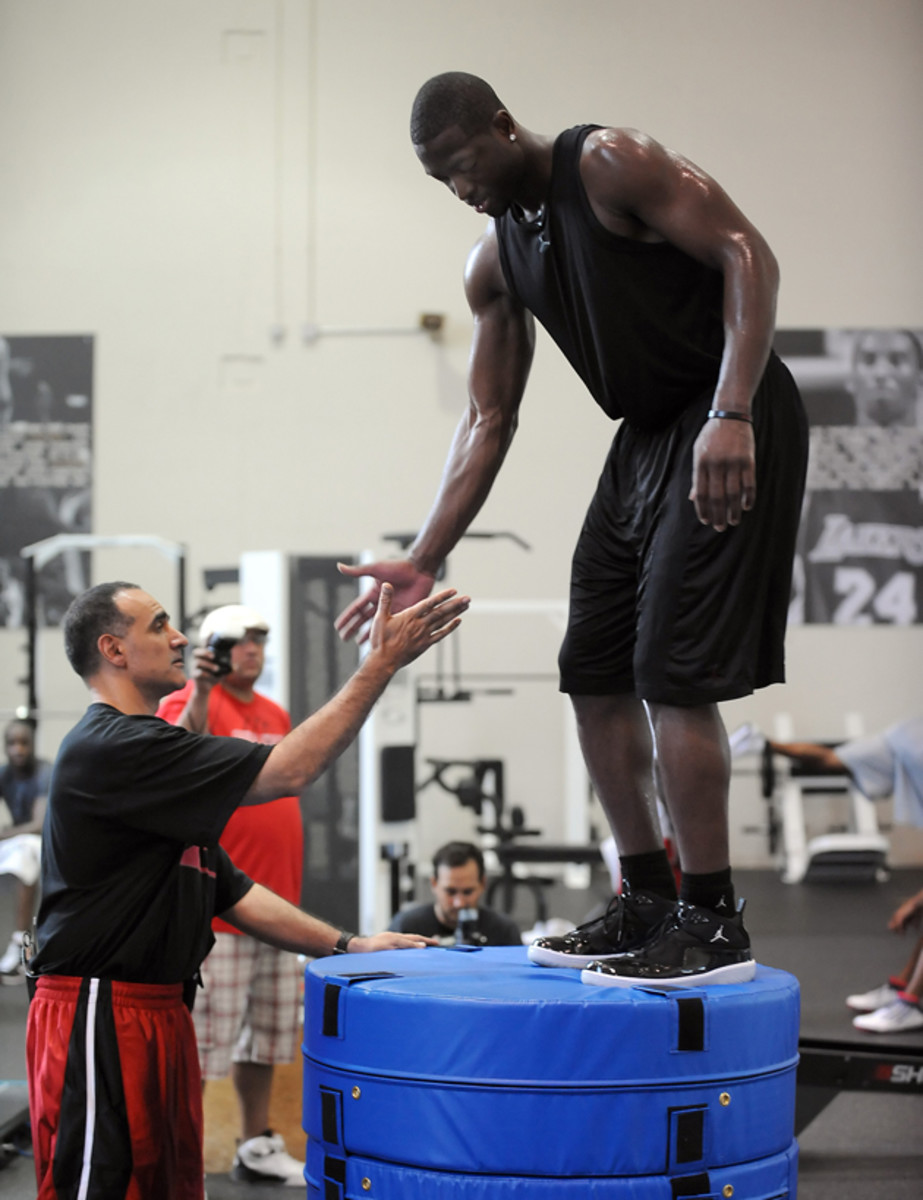 ​To say that Grover is a physical trainer would be an incomplete description. As revered as he is for his physical training, Grover says much of his success was the result of his mental approach. Before he rose to prominence, observers would commend Grover for his ambition and go-getter attitude and tell him that he attacked everything he did. But his philosophy was not codified until he began working with Jordan. From discussions and interactions with His Airness, Grover came to develop a unique outlook on athletes' path to achievement.
Jordan was a shining example of what Grover calls a Cleaner, a strong-willed leader who is never satisfied with accomplishments and has a "dark side," an instinctual drive to succeed at all costs. For Grover, there are two other types of competitors: Closers and Coolers. A Closer completes required tasks and enjoys being congratulated afterward, while a Cooler follows others and is hesitant to take initiative.
Most people fall into the Cooler category, according to Grover, and there are a small group of Closers.  Rarer still are Cleaners, who are defined by 13 traits called the Relentless 13. While it is not easy to delineate who falls into each category, the main criterion, for Grover, is the "end result." Cleaners stop at nothing to achieve the end result — whether that be an NBA championship, an Olympic gold medal or some other goal.  "The problem with being a Cleaner is, it's a full-time consumption of your time, which is very taxing on an individual," Grover says. "So you'll see a lot of people bounce in and out of those, but in order to be considered an ultimate Cleaner, you have to get that end result, and you have to get that end result more than one time."
Of the players remaining in the playoffs, only LeBron James and Dwyane Wade currently are Cleaners, according to Grover (other players, such as Tim Duncan and Tony Parker of the San Antonio Spurs, are past Cleaners). Before winning a second consecutive championship last year, James was not a Cleaner.
RELATED: NBA Star Trainer Tim Grover On What It Takes To Win
"When LeBron was able to get that end result for a second time and was able to carry his team, as great a player as he was during the regular season, the playoffs and the Finals [represent] a completely different level." Grover said. "He was able to deliver one time, but when he was able to deliver again, he took his game – not from a physical standpoint, from a mental standpoint – to another level."
Grover sees Cleaner potential in several players whose teams have been eliminated from the playoffs, including Kevin Durant and Russell Westbrook of the Oklahoma City Thunder, Stephen Curry of the Golden State Warriors and – crazy as this may seem for anyone who watched the Indiana Pacers this postseason – Lance Stephenson. "Lance is the perfect individual, I would say, who has the dark side but doesn't know how to control it yet," Grover says. "If he learns to control his dark side, that kid is going to be a special NBA player. If he doesn't learn how to control it, his career is going to be shortened quite considerably. He's going to be remembered more for his antics than his basketball play. "
Grover's doctrine has been the subject of some controversy. In a passage in his 2013 book, Relentless: From Good To Great To Unstoppable, Grover wrote, "Be honest: Would you be as successful if you followed all the rules and always behaved and never took chances? No, you'd be just like everyone else, scared about failing and worried about being liked." In the context of training for professional athletes, this could be interpreted as a suggestion that athletes should use performance-enhancing drugs. Grover maintains, however, that he stays "within the guidelines of the rules. Always have, always will." Someone who uses PEDs is a Cooler, Grover says, because he/she cut corners while trying to reach a desired end, while Cleaners accept that hard work and sacrifice cannot be avoided.
​Throughout his time working with Jordan and other athletes, Grover gleaned interesting perspectives on anecdotes involving Jordan and other players. The night before the famous Jordan Flu Game – in which Jordan reputedly weathered illness to score 38 points against the Utah Jazz in Game 5 of the 1997 Finals – Grover says, Jordan became ill after eating a pizza delivered to his hotel by five people. Grover says Jordan was the only person who ate the pizza and, less than three hours later, he was curled up in a fetal position. "I've never seen a flu hit that quickly," Grover said. "But when you're in TV and so forth, it's easier just to say it's a flu game than it's a poison game." Another memory from Grover's time with Jordan is that Jordan would sometimes visit opponents' locker rooms before games. Because of this, Jordan was referred to as The Black Cat.
Grover remembers an urgent call he received from Wade after Game 2 of the 2012 Finals. Grover flew to Miami to help him battle through a knee injury that would require surgery in the offseason. He remembers instructing Wade to do to exercises during timeouts, in an attempt to activate muscles that would support his knee.
Grover also recounts Bryant – with whom he began working in 2007, after Bryant, who was battling knee issues, consulted Jordan – being insistent upon speaking with Dwyane Wade after he broke Bryant's nose during the 2012 All-Star game in Orlando. Kobe was not seeking retribution against Wade, but trying to speak with him for a different reason, says Grover. "When you've got two Cleaners going at each other, even if it's an all-star game, and one kind of hits the other one, it's a way of being that alpha male or alpha person and going out, 'Hey listen, you didn't get me. This is not over with. You tried to knock me down, but I'm still standing,'" Grover says.
​In Jump Attack, Grover describes the training program he used with Jordan, Wade and other clients. The program is designed to test one's entire body and is broken down into phases, weeks and days. While anyone who follows Jump Attack should be expected to reap a number of physical benefits, including a leaner physique and increased muscle mass, the greatest reward for athletes may be improved explosiveness. Instead of focusing on improving measurables such as 40-yard dash times and vertical leaps, Grover stresses the importance of being explosive repeatedly and in multiple directions, which better translates to game situations. "Not only will you be explosive vertically, you'll be explosive laterally, any different direction that you wanted to go to, for an extended period of time," Grover says.
Grover now spends much of his time working with Bryant and Wade. He was with Wade about two weeks of every month during the season and has followed him during the playoffs. While the plan to limit Wade's playing time during the regular season – he sat out 28 games – was orchestrated by Heat personnel, Grover made adjustments to the player's training regimen and regularly discussed with Wade the goal of summoning his peak performance for the late rounds of the playoffs. After Miami took down the Indiana Pacers in six games in the Eastern Conference Finals, Wade is one step closer to hoisting the Larry O'Brien Trophy with his teammates for the third year in a row – to achieving the end result.
It is a concept Wade understands well.
You can stay up-to-date with Tim Grover on Twitter for workout tips, inspiration and other information at @ATTACKATHLETICS. Grover's latest book, Jump Attack: The Formula for Explosive Athletic Performance, Jumping Higher, and Training Like the Pros,​ will be available for purchase on June 3, you can pick up your copy here.