Falcons GM Thomas Dimitroff: What drives the NFL's fittest exec?
Leaving the team cafeteria and walking past the Falcons practice fields after a nutritious and conspicuously meatless lunch last month, Atlanta general manager Thomas Dimitroff fielded a suggestion from a visitor.
"You should cut a mountain bike trail into that hill over there," offered George Hincapie, the former Lance Armstrong teammate who that morning had accompanied Dimitroff on a rolling, 55-mile ride on the back roads near the team headquarters, with this sportswriter pedaling along for the ride.
"I did," Dimitroff was gratified to reply. "I'd go back there with work gloves," and pick, and shovel, "and that would be my workout."
Dimitroff, an ex-mountain bike racer, rock-climber, snowboarder and seriously strong road cyclist—he's almost certainly the only NFL GM with shaved legs—met Hincapie during an offseason cycling retreat at The Hotel Domestique. That's the name of Hincapie's European-inspired lodgings in the foothills of the Blue Ridge Mountains, north of Greenville, S.C. Dimitroff, a longtime cycling aficionado whose job it is to put teams together, had a deep appreciation for Hincapie's selfless role on the 17 Tour de France teams. They got a few rides in, and bonded. While the GM surely disapproved of Hincapie's admitted use of performance-enhancing drugs during his riding career, he didn't let it foreclose the possibility of friendship. Last July, Dimitroff took that open-minded attitude to Aspen, Col., where, having been introduced by Hincapie, he spent three days mountain biking with Armstrong.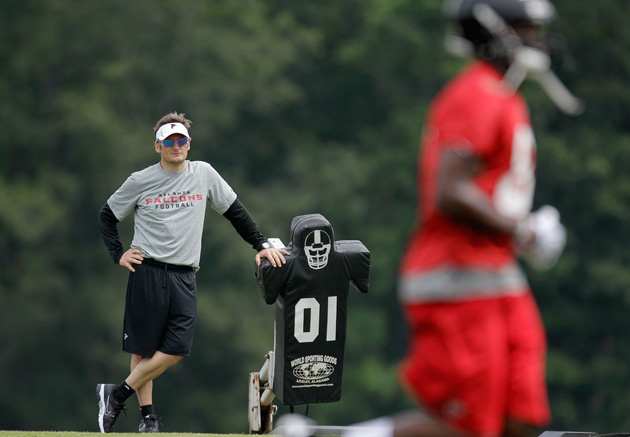 ​Dimitroff isn't the only NFL executive who balances the intense pressure and brutal hours of his profession with an equally robust quest for fitness and adrenaline. But he's probably the most overt, the least apologetic, about it. His friend and fellow GM Trent Baalke of the 49ers has been described as "borderline OCD about working out." A recent attempt to draw Baalke out on his exercise regimen—I tried to strike up conversation with him while waiting for an elevator at Levi's Stadium—elicited bupkes. The typical MO for NFL executives who do work out is to keep that penchant for exercise under wraps, lest the word circulate that an executive isn't devoting every waking minute to the club.
Dimitroff, a 48-year-old ex-vegan who is now merely a vegetarian, isn't playing that game. "I call bulls--- on that thought process," he said with a smile during that morning's ride. Earlier in his career, he was "pigeonholed," he recalls. Some of the more conventional thinkers in his line of work looked askance at his passion for fitness and adventure (to say nothing of his long hair and unorthodox diet). If he cared so much about those things, how much ardor remained … for football?
"I'm wildly passionate about it," says Dimitroff, whose late father, Tom Sr., was a longtime coach and scout, in Canada and the U.S. "I was born and raised on this sport—it was how we ate."
Tom Dimitroff played quarterback for Ara Parseghian at Miami of Ohio, the so-called Cradle of Coaches, a fountainhead of cautious, conservative gridiron doctrine—Paul Brown, Woody Hayes, Bo Schembechler and Lou Holtz had all passed through—that rubbed off on Tom Dimitroff, but not on his son, Thomas. After returning to his alma mater as an assistant in the late 1960s, the elder Dimitroff uprooted his family to Ottawa in '74, for what became a 12-year coaching and scouting odyssey in the Great White North. It was during this happy exile that Thomas spent four years playing defensive back at the University of Guelph, where his Dad had been head coach from 1979 to '83. His journey had just begun: After college he scouted for the Saskatchewan Rough Riders, worked briefly in Dallas for the doomed WLAF, then coached a corporate team in Japan before finally getting his foot in the NFL door.
Even then, it was a muddy, grass-stained foot. By '87, Tom Sr. was back in Ohio, as a scout for the Browns. There he was able to get Thomas Jr. a position with the team … as a groundskeeper.
Another up-and-comer in Cleveland in those days was Scott Pioli, now an assistant GM to Dimitroff in Atlanta. While his was a lowly place in the Browns' front office—Pioli would go on to become Bill Belichick's top lieutenant in New England, then the GM of the Chiefs—at least he worked indoors. He befriended the younger Dimitroff, who, after painting lines on football fields would take refuge in his office.
When he wasn't painting, mowing or re-sodding Cleveland's turf, Dimitroff was a part-time scout for the Chiefs. In 1994, the Lions brought him on full-time as an "area scout."  Based in Boulder, Col., he worked hard and played hard, 'boarding, biking, rock-climbing. Those passions, along with his longish hair and veganism, earned him more than a few sidelong glances from his NFL peers.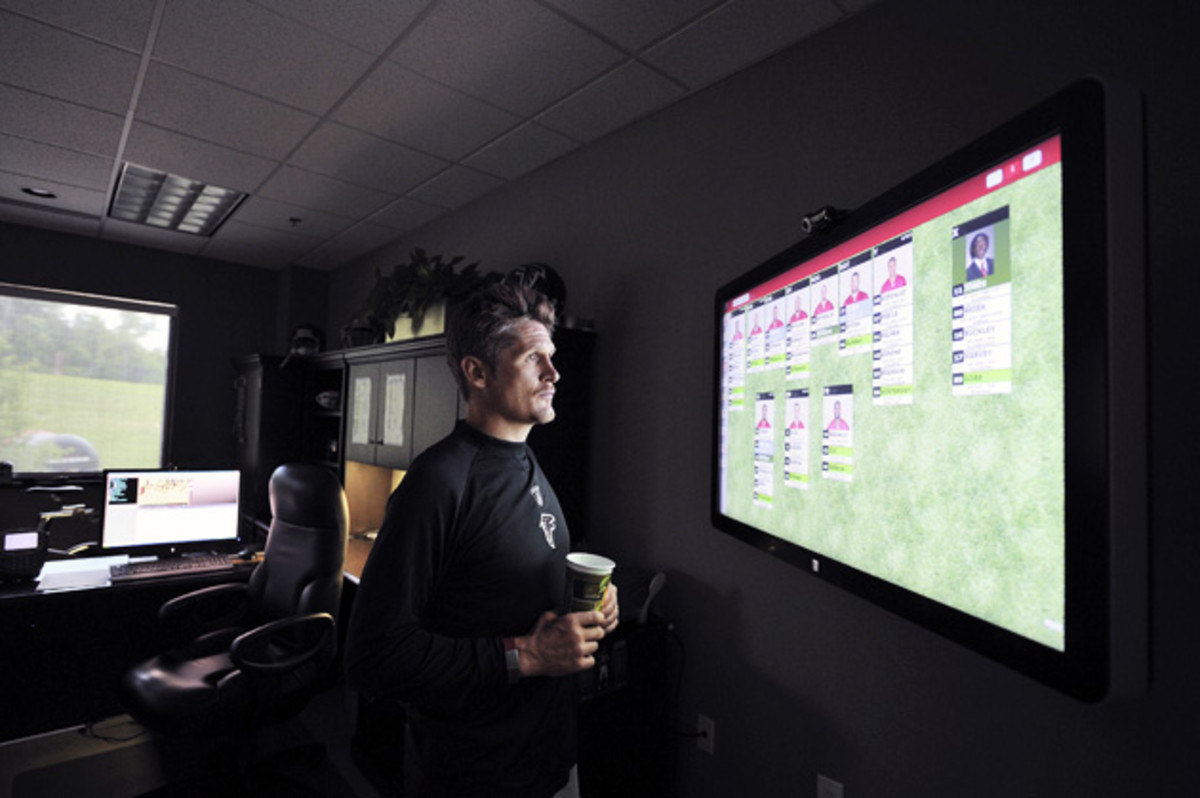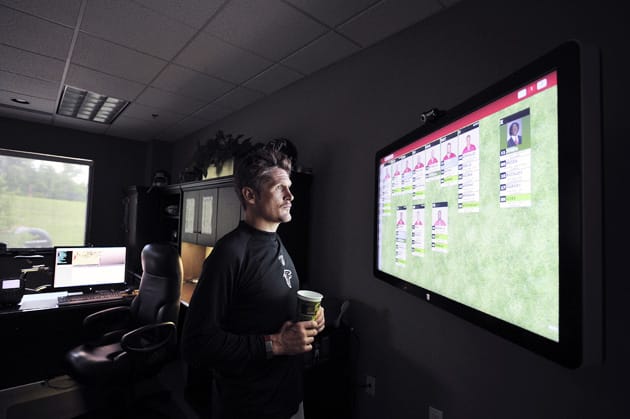 As Dimitroff proved when he bet the farm on Julio Jones in 2011—the Falcons traded five draft picks to move up and grab the gifted wideout with the sixth overall pick—he doesn't care what outsiders think, if he's done his homework. He's always been outside the mainstream of the scouting tribe. To the discerning minds who took a chance on him—Pioli and Bill Belichick lured him to the Patriots in '02—his willingness to go against the grain was a plus, not a minus.
His resolve to be true to himself was fortified in 1996, during a deathbed conversation with his father. Tom Dimitroff was an old school football mind; his son did his best work out of the mainstream. But his best work was very, very good. At the end of his life, his body ravaged with cancer, father urged son never to change, "to live my life the way I wanted to live my life," as Thomas shared two years ago with the Atlanta-based SaportaReport, "to live with passion and shoot for the stars."
He's done that with his draft day derring-do: for the seventh straight year, Dimitroff traded up in the draft (although his 2014 maneuver, a Day 3 swap of late-round picks, was less dramatic than usual).
Atlanta's emphasis, coming off its disastrous—and, the Falcons hope, anomalous—season which garnered merely four wins: Get tougher, as anyone knows who witnessed the profusion of training camp fisticuffs and shoving matches on Hard Knocks. "We set out to bigger, more physical, grittier," Dimitroff elaborates. "I don't want to be a thug team, but you can't get pushed around."
The GM knows from toughness. On that brisk 55-miler, the group stopped twice to refill water bottles and take on some calories. Dimitroff stopped, as well—not because he was tired, but because he's a good host. "I'm not a big 'stop-during-the-ride' guy," he explained. "I've become a diesel in my old age. When I get off the bike, then get back on, immediately I feel tightness."
That's a good thing, thought this sportswriter who'd been laboring to hold the pace, despite—how cool was this?—Hincapie's generous invitation to draft behind him. If he cramps up, maybe he'll slow the f--- down.
I'd already attempted to slow Dimitroff down by posing open-ended questions. That's a sweet-looking ride—where'd you get it? He was gratified to fill me in: For a recent trip to France with his wife, Angeline, and their young son, Mason, he couldn't ship a bike across the pond, nor could he find a decent one to rent, so he picked up this gleaming carbon-fiber Look 695 at a shop in Dijon—"the model Cofidis rode in 2013!"
It's easy to draw him out further on the bike's sublime design—the stem and seat post are integrated into the frame, which I haven't seen before. Dimitroff is something of a velo-geek, happy to do a deep dive on components, wheel sets, even the wicking properties of the Hincapie kit in which he's riding. It's short jump from there—and another open-ended question for him to chew on, while I suck wind—to the cutting edge methods the Falcons have adopted, under Dimitroff, to train, and to measure athletic performance.
Last September, he traveled to Menlo Park, Cal., to meet with Phil Wagner, the founder of Sparta Performance Science. By recording the energy athletes apply as they jump from a piece of equipment called a force plate, Wagner has "come across this new formula, or algorithm," that has allowed him, Dimitroff effused, "to basically create movement signatures" for his subjects.
Another space-age tool used by the Falcons is Fusionetics, which uses "functional movement screens" to break down players' biomechanics, and, ideally, says Dimitroff, "determine whether someone's going to be more susceptible to injury—to pulling a hamstring, for instance." Armed with that knowledge, players can do preemptive drills and exercises to prevent those injuries.
Training Day: Football Through The Years
The legendary Jim Brown poses for an action portrait during Cleveland Browns training camp in July 1957 at Hiram College.
Jerry Hopkins, John McCormick and Don Breaux take a break from the grind of pre-season training for a little golf practice at Denver Broncos training camp in July 1964.
Andy Robustelli, John LoVetere, Dick Modzelewski and Jim Katcavage running during New York Giants training camp at Fairfield University in August 1963.
Cleveland Browns head coach Blanton Collier diagrams a play on the chalkboard during training camp in July 1963.
New York Giants quarterback Y.A. Tittle works on his passing during a practice at Yankee Stadium, New York, 1963. Tittle played with the Giants from 1961 to 1964.
New York Giants players, coaches and staff use film as part of their training in this rare photo.
Legendary Green Bay Packers head coach Vince Lombardi watches over two professional football players who practice blocking and tackling by pushing a blocking sled in the 1960s.
Philadelphia Eagles linebacker Chuck Bednarik jogs around the field prior to a practice in 1960 at Franklin Field in Philadelphia.
New York Giants players participate in training camp in the 1950's as offensive coordinator Vince Lombardi looks on. Giants co-owner Wellington Mara stands in the background.
The New York Giants play in a practice game in a deserted and snowy Yankee Stadium in the late 1950s.
An American football team warms up before practice with some good 'ol jumping jacks in the late 1960's
Denver Broncos QB John Elway doing pull ups during training camp at University of Northern Colorado in August 1983.
Dallas Cowboys placekicker Rafael Septien in sensory depravation tank during training camp at Texas Stadium in July 1982.
San Francisco 49ers wide reciever Jerry Rice working out with the leg press machine as part of his rehabilitation from knee injury in December 1997.
NFL prospect and former University of Virginia lineman D'Brickashaw Ferguson running behind the glass drill at Wide World of Sports Disney Complex in Kissimmee in March 2006.
In July 2006, San Francisco 49ers safety Tony Parrish demonstrates Bikram yoga and the Vinyasa flow during a workout in Santa Clara, CA.
The Atlanta Falcons' Keith Brooking in action, demonstrating pull-ups during training camp workout in July 2005.
Pittsburg Steelers head coach Mike Tomlin watches over a practice in May 2007.
Penn State's Stephon Green working on agility drills in the gym during spring training in April 2008.
Arizona Cardinals quarterback Matt Leinart demonstrating the Core X System workout at Level 10 Fitness in June 2008.
Former New York Giants running back Tiki Barber training to come back to the NFL in 2011 after abruptly retiring from the league in 2006.
Washington Redskins linebacker London Fletcher lifting weights during a workout at his home in June 2013.
Washington Redskins LB London Fletcher working out near is home in North Carolina in June 2013.
Washington Redskins linebacker London Fletcher performs the bear-crawl, sprinting in sand during a workout in June 2013.
Washington Redskins linebacker London Fletcher performs the bear-crawl, sprinting in sand during a workout in June 2013.
NFL referee Ed Hochuli working out at the Life Time Fitness gym in Tempe, AZ in September 2012.
Western Branch quarterback Kevin Newsome lifting weights during a workout in the gym of Western Branch HS in Chesapeake, VA.
San Francisco 49ers linebacker Patrick Willis participating in an elementary school gym class at Briarwood Elementary in Santa Clara, CA in June 2008.
San Francisco 49ers linebacker Patrick Willis participating in an elementary school gym class at Briarwood Elementary in Santa Clara, CA in June 2008.
Former Texas quarterback Colt McCoy working out in the weight room at Moncrief-Neuhaus Athletic Center on the University of Texas campus in April 2009.
Green Bay Packers tight end Jermichael Finley running hurdles at the Performance Enhancement Professionals complex in Scottsdale, AZ in February 2014.
Green Bay Packers tight end Jermichael Finley working out his biceps at the Performance Enhancement Professionals complex in Scottsdale, AZ in February 2014.
Green Bay Packers tight end Jermichael Finley doing curls with his back against a medicine ball at the Performance Enhancement Professionals complex in Scottsdale, AZ in February 2014.
Free agent cornerback Michael Coe working out in the gym.
New Orleans Saints quarterback Archie Manning lifting barbells in weight room in New Orleans, LA, back in April 1981.
Green Bay Packers quarterback Brett Favre working out in gym at Don Hutson Center in October 1995.
Green Bay Packers quarterback Brett Favre working out with strength and conditioning coach Kent Johnston.
Brett Favre working with quarterbacks coach Steve Mariucci during practice outside of Lambeau Field.
Former New Orleans Saints tight end Jeremy Shockey running through the arm tackle power tunnel equipment during training camp at Millsaps College in 2008.
Scott Schanle, of the New Orleans Saints, running agility drills during training camp at Millsaps College in 2008.
NFL prospect Blake Bortles works out with professional trainers at EXOS Athletes Performance in Carlsbad, CA.
NFL prospect Blake Bortles works out with professional trainers at EXOS Athletes Performance in Carlsbad, CA.
Ohio State running back Carlos Hyde works on improving his 40 time with a trainer in Tampa, FL.
Former Green Bay Packers wide reciever Donald Driver bikes into training camp while fans follow in July 2008.
He is a kind of modern-day, spike-haired Arthur, questing for a general manager's holy grail: a way to prevent injuries before they happen. Alas, the quest continues. At one point during the ride I asked about left tackle Sam Baker. Noting that the Falcons had used their first-round pick to pluck sure-thing left tackle Jake Matthews, I wondered if that meant Sam should be looking over his shoulder.
Not at all, the GM replied. The idea was to break Matthews in at right tackle. "Sam's looking really good right now. He's 320, and playing well. Last year he played at 305, 303—way too light."
A few days later Baker blew out his right knee in an exhibition against the Texans, and was lost for the season. The Falcons had little choice but to toss Matthews into the deep end, plugging him in on Matt Ryan's blind side. The rookie held his own in the first half of Atlanta's season-opening win over the Saints … until he was forced from the game in the second quarter with an ankle injury. He hasn't played since.
The cold truth is, you can harness the magic of force plates and functional movement screens and be as progressive as you want. But you have to be lucky, too. The guy who won the Sporting News' NFL Executive of the Year award in '08 and '10 didn't hemorrhage a bunch of IQ points last season. The team he'd put together suffered an epidemic of injuries, and its fate was sealed.
Things could go either way for Atlanta this season. The birds looked terrific—particularly on offense—in that win over New Orleans, then fell to earth in last Sunday's loss in Cincinnati. If the Falcons can avoid another raft of injuries, they could win their division and get to the playoffs, as they did in 2010, '11 and '12. Even if Atlanta falls short, even if Dimitroff isn't dubbed by his peers the best GM in the NFL, he will still be the GM with the best legs.