Good Luck Charm
Waffle House
The Braves have won 13 straight games since opening a Waffle House at Turner Field. Naturally, there is now a Waffle Ball country song in the team's honor.
Miguel Cabrera Tripped Over Third Base
And it was funny.
Wrapping Up The Week
Guyism.com has compiled the best GIFs of the week.
Lovely Lady Of The Day
Friday's P.M. Hot Clicks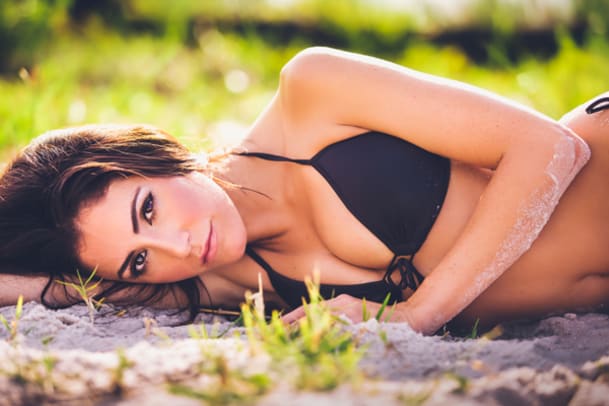 Anna Mayerhofer is not only competing in Maxim's "Hometown Hottie" contest, but she is also an active duty military member. She is also today's LLOD.
The  Hot Clicks Podcast
Rays third baseman Evan Longoria, who got plenty of attention earlier this week for his tweets about baseball's PED scandal, is the guest on a new Hot Clicks Podcast. We chatted at length about the PED issue and whether punishment is strong enough ("I definitely feel the risk needs to outweigh the reward," Longoria said. "The risk of a 50-game suspension does not outweigh the possibility of a guy playing half or three-quarters of a season and putting up career numbers and getting the contract the next year based off their play.") He also discussed his feelings on Alex Rodriguez ("I don't know what his motivation is, but I will say this: I don't think it's fair for the other teams because I'm in the American League East. Whether he is 100 percent or not, whether his mind is where it needs to be or not, he can affect the game in a positive way, he can affect the game in a tremendous way, which is being in the lineup. In a pennant race, he's a guy you don't want in the lineup. Looking at it from that perspective and that perspective only, I don't think it's fair that we can't have an arbitrator hear the case sooner.") We also discussed fun topics, such as fatherhood and a recent incident Longoria experienced where he was caught without a much-needed diaper bag. Longoria also talked about his love of food -- he is opening a restaurant and loves to cook as you can see in this video he provided for Hot Clicks. You can listen to the podcast below or download it on iTunes  or your mp3 player.
[audio http://ht.cdn.turner.com/si/hot-clicks/audio/2013/08/09/080813.traina_longoria.mp3|titles=The Hot Clicks Podcast=Rays third baseman Evan Longoria joins the show|width=600]
Great Galleries
Mandatory.com has taken Mark Sanchez's now famous headband and photoshopped it onto various sports personalities for this gallery.  Complex.com is also looked at The Worst Dressed Athletes of All Time.
It's Almost Here
Hot Clicks has featured a variety of Breaking Bad content all week. (Get all past Hot Clicks in the archives, which you should bookmark.) Our last link covers bad Breaking Bad fan art.
For My Fellow Mike Francesa Fans
This should keep you occupied over the weekend.
Slip 'N Slide Video Of The Day
Summer is going by fast. You don't have much time to make one of these, so get on it. (Thanks to Devour.com for the video.)
Ridiculous Commercial Of The Day
I'll refrain from making George Costanza jokes here and just point out other absurdities such as: Who buys a wallet because it can hold up after being run over by a car? And despite what the doctor says, I don't buy that people get back pain, hip pain and sciatica because of their wallet.