NFL Round-Up
Monday's A.M. Hot Clicks
The Patriots prevailed in an 34-31 overtime thriller last night, which included Tom Brady having one of the season's best TD celebrations as well as one of the most awkward hugs. Two cameraman nearly brawled trying to get a good shot of the handshake between Peyton Manning and Brady. In other NFL news, Chiefs coach Andy Reid showed off his basketball skills by boxing-out Philip Rivers, the Jets sideline was penalized 15 yards for obstructing an official, Ben Roethlisberger had a perfect pooch punt, Cam Newton did his best LeBron James impersonation (though the day's best celebration belongs to Colts defensive tackle Ricky Jean-Francois) and the Long brothers were right in the middle of a brawl during the Rams-Bears game. The day's MVPs however, are these Green Bay Packers fans who wore their bikinis on a 20-degree day at Lambeau Field.
Meanwhile at the AMAs
While the Patriots and Broncos were battling in Foxboro, the American Music Awards were being handed out in Los Angeles. Pirates outfielder Andrew McCutchen donned a cowboy hat and presented the award for Favorite Country Male Artist to Luke Bryan. Of course, there's only one awkward cowboy in sports and that distinction belongs to Chris Bosh.
James Dolan vs. Woody Allen
Knicks owner James Dolan banned Woody Allen from a VIP suite at Madison Square Garden because the actor didn't want to go on the MSG channel and discuss his movies.
Lovely Lady Of The Day
Monday's A.M. Hot Clicks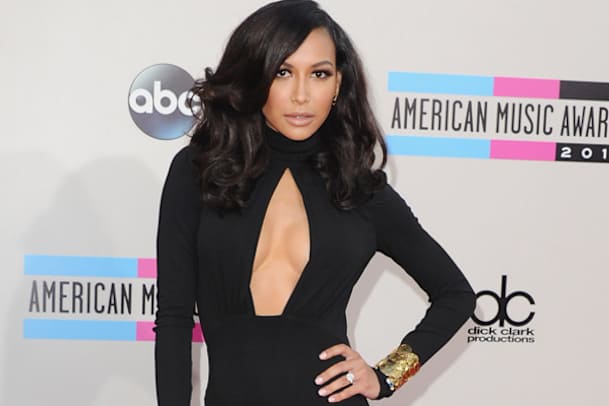 Naya Rivera grabs LLOD honors after wearing this dress to the American Music Awards last night.
Jerk of the Week
Adrien Broner didn't make any friends in Chicago with this shot at Derrick Rose.
Jose Canseco's Next Gig
On Wednesday night, Jose Canesco was pulled over by Nevada cops with two goats wearing diapers in his backseat. The next day, he was named Director of Baseball Operations and Special Instructor for the Texas Winter League.
SI Vault Photo Of The Day
Bernie Kosar and Dan Marino :: Lane Stewart/SI
Happy 50th birthday Bernie Kosar. In this photo taken from SI's 1984 football preview issue, Kosar, the Miami Hurricanes QB, poses with Dolphins quarterback Dan Marino. The two were the subjects of a feature by senior writer John Underwood, who wondered if Marino, the NFL's best young quarterback, was better than Kosar.
Today in Food Porn
A cake made out of 30 grilled cheese sandwiches.
Quote of the Day
-Houston WR Andre Johnson on his team's performance after the Texans lost their ninth straight game on Sunday, a 13-6 defeat to Jacksonville.
Odds and Ends
Jon Bon Jovi is considering buying the Buffalo Bills ... This cake, a replication of the Ballpark at Arlington, is pretty incredible ... David Beckham plans to develop a 75,000-seat stadium in Miami for his new MLS team ... Cowboys cornerback Orlando Scandrick went off on Mike Ditka and the talkative New York Giants ... It's getting ugly in a hurry for Jason Kidd and the Nets.
When Photographers Fight
We mentioned it earlier but here's the skirmish between two photographers at the end of last night's Broncos-Patriots game.
[si-nfl-player id="0a358c4818314654a4d340626b24e022"]
Marc Cuban Video of the Day
The Mavs owner gets down to Keisha and Pitbull during the AMAs last night.