Down Under & Out
Weekend Hot Clicks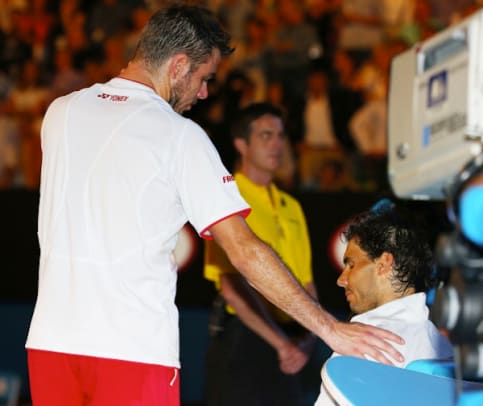 Thirteen's a charm for Swede Stanislas Wawrinka, who upset Rafael Nadal in four sets Sunday in the incredibly bizarre Australian Open finals. Nadal, who had beaten Wawrinka in their previous 12 meetings,missed last year's Aussie Open due to injury and spent much of this final fighting through back pain that caused many a grimace and a medical timeout. Writes SI's Jon Wertheim:
"After returning to the court following a medical timeout, [Nadal] was booed by the crowd (which appeared to rattle him further). He recovered—and clawed back good will from the fans—but, even after winning the third set, Nadal was clearly compromised."
You can see Nadal's pain and Wawrinka's frustration in the photos above. Understandably, after securing his first Grand Slam title, Wawrinka said: "There is a good chance I get drunk tonight."
Mitch McGary's Flawless Game Plan
Speaking of back injuries, Michigan big man Mitch McGary was forced to trade his jersey for a suit, but as evidenced by his work on this whiteboard, he remains a big asset for the surging Wolverines, who scored a huge road victory Saturday at the No. 3 Spartans.
There's a lot more college hoops to discuss so let's do this round-up style: The Izzone tried to rattle Michigan's lean blonde shooterSpike Albrecht with a topical "Justin Bieber" chant, but Albrecht says he just thought it was kinda funny ... Here's how Nik Stauskas made his way to the locker room after the W ... Jim Boeheim set a pick for still-unbeaten Syracuse ... Buzzer-beaters for Duquesne (H/T Matt Norlander for the Vine) and Oakland ... Marquette bro shows that sometimes you just gotta say it with your chest ... Purdue players sported tuxedo shirts during warmups for a good cause ... Sick Markel Brown 360 slam ... Mississippi State head coach Rick Ray had some words for Ole Miss guard Marshall Henderson, and they appear to rhyme with "Duck You."
How to Deflect a Rumor
Rather than engage with reporters about rumors about his future in Chicago, Bulls head coach Tom Thibodeau decided to start an entirely different rumor: That he's been on a date with Kate Upton. Simultaneously avoid uncomfortable speculation and build street cred? Genius.
Cheerleader of the Week
Weekend Hot Clicks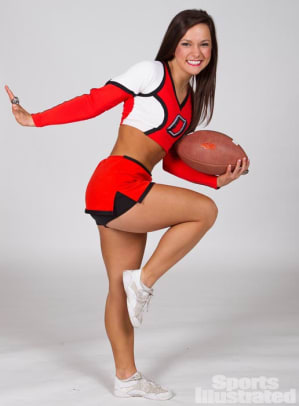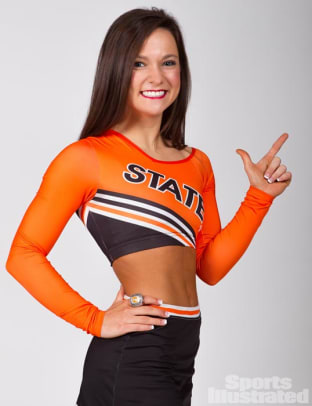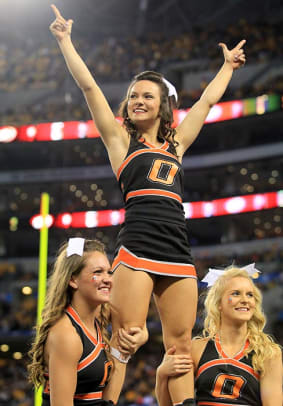 At long last, here's your opportunity to get to know Sara, an Oklahoma State art education major with an affinity for exclamation points.
Celebrity crush: "Nick Lachey! My sisters and I used to make up dances to his all his music."
Favorite phone app: "Snapchat is hilarious! I get the funniest, most awkward pictures from my friends and family. In return, I can send pictures of my perfect dogs and see if I can come up with a strange face, specifically, the sneezing face."
Favorite professional sports teams: "Oklahoma City Thunder! I loved when I got to meet Kevin Durant at one of the Oklahoma State men's basketball games."
Worst date: "Considering I don't go on many dates, this is a hard one. I usually spend my time with friends. I am currently single, so any of you single, good-looking, and good guys find me, somehow. One rule, do not be creepy and be able to pass my parents' qualification test."
To see more of Sara, check out the full gallery.
Good Guy Russ Smith Rescued a Girl Who Got Stood Up
The Louisville senior was attending a high school game to support a friend when a freshman girl, Tonysha Curry, spotted him while waiting for her no-show homecoming escort. "I was like, 'There's Russ Smith," Curry said. "Oh my God. What if he escorted me?' Everybody was like, 'Go do it! Go do it!'" It worked out just fine for her.
Well That's Not Supposed to Happen
There are many buzzer beaters, but very few that travel as far as this three-quarters-court heave by former Net Zoran Planini for his Euroleague squad.
Wade Phillips' Job Search Update
We've now crossed over from slightly amusing to downright sad.
Ill-Advised Teaser
There's still one miserable week to go until kickoff, but I'm putting up my Ill-Advised Super Bowl Special while you actually have time consider it. A lot of public money quickly flipped the script on Seattle as a favorite, and now the Hawks have settled in as a 2.5-point dog. The total has come down about a point from 48 to 47, a low total for a Broncos contest, though in this rodeo they're facing the league's best D. My thinking is this: Get in on Seattle now before the line comes down. That will give you more than a TD in a tease, and will raise the under to more than 7 touchdowns. Denver hung only 24 and 26 on far inferior defenses versus the Patriots and Chargers. Let's get rich (I'm 7-5 on my IATs this season) or cry trying with Seattle +8.5, u53.
Odds & Ends
Plenty of Extra Mustard from the past week, conveniently distilled into one yellowish-red paste ... Did New Jersey politicians really expect the state to be featured on Super Bowl programs? ... Some acrobatics by Benny the Bull ... Absolutely vicious neck kick by Donald Cerrone ... Seattledoesn't forget (H/T Darren Rovell) ... They don't forgive, either ... Poor Carey Price ... Justin Bieber notes one and two ... Goalie fight in the AHL ... Ovechkin juggles puck on stick, and then puts it in ... Terrence Rossblew up last night for 51 ... Impressive alley oop dish by Ricky Rubio... Here's a Florida fan wearing a stuffed baby with the face of Tennessee's Jordan McRae.
Vin Scully on Ice
The legendary Dodgers announcer lent his pipes to the NHL for a delightful intro to the Dodgers Stadium contest between the Ducks and Kings.
Coaching Superlatives
Jimmy Fallon gives coaches the business, too. [H/T The Score]
[youtube https://www.youtube.com/watch?v=PJx67o_gfxM]
Say It With Your Chest
Somehow the Marquette bro's stunt reminded me of this outstanding Kevin Hart bit.
[youtube https://www.youtube.com/watch?v=ZqEsUqI4YD8]